Dining Out
Verdicchio
This Italian villa-style restaurant offers patrons a selection of fine Italian fare and wine. They pride themselves on their true Mediterranean flavours and seafood dishes. Expect antipasto, carpaccio and pâté for starters. Followed by duck, seafood and pasta dishes for mains and delectable torte, sorbet and panna cotta for desserts.
Aarya
South Africa's first MasterChef SA winner, Deena Naidoo opened this restaurant in Montecasino. He combines traditional South African cuisine with a contemporary style. The menu features items like house-made naan bread, pizzettes, gourmet burgers, curries and traditional desserts.
Milk & Honey Bar
This French bistro and bar serves up some of the finest cocktails and bar food in the northern suburbs. Menu items include Triple Fried Fries, Wild Mushroom Arancini, Chicken Popcorn, Lobster Waffles, Hot Dog Tasting Plates and Duck Pot Pie. They also serve up High Teas, brunch and yummy platters.
The Meat Company
One would not expect such a simply named restaurant to serve up some of the best quality gourmet burgers, seafood, certified wagyu beef, vegetarian meals and mouth watering desserts. But this chic steakhouse does just that. Expect AAA grade grain-fed beef, certified 7+ marbled wagyu steaks and burgers, braised oxtail and halloumi burgers. With desserts like Chocolate Fondant and Crème Brulee.
Thava Indian Restaurant
This North and South Indian restaurant brings diners specialty cuisine with spicy and flavourful dishes. These include Tikka, Khorma, Vindaloo, Masala, Dosa and Biryani, with a wide range of flat breads from Naan to Paratha. The menu even includes a glossary or terms, for those unsure of the meaning of menu items.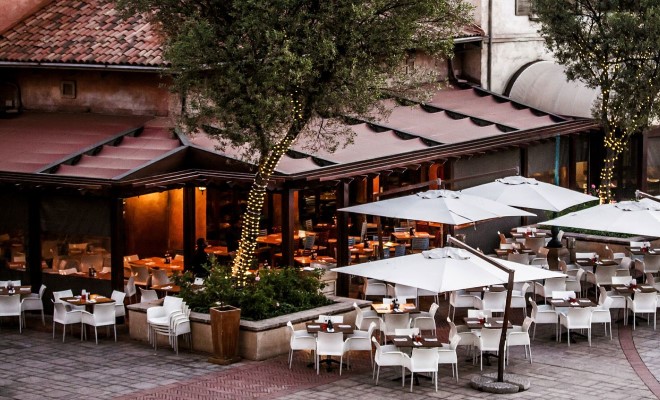 Leisure and Entertainment
Movies @ Montecasino
This movie cinema has 15 cinemas,  including the Il Grande, the biggest fully digital cinema in South Africa. They also boast the Prive Lounge. You can catch these movies at a fraction of the price with the Montecasino Cardholders Benefits, WOW Wednesdays (discounted 2D, 3D and Il Grande tickets on Wednesdays) and the Rewards Programme.
Montecasino Bird Gardens
This bird park has a colourful array of birds, reptiles and small animals for viewing. Visitors can experience the joy of hand feeding gorgeous birds at the walk-through aviary. Learn all about a variety of birds, their habitats, feeding patterns and threats at the Flight of Fantasy Show. Spend hours browsing the gardens, discovering the unknown of birds and getting a cuppa at Flamingo Café.
Theatre
Montecasino is home to two theatre houses, the Teatro and Pieter Toerien. Spend an evening watching the latest plays, musicals, comedy shows and music shows. These shows cater to business professionals, kids, families and adults. Keep an eye on their events page to see all the upcoming shoes.
The Magic Company
This arcade features the latest games, prizes and even an XD Theatre. Have a blast shooting hoops, battling villains and knocking down the clown. All in a bid to win the biggest and best prizes. Or strap yourself in and experience the immersive Canyon Coaster, Speed Racer and Haunted Mine with 3D stereoscopic graphics and FX for a ride that will ignite all your senses.
Laser Zone 
This three-level, 45 square metre laser tag zone offers flashing lights, smoke and glow-in-the-dark walls setting the seen for the ultimate laser showdown. Get your adrenaline pumping shooting your opponents whether they're your friends, family or complete strangers.
Shopping Spree
Dark Carnival
This geek haven has finally set up shop, so no more hours waiting in queues at rAge. Instead, pop by on any day of the week and get all the pop-culture and super hero merch you could ever want. These include shirts, hoodies, mouse pads, laptop covers, figures, trading cards and other collectibles.
Sins
This delightful store offers a fine selection of rare sweets, exquisite gifts, African collectibles, unique stationery and custom plushies. It is a blend of a gift store, sweet store and stationery shop, all in one. Stop by to get a stainless steel water bottle, African wild life soft toys, imported sweets and snacks, and a unique gift for someone special.
Skoobs Theatre of Books
Skoobs is probably one of our favourite independent book stores. This is because of their wide varieties of classical, fiction, children's, new age and non-fiction books, quirky stationery and giant chess board. Visitors can also stop by at the adjoining coffee shop for a fantastic cappuccino and scrumptious slice of rainbow cake.
Stay the Night
Montecasino Hotels
Montecasino has a total of three hotels, the Southern Sun, SunSquare and Palazzo. They each have their own unique characteristics. Southern Sun offers guests a taste of Italy and was inspired by the 15th century Palazzo Corsini Villa in Gianicolo. SunSquare has a more modern feel with the open spaces and bright lights. The Palazzo also has it's own unique flair with the romantic touches. Each of these hotels offer great service, exquisite accommodation and a luxurious charm.
Contact details: 011 510 7000 / Montecasino Boulevard, Cnr William Nicol and Witkoppen, Fourways / [email protected] / https://www.tsogosun.com/montecasino
*Images sourced from Montecasino's website.