The restaurant space is basic but features the odd scale model airplane and a few other bits of memorabilia; the real winner here is i's large deck seating outside facing the runway. Yes, you read that correctly, the deck faces the runway, where keen patrons can sit and sip on a cold draught, enjoy a tasty meal and most importantly, watch a free airshow!
Their menu is basic but a few things stood out at first glance. They have an extensive pizza menu and a huge wood fire pizza oven and let's face it, pizza is exactly the type of things you'd want while relaxing, having a drink and watching the planes. Other things on the menu include a decent grill section from which I chose the fillet steak (and I can vouch for their tasty marinade). The bar also features a variety of draught beers including Heineken and Guinness which is always a treat.
We sat and watched as planes took off and landed for a few hours before I realised what the time was, and that a storm was headed directly our way. I've lived in Joburg for many years now but rarely have I found a place that caters so perfectly for my father. I love taking him to Gillroy's when he visits but after finding this we might just be regulars at Harvard from now on.
Tip:
Right next door to the Rand Airport is the SAA Museum or Aircraft Park - this place is absolutely amazing! You pay R25 for adults and R15 for children to be allowed to walk around admiring classic Boeing-type planes, but the best part is that you can even walk up the stairway into the cabin and the cockpit! It's a youngsters dream come true and I'm sure dads won't complain either. My advice would be to spend an hour at the flight museum and then head across to Harvard for some lunch and take-offs. Book a table outdoors to make sure you get to experience the view.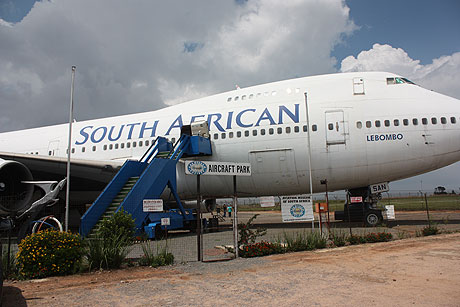 Address: Main Terminal Building, Rand Airport, Germiston.
Telephone: 011 827 4856