Hartbeespoort is a well known resort town situated in the North West province. Its most popular attractions include the Hartbeespoort Dam and Crocodile River white water rapids, the Harties Aerial Cableway and the Elephant and Monkey Sanctuary. Hartbeespoort is also a foodies' paradise, as it is home to several top class restaurants and delis. So, pack up the car and bring the family along for a trip to Harties this weekend. You won't regret it for a second!
What Are You Looking For?
Shopping
Restaurants
Entertainment
Hotels & Accommodation
Property
Wedding Venues/Conference Centres

Although Hartbeespoort is first and foremost a resort town, it is also home to many permanent residents. There are several shopping centres in the area that cater to both locals and visitors. Staying over in Harties for the weekend at a self-catering lodge? No problem! You can pick up your groceries and essentials at any of the shopping centres in and around the town. Hartbeespoort also offers tourists an eclectic selection of curio shops, bakeries, and delis to explore. Stop by to find a little something to remember your trip by or to enjoy in the car on the way back to Johannesburg.
Explore Shopping in Hartbeespoort.
Make sure to pack your appetite when you head out to Harties. This is most certainly a restaurant town, offering everything from farm style brunch buffets to fine dining atop the Magaliesberg mountain range. No matter your taste in food, Harties is sure to have something to tickle your taste buds. In fact, you might as well book off your weekend simply to sample as many restaurants in the area as you can. You may leave a few kilos heavier than you arrived, but it will be worth it!
Explore Restaurants in Hartbeespoort.
When last did you feel a rush of pure adrenaline to the head? Harties is the number one place for thrill seekers and outdoor enthusiasts to come and test their wits. You'll almost never run out of fun and entertainment here. Whether you're interested in mountain biking, hiking, paragliding, canopy tours, boating, water skiing or hot air ballooning, Harties has it all. There are also a variety of family-friendly activities to keep the little ones entertained. Bring them to the Ann van Dyk Cheetah Centre to meet Africa's most majestic big cats. Harties is all about having fun and making memories with loved ones, so visit the town as soon as you can.
Explore Entertainment in Hartbeespoort.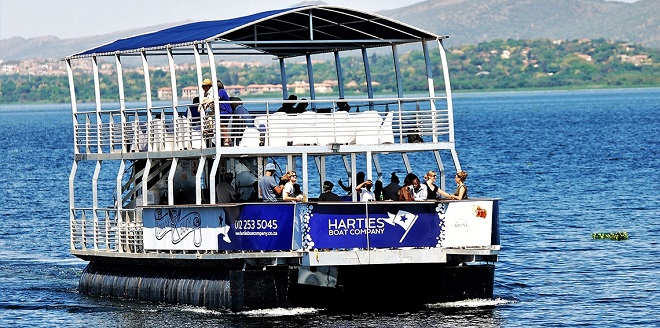 While it is fully possible to make a day trip out to Hartbeespoort, we bet that you'll want to spend at least a few days exploring the town and its surrounds. There are a range of accommodation options here, including five star hotels, lodges, B&Bs and camping grounds. No matter your budget, Harties provides comfortable accommodation to allow you to relax, rejuvenate and enjoy the picturesque surrounds. Book yourself a stay in Hartbeespoort or you'll be missing out.
Explore Hotels & Accommodation in Hartbeespoort.
Hartbeespoort is a dream holiday home destination. Rather than schlep across the Gauteng meets North West border every other weekend, why not purchase a luxury vacation home for you and your family to enjoy? Hartbeespoort is also a lovely place for retirees to spend their leisure years. With so much entertainment and natural beauty around, it's the ideal spot to settle down in. Whether you're in the market for a contemporary apartment overlooking the Hartbeespoort Dam, or in search of a spacious family home, there are tons of housing options in the area. Don't hesitate because real estate sells fast here!
Explore Property in Hartbeespoort.
If you've always dreamed of a destination wedding but don't quite have the budget to travel abroad, Harties offers you the perfect compromise. Host an intimate outdoor ceremony or a spectacular indoor banquet at one of the many fantastic wedding venues in Hartbeespoort. Looking for a corporate team-building retreat or a venue for a convention? Hartbeespoort is the ideal place to host both local and international delegates.