Looking for a wonderful, inexpensive, family-friendly day trip less than two hours outside of Joburg?
The Donkey Dairy in Magaliesburg is a working farm that offers visitors tranquil settings and interaction with some of the world's rarest (and most adorable) farm animals, including dwarf goats, miniature pigs, miniature rabbits, miniature cattle, miniature horses, silky chickens, Suri alpacas and not to forget the stars of the farm, miniature spotted donkeys.
Founded by Jesse Christelis and South African stage and screen Actor, Zak Hendrikz, the farm was founded with the intention of preserving a rare bloodline of blue eyed spotted donkeys which seem to be endemic to South Africa. The focus on the farm also began to include buying in donkeys from places of misery and rehabilitating them.
Donkey Milk, Anyone?
Donkey milk has proven health benefits, and its biochemical composition makes it the closest mammal milk to human breast milk, making is easy for our bodies to absorb. It is rich in vitamins A, E and C - which makes it excellent for the skin and anti-ageing.
There is a lovely little shop on the farm where you can purchase their donkey milk products - including day and night creams, hand cream and soap.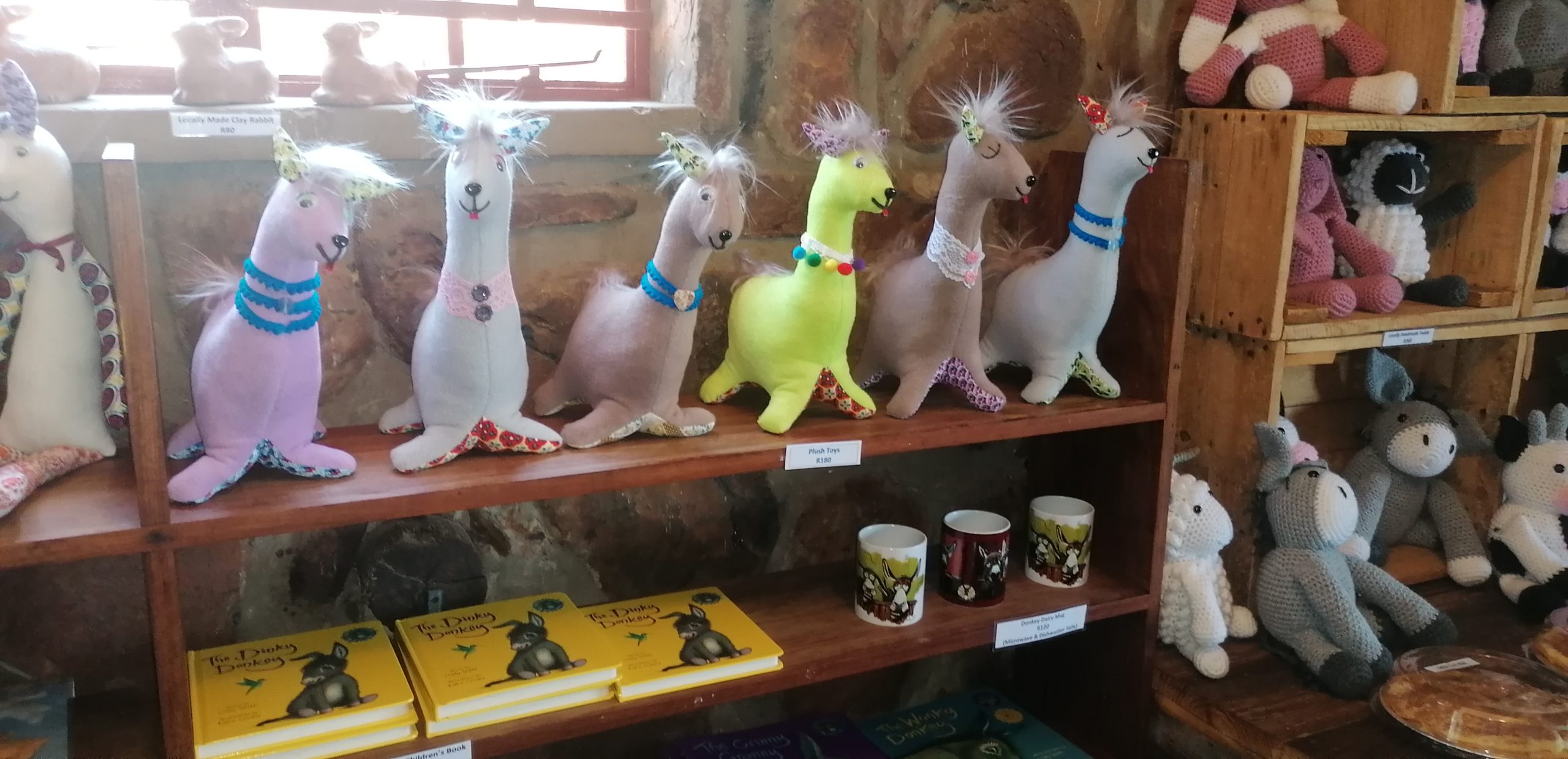 There are also donkey books and stuffed toys of all sorts for the kids. And, if you're suitably intrigued, actual frozen donkey milk you can sip on.
Picnics & Petting
The farm is accessible by appointment only, so do be sure to book before you turn up at their gates. Booking is as simple as sending a WhatsApp to 072 262 5369.
Please note that you will be travelling on a 6km gravel road. Any hatchback or sedan vehicle will be able to reach the property, but avoid driving a very low suspension car.
Pack yourself a picnic basket and sit on their wooden tables in the shade, or grab yourself one of their picnic blankets and find a nice spot to snack.
There isn't a restaurant on the farm, but there is a stand where you can buy coffee, tea, cold drinks, chips, sweets or one of their famous foot-long boerie rolls.
From their info brochure: "If you are down-to-earth and looking for a bit of fresh farm air and interaction with some amazing animals, then you have come to the right place."
They also have two family-friendly hiking trials on their side of the Magaliesburg mountain that you can embark on.
You'll have plenty of time to interact with all the incredible farm animals, and kids will be sure to want to take part in bottle feeding their baby goats at 9:30am and 12:30pm.
This is available at an additional cost of R50 per family on a first-come first-served basis.
For those that would like a restaurant meal, be sure to stop at Meat and Eat Deli - a 10 minutes' drive from the farm. The outdoor restaurant offers a kids play area and their own selection of hams and sausages. We highly recommend you order a milkshake, too!
Make It A Weekend
The farm also has an AirBnB where you can stay the night for those wanting to make a weekend of it. Be sure to book in advance as this spot has become popular in the past few months.
A Donkey Dairy visit is a great way to get the entire family outdoors, teach the kids about farm animals, have a hike or a picnic, and learn something new. And who knows, maybe you're a donkey milk convert in the making, eh?
What You Need To Know
For more information about The Donkey Dairy visit www.thedonkeydairy.com.
Entrance fee is R60 per person, R45 for pensioners and children under 2 years of age enter for free.
All proceeds go to feeding the 112 donkeys on the farm, so your support is greatly appreciated.
Bookings at 072 262 5369 or [email protected].
Open Saturdays and Sundays, 09:00 to 15:00.
Don't forget to follow them on their social media platforms – Facebook and Instagram – for the latest news.
Address: Portion 23, Boshfontein, Maanhaarrand, Magaliesburg, 0346
Images by Anna Kemp, Grace-Louise Bosma, and The Donkey Dairy Facebook page.