Pichulik 
No outfit is complete without some bold or subtle accessories and Pichulik definitely doesn't disappoint with their range of bespoke pieces they have on offer. Inspired by African and Middle Eastern ornamentation, Pichulik creates statement and thoughtful items for spirited women. Each piece is handcrafted in Cape Town using locally manufactured ropes and interesting found materials. If jewellery is your game, then Pichulik is your go-to store!
Me&Be
If you're someone on the bigger side of the clothing size spectrum, you're well aware of how hard it is to find fun and fashionable clothes. Especially in South Africa, where the fashionable plus size memo has yet to hit our shores. Most plus size fashion either caters for a demure crowd and isn't accessible price wise, or it errs on the side of very sexy body con dresses. There is hardly ever any middle ground.
Enter fashion label, Me&B. The store was founded in 2018 by the mother and daughter team, Betina Swart and Kelly Gibberd and they've just opened their first brick and mortar store in Johannesburg, at the ultra-hip 44 Stanley in Milpark.
Calling themselves "Inclusive Fun Fashion", the clothing label doesn't only cater to plus sizes but it goes a long way to make them feel part of the fun fashion. "We founded this brand with a strong belief that the fashion industry deserved a shake-up," they say on the company's website.
Their clothing ranges from size 32-46. The most unique aspect is that everyone between those ranges gets access to the same item. So, a size 46 gets to wear what a size 32 gets to. This is almost unheard of when it comes to plus sizes where they are usually relegated to more flowy "flattering" fabrics and "functional" cuts.
Odrin
For premium men's wardrobe staples, look no further than Odrin. Odrin provides a curated selection of quality items made locally using luxury grade fabrics from the US, Japan and Europe. They also stock a few global brands that offer the best combination of heritage and fit. And, if you're in need of some styling assistance, they've got that too – no guess work involved.
Guillotine Design
With an emphasis on luxurious fabrics, structure and tailoring, Guillotine Design's range of clothing will flatter every shape. The store also stocks a few original ranges including the L'Mad Collection, a range of printed silk scarves featuring original artworks from well-known South African artists, and the Meraki botanical skin care range. Doesn't that just sound like fashion yumminess?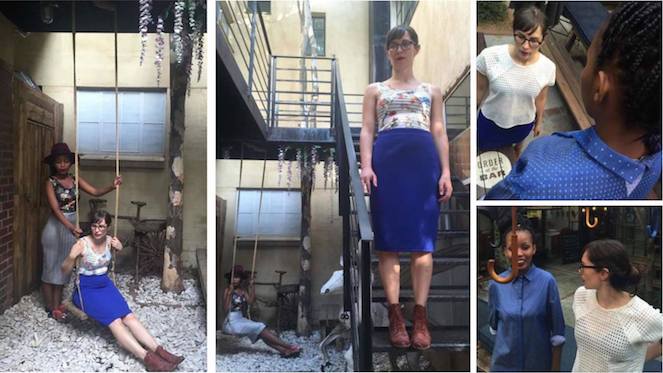 Five8ths
Does the sound of beautifully tailored shirts make you dance in your boots? If yes, then you'll be dancing all the way to Five8ths. The store stocks custom shirts made in store from high-quality fabrics for both men and women. You can also shop for accessories, such as neckties, bowties and pocket squares here too.
Black Coffee
From the runway to the fabulous store nestled in 44 Stanley, Black Coffee is known and loved by style gurus all over Jozi. This label is by Jacques van der Watt, who has a keen eye for a distinct blurring of fabrication and fashion. His sharp structural designs are characterised by complex, layered shapes that yield a fastidious fashion sensibility that is both restrained and bold.
Lunar
Established in the 1990s, Lunar is a purely and proudly South African fashion and lifestyle label that focuses on elegant, classic and sophisticated items for both bridal and ready to wear items. In addition to clothing, you'll also find arts, accessories, gifts, footwear, soaps and so much more.
Kuna Kids
Kids deserve to look great in fashionable clothing that still reflects their youth and vibrancy. Kuna Kids does an exceptional job combining bold and bright garments with an African twist. Talk about proudly South African taken to new heights, right? Catering to children, from newborns to 10 years old for both boys and girls, your shopping needs are sorted for a good portion of your little one's life.
Sirkel Jewellery Design
Looking to propose? Then make your way to Sirkel Jewellery Design for unique contemporary and traditional engagement rings. They also stock men's rings, bespoke handmade future classics and wearable sculpture for those keen to express their individualism. You can expect the highest of standards in aesthetics and craftsmanship, so what are you waiting for? Dazzle your fingers already!
Wizards Vintage
Pre-loved vintage clothes are always a great addition to anyone's wardrobe. It's even better when the clothes are an eclectic collection of high-end designer fashion brands from previous seasons, all in quality condition. Think Bottega Venetta, Dior, Etro, Dries Van Noten, Ann Demeulemeester and many more – all waiting to add some glamour to your life. Wizards Vintage has all that, and more, for stylish women looking to treat themselves. To top if off, the store also has a beautiful vintage homeware section. Email them for enquiries.
House of Bespoke
Fashion designer and stylist Waseefa Hutton is the creator of the brand House of Bespoke. Her line offers clothing that exudes a woman's character of elegance and classic style. The location in 44 Stanley is the first concept store within the brand. Other than clothes, the store also offers jewellery, accessories, homeware and handmade goods from local and proudly South African designers.
Have you been here before? Rate and review your experience below!