Eat
Northrand Road
Boksburg offers a huge selection of cuisine with everything from Indian to Mexican options available. There is a cluster of restaurants on the main road, Northrand. Here, you are sure to find something to hit the spot. If you are in the mood for something spicy, then try the Paneer Maknie from The Classic India, just make sure you get it with a side of Aloo Parantha - trust us. Or try a Refried Bean Burrito at Salsa Mexican Grill with a side of Avocado Rellenos. For Italian, try Little Nero's and for Greek, Zorbas has the best Halloumi Yiro in the East. And if you're feeling a little thirsty after all this, head to Kota Joe for a gourmet milkshake, we recommend the delectable Black Forest Milkshake.
East Rand Mall
Also located on Northrand road, East Rand Mall has a plethora of dining options available. For gourmet toasted sandwiches and luscious freshly baked confectionery, head to Parrots. If you're more in the mood for a fresh sandwich, decadent croissant or creamy gelato to pair with a cup of coffee, Fournos will provide. Indulgent pizza, perfect pasta and flavoursome Middle Eastern cuisine are also offered here. And dessert is completed with mouth watering doughnuts and cinnamon rolls.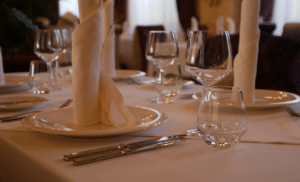 Shop
East Rand Mall and East Point Mall
Boksburg has many shopping centres offering plenty of diverse stores. The main one being East Rand Mall. This shopping centre was renovated in the mid-2000s. It now features the old East Rand Mall adjoined by East Point Mall. Together, they form a mega mall offering a huge variety of retail choices. Shoppers can expect to find all their favourite grocery, cellular, banking, gaming, music, stationery, fashion, beauty, health, book and electronic store franchises as well as a few quirky and unique stores scattered around the huge space.
East Rand Traders Square
Opposite the East Rand Mall is the long standing Traders Square. Which is more commonly known by its unofficial name, Boksburg Flea Market or even just, the flea market. This has a great second hand book store, unique clothing stores and many electronic stores. The market also offers it's own oriental picks, where you can purchase a plethora of items with everything from sauces to spices.
Builders Warehouse
In May 2019, Builders Warehouse opened it's new concept store in Boksburg. This store uses the latest technology to make shopping for home improvements and DIY a breeze. They offer free WiFi, 44 high definition screens, digital integrated services for homeowners, flatpack modular furniture, digital and physical displays, a new design and installation service, a 3D printing service as well an in-house cafe, Vida e Caffè, and filtered water.
Entertainment
Carnival City
Carnival City Casino and Entertainment World offers more than just gambling. Apart from the 57 table games, they also have a wide variety of kiddies entertainment including movies, an arcade, laser tag, ten pin bowling, carnival games, theme rides and go-karting. As well as many adult activities, store outlets and restaurants. Dining options range from American and Indian to Asian and Middle Eastern options.
Children's Entertainment
For more wholesome entertainment for the family, Boksburg is the place to be. Bokkie Park is the perfect place to hang out as a family, and to get some sun and exercise. Here, you can feed the farm animals or simply have a family picnic or braai. For some more fun, head on over to Wild Waters, where you can spend a day having some fun with slipping and sliding. Other options include jumping away the stress of the day at a trampoline park, having a blast at the shooting range or picnicking in the park.
Night Life
Boksburg is the perfect place for a pub crawl. Pubs and bars at this suburb offer something for everyone. Enjoy live performances by top South African bands at Presleys. Those of you just wishing to knock back a cold one and listen to some jukebox classics can head on over to Top Shots. Or cross the border that is Atlas road between Benoni and Boksburg, and get a hearty meal at Dingo's or Coolz. Plane lovers will adore Hi Flyerz, an aviation bar and museum. For the younger crowd, head over to Nicci beach to dance the night away.