We head to the north of Johannesburg and explore everything the northern suburbs and areas have to offer locals, residents and tourists. Johannesburg North comprises of Sandton, Bryanston, Rosebank, Melville, Randburg, Fourways and Midrand. If you're planning a visit to Johannesburg North, click your suburb of interest below and take a look at our guide to the area. We have covered everything from recommended restaurants and must-visit retail destinations to places to stay if you wish to spend the night (or weekend) and more.
What Are You Looking For?
Melville
Randburg
Sandton
Rosebank
Fourways
Bryanston
Midrand
One of the city's oldest suburbs, Melville is known as a bohemian student town filled with a variety of bustling bars, trendy restaurants and interesting activities. For a spot of unique shopping and dining in the area, visit 27 Boxes, a lifestyle centre in the heart of the suburb housing an interesting selection of stores and eateries in 100 shipping containers. Here, you'll also find the rooftop Green Market. And if you're looking to spend a little time reconnecting with nature, take a stroll or hike through the Melville Koppies Nature Reserve. And as for nightlife and delicious deilghts, there's plenty of bars, eateries and hangouts to visit, including The Anti Social Social Club, Smoking Kills Bar, Cafe De La Creme, Hell's Kitchen, Love Me So, and many more.
Randburg is considered the central point of the northern suburbs. From here, everything is easily accessible via the main routes that traffic to and from this area. Other than it's ideal location from many neighbouring business, retail and entertainment hubs, it has its own gems you need to visit and explore for yourself. First stop, a well-deserved shopping spree, so why not pop into Cresta Shopping Centre, Randburg Square, or the brand-new Ferndale on Republic (AKA the Brightwater Commons). Tantalise your taste buds at one of the suburbs restaurants including Fusionista, Patisserie de Paris, The Fussy Vegan or Del Fornos. And for your entertainment, spend the afternoon racing around a track at Randburg Raceway Indoor Karting Track or getting lost at the Honeydew Mazes.
Explore the forefront of African luxury within Africa's richest square mile, Sandton. This area is a popular and bustling entertainment, business and retail hot spot that attracts visitors from all over the country and the world. The affluent neighbourhood boasts world-class malls, luxurious hotels, conference centres and restaurants that are sure to delight all tastes, styles and needs. A few must-visits includes the well-known Sandton City Shopping Centre, brimming with international stores and iconic brands; the Michelangelo Hotel boasting magnificent views of the Sandton skyline; the Urban Moyo offering the best in African cuisine; and the Taboo Night Club ensuring an extravagant night-out-on-the-town experience unlike any other.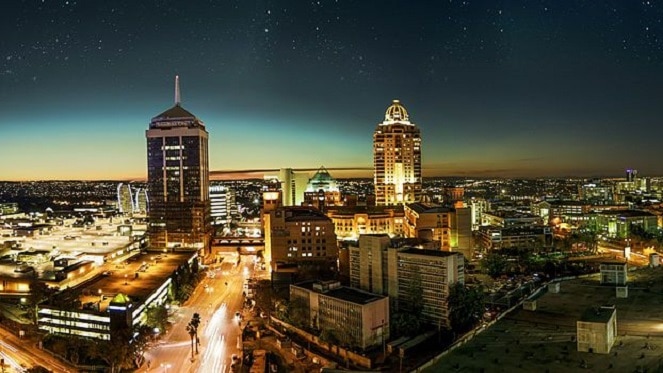 Known as the trendy and cultural area in Joburg North, Rosebank is a vibrant, lively and diverse suburb that's jam-packed with plenty of must-visits, retail centres, sundowner spots and hip hotels. The area attracts plenty of businessmen and tourists alike with its exciting daytime excursions, divine dining hot spots and cool nightlife. Spend your Sundays exploring and shopping up a storm at the Rosebank Sunday Market on the rooftop of Rosebank Mall. For some of the best cocktails in the neighbourhood, be sure to visit Sin+Tax or Mix Cocktail Bar. And if you have a love for on-trend local and international art and design, artisan eateries, vibrant shops and spaces, and unique cafés, then the Keyes Art Mile is a definite must.
Now, we move onto fabulous Fourways! Did you know that Fourways is known as the fastest developing commercial and residential hub in north? Other than attracting visitors from far and wide, for both business and leisure, the suburb also plays home to a wide selection of entertainment, restaurant and retail spots that you need to visit and explore for yourself. One of the big attractions in Fourways is the exciting entertainment hub of Montecasino. Bringing Italy to Joburg, Montecasino offers guests everything from amazing restaurants, interesting stores and incredible live shows, to cool events, family fun and even the chance to strike it lucky and win big! Other than Montecasino, there's the epic and recently renovated Fourways Mall, top-notch hotels, and let's not forget to mention the thrilling Croc City Crocodile & Reptile Park.
Bryanston is a beehive of activity and attractions, especially when it comes to some of the best restaurants in the north. Here, you can take your pick from dozens of incredible restaurants offering a wide selection of cuisines from authentic Italian to French fine dining. We highly recommend a visit to Casa Del Sol Botanico at Bryanston Shopping Centre; Gemelli at the Posthouse Link Centre; and Coachman's Inn at Coachman's Crossing. As for retail therapy, Bryanston Shopping Centre, Nicolway Bryanston and Hobart Grove Centre are sure to have everything you're looking for from on-trend fashion to your weekly groceries. And if you're looking for a little bit of fun in the area, spend a Saturday morning browsing through the Bryanston Organic & Natural Market,  get the adrenaline pumping at the Jozi X Adventure Centre, or even do a little skating at RollEgoli Roller Rink.
Heading further north of Johannesburg is where you'll find Midrand. This area is not only fast becoming a fantastic residential area with its abundance of affluent neighbourhoods such as Waterfall, Kyalami, and Beaulieu, but it's also becoming a popular and sought-after business and retail hub. One of the largest malls in the country can be found here, namely Mall of Africa. When it comes to dining out in  Midrand, The Rock, Piza é Vino, The Hussar Grill and Salsa Mexican Grill are definitely musts. And if you're looking for fun activities to do in the area, there's the well-known Kyalami Grand Prix Circuit, the South African Lipizzaners, Waterfall Market and The Herb Farm if you're looking to enjoy a little fresh air and beautiful garden scenery.