Christmas at Eastgate promises to be the most magical experience for the whole family. This year, your kids (and even you) can expect adventures with Superhero Ben 10, create your own personalised Powerpuff avatars, meet and greet sessions with one of the world's most famous bears - Paddington Bear, photos with Santa Claus, singing polar bears, elves, fairies, jugglers, face painters and many other moments of delight. There's something for everyone! Festive fun has never been so exciting. You can catch all the excitement from 08 - 24 December 2017.
Go On An Adventure With Superhero Ben 10
Yes, you guessed right, it's your kids' favourite alien superhero, Ben 10, at it again! Children will be given the opportunity to meet Ben 10 and his superhero aliens, including Four Arms and Swamp fire, which he transforms himself into when fighting evil.  There will also be an interactive obstacle course where the contestants will face a series of challenges that will test their physical and mental abilities, as well as speed, strength and strategic skills similar to a scenario in an episode of the series. And from the 18 – 24 December 2017, the augmented reality games will be added.
Become A Powerpuff Girl or Boy
Girls and boys are invited to join in on the fun and create their very own personalised avatars using the Powerpuff website. All participants will get a free printed photo of the avatar that they created.
Get Creative at the Imagination Studio
Your kids can have a blast expressing their creative side by drawing on the interactive walls, plinths or iPads. Let their imagination become animation!
Meet & Greet Sessions
Don't miss the opportunity to meet some of your kids' favourite Cartoon Network characters like Gumball, Darwin and Finn and Jake. Gumball is a twelve-year-old cat with a flair for misadventure.
Gumball's best friend is a fish named Darwin, who used to be the family pet until he grew legs and became part of the family.
Also meet 12-year-old Finn, who battles evil in the Land of Ooo with the assistance of his magical dog, Jake. Together, Finn and Jake go on many adventures, roaming the Land of Ooo righting wrongs and battling evil wherever they go.
Children will also be entertained with daily dance competitions, quizzes and games.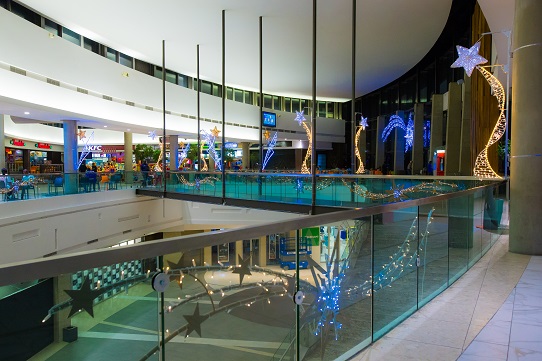 Get Photos Taken with Santa
Santa Claus will be photo ready and waiting to pose with you and your little ones in the Centre Court next to the awesome, singing polar bears. And for shoppers pressed for time, there'll be five gift-wrapping kiosks strategically placed throughout the centre, where you can have all your presents beautifully wrapped for a donation of your choice. All proceeds from the gift-wrapping kiosks will be donated to Edu-Care. Edu-Care is an educational organisation that provides essential school equipment to underprivileged and vulnerable children in all communities.
Paddington Bear visits Eastgate
One of the world's most famous bears is back! Paddington 2 hits cinemas on the 01 December 2017. A perfect family movie for the holiday season, you can see this live-action film in Ster-Kinekor at Eastgate. You can also get to meet Paddington Bear in the Hamleys Court from 19 – 24 December 2017 (times to be advised).
Paddington is an anthropomorphised spectacled bear. He is always polite, addressing people as "Mr", "Mrs" and "Miss", rarely by first names, and kindhearted, though he inflicts hard stares on those who incur his disapproval. He has an endless capacity for innocently getting into trouble, but he is known to "try so hard to get things right." He was discovered in Paddington Station, London, by the (human) Brown family who adopted him, and thus he gives his full name as "Paddington Brown".
Festive Dining At Eastgate
From fine dining to fast food options, the Eastgate Food Emporium has it all. Mediterranean, Asian and Italian sit-down options with a variety of convenient "grab & go" options too. Sit outside and enjoy the festive atmosphere while your kids play on the jungle gym. The Food Emporium is conveniently located opposite Ster Kinekor. So, sit and relax before enjoying a movie on IMAX with new releases for the holidays including Paddington Bear.
Extended Shopping Hours
Don't have enough time to get all of your festive shopping done? Not a problem, you can shop until 20:00 daily (excluding Sundays) at Eastgate. For a full list of festive trading hours visit www.eastgateshops.com.
For More Information
For more information about Eastgate, visit www.eastgateshops.com or call them on 011 479 6000.
Don't forget to check them out on Facebook, Twitter and Instagram.