Era by DJ Zinhle
Most well known for her smash hit summer singles, DJ Zinhle is undoubtedly one of South Africa's favourite media personalities. But, she is far more than just a master mixer. Businesswoman befits her well, as she sits at the helm of Era by DJ Zinhle - a jewellery and watch brand taking the country by storm. The online store features a range of must-have watches, bracelets and African-inspired accessories. Offering shoppers the latest fashion trends, Era by DJ Zinhle is a local gem.
Pop-up glam
Fans of the brand have long been calling for a new pop-up store in Joburg. With one store already situated at The Workshop in Newtown, Era by DJ Zinhle was in need of a new temporary home. Located between Joburg and Pretoria, The Mall of Africa makes the perfect spot for a pop-up store. Africa's largest mall sees thousands of visitors each month, many of whom are sure to stop by the Era by DJ Zinhle pop-up shop. Launched on Friday, 27 September 2019, the store will be opened for exactly one month. So, hurry on over before your dream watch sells out!
The Rose Glam-Up Watch
The pop-up store has already seen a number of visitors. Their best seller so far is the ladies Rose Glam-Up Watch. Part of the Glam-Up edition, this wrist watch features gorgeous rose gold details and an intricate rose design at the centre of the piece. Celebrating the strength of African women, this watch is a classic timepiece. Visit the store to get your hands on one.
Stacked combos
According to the fashion gurus, jewellery stacking is bang on trend right now. To help you keep up with the times, the pop-up store allows you to create your own custom layered combinations. Design your very own stacked watch and bracelet set which reflects your personality. Whether you pick a classic watch or an African-inspired design, there are beautiful bracelet accompaniments to all watch pieces. Both men and ladies can create their own custom designs.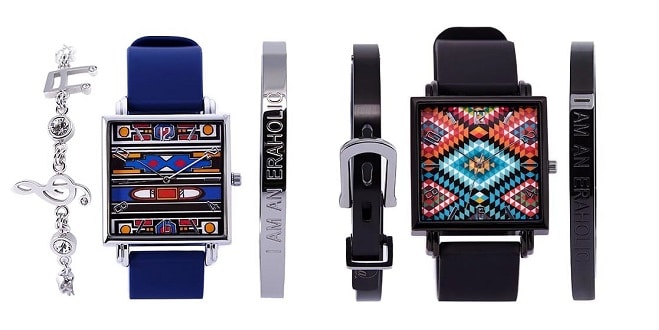 If you need a little help choosing your combo pieces, check out the Era by DJ Zinhle online store. DJ Zinhle's team have selected a few custom combo pieces of their own which are available to order. Our top pick for the ladies is the Pink Afro Edition Combo. The Pink Afro Edition watch with unique face front design is perfect paired with the Silver Beat music note bracelet and Silver Precious bracelet. At only *R 1,478.00 for the whole set, this is an investment well worth making.
For the guys, we like the Boss Black Watch Combo. The seriousness of the Black Eraholic Bracelet and Black Buckle Bracelet are offset by the playfulness of the centre watch design. Fun but professional, this watch should definitely be on your Christmas wish list!
For More Information
Visit the Era by DJ Zinhle pop-up store at the Mall of Africa, Life Court, Entrance 23. The store will be open until Sunday, 27 October 2019.
Follow the store on social media for more information:
Details: Lone Creek Cresent and Magwa Crescent, Waterfall City, Midrand, Gauteng | 010 021 0982 | [email protected]