Please note: Easter Egg hunt events are subject to change or be cancelled at any given time. Please contact the event organisers directly for further information and confirmation. All Covid-19 safety protocols and precautions must be upheld. No mask = no entry. 
Date: Saturday, 16 April 2022 from 10:00 – 14:00
Little shoppers visiting Bedford over the long Easter weekend are invited to join in on all the Easter egg-tivities at the fun-filled Kids Easter Garden! Here, kids can spend some time getting into the festive spirit by enjoying a selection of lovely activities including arts and crafts, colouring, as well as an incredible scavenger hunt, free of charge! So, what are you waiting for? Grab your family and head to Bedford and enjoy everything that we have to offer over the long weekend.
Easter Magic at Melrose Arch
Date: Sunday, 17 April 2022 from 13:00 to 15:00
This Easter long weekend, Melrose Arch is ready to ensure Easter lives up to little ones' expectations and that they have loads of fun and experience the magical that this special occasion brings. Join Alice and her Wonderland friends at Melrose Arch for a free Easter egg hunt on Easter Sunday in the middle-level Galleria. Go down the rabbit hole from the starting point situated right outside Woolworths. Then follow the clues as you make your way through the Galleria, collecting Easter eggs along the way. And then end your adventurous hunt by collecting a special box of assorted eggs, courtesy of Melrose Arch. Click here for more information.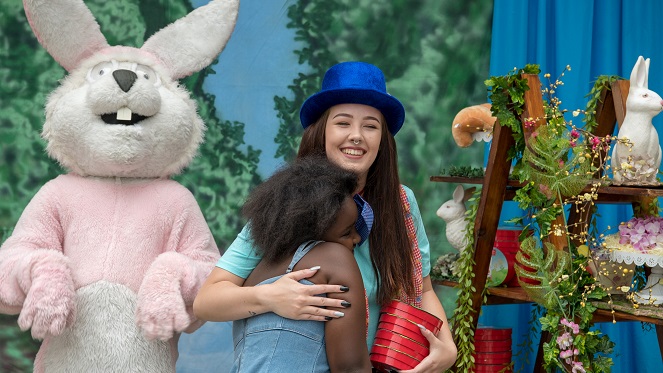 Easter Egg Hunt at Avianto
Date: Friday, 15 April 2022 from 10:00 – 12:00
Out in the Muldersdrift countryside, Avianto offers a beautiful setting perfect for a fun-filled Family Fun Day! And at this Family Fun Day, kids will have a blast hunting for Easter eggs with an egg-citing Easter Egg Hunt set up on the Avianto grounds. The hunt will take place from 10:00 – 12:00 on Good Friday (15 April 2022). And while the kids have a blast gathering plenty of Easter eggs, the parents can tuck into something delicious from the à la carte menu at the Avianto Clubhouse or Café Cielo. Space is limited, and booking is absolutely essential. Contact Avianto at 011 668 3000 or [email protected]. Click here to see all the other offers Avianto has in store over the long Easter weekend.
The Field Berry Farm Easter Egg Hunt
Date: Saturday, 16 April 2022 and Sunday, 17 April 2022 from 09:00 – 15:00 daily
Join the Field Berry Farm for bucket loads of fun! Don't miss the egg-citing Easter Egg Hunt, where kids need to find three different coloured stones in the berry fields in exchange for a marshmallow egg; a white candy coated chocolate egg; and a wrapped hollow milk chocolate egg. Cost for the hunt is R60 per child (this includes the Easter Egg Hunt and entrance fee). No bookings necessary. There will also be a guided Easter Walk near the berry field, which will take you through the different stages of the Easter story. And last but certainly not least, expect some scrumptious food stalls offering a variety of yummy food, eats, treats and refreshments. Please note: no picnics or dogs allowed, and a reminder to please wear a mask and to respect social distancing.
Weekend Market
Date: Saturday, 16 April 2022 from 09:00
Cost: Tickets cost between R60 per adult and R90 per child. R150 for cooler box. Tickets can be bought on Computicket or at the gate. 
Easter isn't Easter without an Easter egg hunt! So, if you're looking to treat your kids with loads of fun-filled activities and piles of chocolate Easter eggs, then don't miss out on the Easter Egg Hunt at the Weekend Market JHB. There will also be loads of fun entertainment and rides to keep the little ones busy, including super slides, gladiator pits, foam pits, kiddies pool, rocket rides, jumping castles, as well as a flea market and grownups pool for the parents. This is the biggest Easter egg hunt in Joburg South, so make sure you don't miss out! Please note: No mask = NO entry.
Stonehaven on Vaal
Date: Friday, 15 April 2022 | Sunday, 17 April 2022 | Monday, 18 April 2022 | All at 11:00 when the Spirit of Jen returns from the Breakfast Cruise
Cost: Complimentary with booking of any 2022 Stonehaven Easter offering.
This Easter weekend, Stonehaven will have plenty of auspicious celebrations up their sleeve! From scrumptious breakfasts and cruising buffets on the Vaal, to complimentary children's activities to keep the little ones entertained, there's bound to be just the celebration for you and your family. Now to the information you've been waiting for, the Stonehaven Easter Egg Hunt! Our favourite beloved bunny has hidden plenty of Easter eggs around and about the Stonehaven Gardens. This is a complimentary event for the little ones once you have booked your seats at one of their delicious buffet offerings. The hunts will take place on Easter Friday, Sunday and Monday from 11:00 sharp.
Egoli Easter Family Festival 2022
Date: Saturday, 16 April 2022 to Sunday, 17 April 2022
Join in on all the festive fun with their Egoli Easter Family Festival 2022! This exciting and fun-filled event is just the thing to keep your kids entertained over the long weekend! Expect plenty of fun under the sun, including a thrilling carnival, lots of water fun to keep you cool, a lovely petting zoo, an egg-citing Easter Egg Hunt, as well as live music and entertainment that's sure to delight. Click here for more information.