It's not often that we declare something to be Joburg's finest – but today we're doing just that! Here's why the Quinnies fudge brand is worth investigating…
I have seen many people rave about Quinnies on Facebook, but had not sampled anything from their delectable-looking range. Until Easter. When I was given the most beautiful jar of bunny-shaped fudge.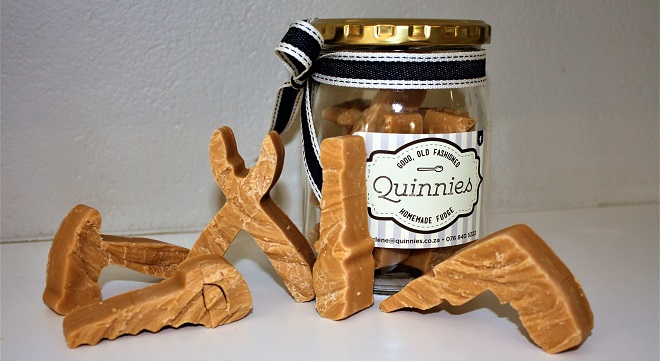 To be honest, that gift has been both a blessing and a curse – a blessing to my taste buds and a curse to my ongoing weight loss battle. But I can categorically say that it was the smoothest and creamiest fudge I have ever tasted.
What I love most, though, is the story BEHIND the Quinnies brand. In a nutshell, it is purely South African and made the old fashioned way (with the finest ingredients and lots and lots of stirring!)
A Bit About Quinnies...
Like many success stories, the Quinnies brand was never planned! It began in May 2016 with a batch of fudge that was made for family and friends. They liked it so much that they shared it with their families and friends and so, the company began. Their initial success was largely the result of support and purchases from family and friends, but before long, word had gotten out and they were contracted to supply fudge to the exclusive Singita Game Lodges.
It spiralled from there! Corporates began placing orders for clients gifts, big brands such as the 12 Apostles Hotel and British Airways slow lounges soon followed – and yet, each resulting batch continues to be handmade, with lots and lots of stirring!
ONLINE SHOPPING
You guessed it, you can place your order from behind your desk or while wearing your PJs at home. Prices range from R25 upwards and include medium and large jars, packets of fudge and even a bag of fudge ice cream toppings!
With such a magnificent back story, superb product and the fact that the company continues to create and provide employment, makes this a clear winner in our book.
WARNING: It's addictive, and friends will start demanding fudge at every event, gathering and for every birthday. You have been warned!
For More Information
Address: George Avenue, Rivonia, Johannesburg
Email: [email protected]
Tel: 084 777 0787
Web: www.quinnies.co.za
Facebook: www.facebook.com/quinniesfudge