Chevy Lane
This American-style diner at Bedford Centre offers up delectable burgers, waffles, milkshakes and hot dogs. The garage theme encompasses cars, street signs, a petrol station and even a car crash scene. The venue features entertainment for all ages with a cigar bar for the grown ups and a jungle gym, arcade games and adjoining ice cream parlour for the kids.
Mama Taco
This Mexican fast food chain offers up a delicious variety of Mexican food including tacos, quesadillas, burritos, nachos and churros. Perhaps our favourite menu item, Mama Taco has a Build Your Own option. Patrons can choose their base of a taco, burrito, Muncho Bowl or nachos and stuff it their very own choice of grains, protein, veggies, cheese and salsa.
Kong Sing
This Chinese restaurant specialises in sushi and dim sum. Their menu has a wide variety of deliciously flavourful soups, chop suey, chow mein, curry, sweet and sour dishes, dim sum and sushi. We love their selection of desserts which includes deep fried ice cream, deep fried bananas, bow ties and crispy buns.
Brooklyn Brothers
For gourmet burgers, dessert style milkshakes, crunchy chips, sticky ribs and perfectly cooked chicken wings, head to Brooklyn Brothers. This urban-style diner offers up dude-food that ladies can pig out on, too. Although, there is no actual pig as this establishment is Halaal certified.
Calistos
With Portuguese flavours and flair, Calistos Bedford Centre offers all the scrumptious Portuguese classics. These include items like the Trinchado, Prawns, Rissoles, Piri-piri and Prego. But their menu also has some unique finds such as the Argentinian Steak, Chicken Schnitzel and Avocado Ritz. All this can be enjoyed with their fine selection of imported cognac, premium whiskey and cigars.
Mythos
Deliciously prepared traditional Greek food can be found at this eatery. Mythos serves authentic pitas and dips, meze, souvlaki, yiro and all the other Greek food we've come to know and love. Their range of desserts, or glika, stands out from the crowd with the choices or loukoumades, baklava, rizogalo and kataifi.
Lupa Osteria
This Italian restaurant, named for the Roman Goddess, prepares mouthwatering meals consisting of antipasti, pasta, pizza and main meals. They also have a vegan menu with vegan pasta, pizza and dessert choices on offer. Their wine and liquor menu is extensive with many interesting and tasty cocktails.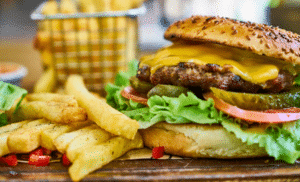 Salsa Mexican Grill
Bedford Centre has another Mexican offering, but in the form of a restaurant this time. Not only can you find tasty and spicy nachos, enchiladas, burritos, quesadillas, platitos and fajitas, but you can also get craft gin, tequila and beer. Finish off your meal with a thick and creamy milkshake, available in six flavours.
Banjaara
We complete our round-the-world trip at Bedford Centre with delectable North Indian cuisine. Bunny chow, tandoori breads, roti rolls, tandoori grills, briyani as well as chicken, vegetarian, seafood and lamb dishes grace the menu. Their meals are available in mild, medium or hot options and they are Halaal certified.
PHMIC
We can't resist the sweeter side of life, and what's sweeter than Paul's Homemade Ice Cream? Bedford Centre is one of the few, if not the only, locations in the east where we can get a lick of these indulgent scoops. Favourite flavours include Passion Fruit and White Chocolate; Mint Chocolate Brownie; Vegan Strawberry; Chocolate, Nutella and Oreo and Birthday Cake.
Contact details: Bedford Centre | 011 622 1840 | Cnr Smith & Van der Linde Rd, Bedfordview | [email protected] | http://www.bedfordcentre.com
To find more weird and wonderful things worth exploring at Bedford Centre, check out this nifty article.