A great family-friendly venue with all of the features needed for an amazing day out! Chameleon Village in Harties is a multi-facility destination offering everything guests need for a memorable day out, from wining and dining, fun-filled outdoor activities, a refreshing water splash park perfect for those hot summer days, live entertainment, cool bars, outdoor play areas for the little ones and so much more.
The Chameleon Village caters to locals and travellers, guests young and old, couples and large families and they're all about showcasing and boasting our authentic African culture, while incorporating an family fun element to it all. This unique destination aims to improve and boost local tourism through its interesting offerings. This proudly African establishment is a must-visit, only 45-minutes away from Joburg.
1. Restaurants Galore!
One of the things we love about Chameleon Village is the fact that we'll always be spoilt for choice when it comes to their selection of restaurants. There is a setting for all occasions. Chameleon Village boasts both outdoor and covered restaurants, allowing you to enjoy your visit and dine during any weather forecast and season.
As for the cuisine selection, expect everything from Italian and Portuguese to everything else in between! Their menus cater for all ages, tastes, preferences and culinary palettes. You can take your pick from visiting Pemba, Madagascar, Italiano and Poolside Café. And coming soon to Chameleon Village, guests will get to enjoy new additions to the family: their authentic Taj Halaal Indian restaurant and the Blu Bar.
Click here for more information about their selection of restaurants and what they have to offer.
2. The Perfect Day Out For The Whole Family
Chameleon Village is just the place if you're looking for a family-friendly adventure in Harties. Not only do they offer great entertainment for the grownups, but also plenty of fun activities for the little ones. Enjoy a round of putt-putt, visit the adventure park for some adrenaline-packed activities, take a stroll through the crafter's market and various little stores within the village, and relax with a drink and nibble while listening to live performances and music. There's most certainly something for all ages here!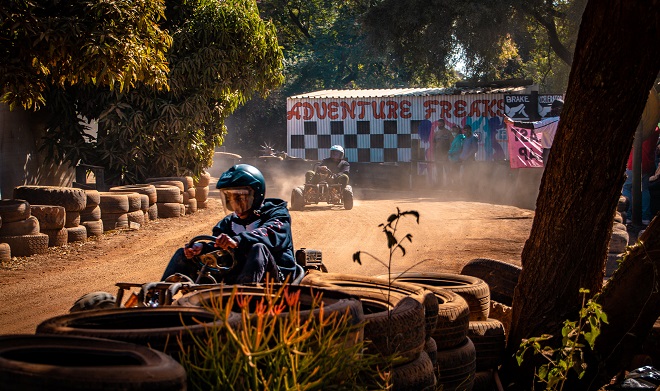 3. The Perfect Party Venue
New to their list of offerings, you can now book and throw an epic party at Chameleon Village! Here, you'll have the choice between three smaller function venues and one larger setting, and outdoor private sand areas. For entertainment, there's a selection of options available, including jungle gyms, splash pools, plays areas, and a giant jumping pillow. When it comes to the party planning, you can choose from nine different themes and there are various party packages available.
For more information about planning an amazing bash at Chameleon Village, email [email protected].
4. Edutainment & Conservation Parks
As if all of their outdoor entertainment wasn't enough, they also offer something that's not only entertaining but also educational. Stop by the Chameleon Village Reptile and Conservation Park, where you'll get the opportunity to view and learn about a wide variety of snakes and other scaly critters. The reptile shows are interactive and interesting. Ideal if you're looking for something fun and exciting to do with the kids during the school holidays. The also have the Lion and Tiger Park where you'll learn all about Bengal Tigers, Lions, Caracals and African Wild Dogs.
5. They Always Have Events Lined Up
Chameleon Village always has entertainment lined up. For example, during the month of July 2022, they will be hosting a selection of Christmas in July events perfect for the whole family. Here, the kids will get the opportunity to meet Santa Claus while the parents enjoy lovely live entertainment. For more details about upcoming events and offers, visit their Facebook events page to see what they have up their sleeve.
For More Information
For more information about Chameleon Village, visit their website at chameleonvillage.co.za.
You can also contact them on 079 214 1105 or [email protected].
Don't forget to follow Chameleon Village on their social media platforms – Facebook, Instagram and Twitter – to keep up to date and in the loop with their latest news, events, information and more.