When your kids reach a certain age, it becomes slightly more challenging finding fun physical activities for them that don't involve school sports. In an ideal world, they would be able to ride their bikes, go skateboarding and play basketball until dinner time – but for many of us, that is not a luxury we have right now. Then there's the added challenge of getting them OFF their screens and focus on the real world.
Enter CityROCk in Randburg – a phenomenal facility on Republic Road that provides wall climbing facilities for kids of all ages, as well as adults. But don't take OUR word for it – we sent 12-year old Kayla NT off to give it a try with a few friends – here's what she had to say:
What activities are on offer?
There are Automatic Belay Walls, which mean you don't need someone to help belay you down. You first have to take part in an introductory lesson that teaches you how to manage the ropes. There are also Bouldering areas where you can climb (without a rope) - some are easier than others so you never get bored. There's always a harder one to try! Smaller kids aged 5 and up can also try climbing, so it's great for families to go together.
There is also a dedicated yoga and Pilates studio, but we were too busy climbing and didn't go inside.
What makes it special?
It's really challenging and can be a little scary at first. But once you get going and you realise that you are completely safe, you go higher than you ever expected. Even those of us that are scared of heights!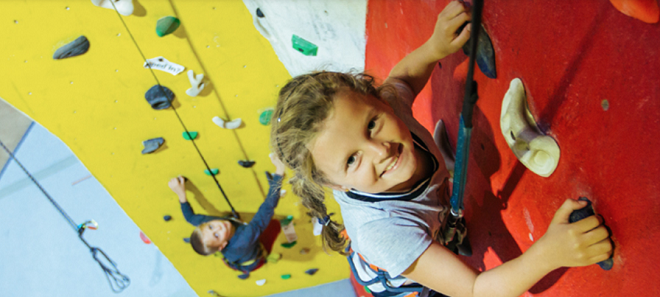 What does it cost?
The costs vary – you can click here for the full list. We paid R110 per kid, and R90 for shoe and harness rental. You can also sign up to become a member – kids pay R350 per month.
There are also a few different courses that kids can take if they really enjoy climbing and want to get serious about it – I recommend the Kids Top Rope Introduction Course – R640 for 3 days. These courses run once a month. There are also School Holiday Crag Days that kids can do after completing the course – these are R260 (includes gear rental and excludes transport to the local climbing crag).
Do you need to take extra money (outside the entrance fee)?
There is a coffee shop with FREE WiFI, so take extra money for drinks and snacks. There's also a Specialist Outdoor Gear Shop that sells loads of amazing climbing, hiking and outdoor sports gear, clothing and equipment – so definitely check that out. We saw yoga accessories, camping gear, ski jackets and so much more. I can't believe we have never heard of this place before!
Did everyone enjoy it?
Everyone! Even my friend that had a broken arm (and couldn't climb) enjoyed watching everyone and shouting instructions from the bottom. She can't wait until her arm is out the cast and then we're going back. I think both girls and boys enjoy it just as much!
Is it a good venue for parties?
Definitely. They host parties for between 6 and 25 kids (all children must be over 5 years of age). You can choose between 11:00 – 13:00 and 15:00 – 17:00, and pay R250 per child. Activities include team races on the automatic belay wall, ladder climbing, bouldering, knot tying skills and so much more. Sounds like fun!
What would you rate this activity?
A definite 8 out of 10. It's highly recommended!
For More Information
Address: 173 Republic Road, Fontainebleau, Randburg
Tel: 010 007 2732
Email: [email protected]
Web: www.cityrock.co.za
REVIEW BY: Kayla NT (12) - with a little help from her mom, Shelli NT.