Birthday Freebies in Joburg
Mugg & Bean
A birthday simply isn't a birthday without some cake! And on your special day, you can enjoy a generous slice of cake from Mugg & Bean to make it extra special. All you have to do is download and register on Mugg & Bean's Generosity app and you'll get a bunch of benefits, including a generous and decadent slice of any one of their sweet, rich and moreish cakes. And we all know how BIG Mugg & Bean's cakes slices are! Click here to find out more about the Generosity app and what else Mugg & Bean has to offer.
Krispy Kreme
You don't love Krispy Kreme doughnuts? And if FREE doughnuts on your birthday sounds like the perfect gift to celebrate your special day, then download the Kripsy Kreme mobile app and register to their loyalty programme. Do this at least 48 hours before your birthday to be able to qualify claim this sweet deal. Then, head to Krispy Kreme, buy any dozen of doughnuts and get a dozen Original Glazed Doughnuts on them! That's right, 12 FREE doughnuts! Click here for all of the details.
Billy G Buffet at Montecasino
For a birthday treat that's sure to have you feasting like a King or Queen, head to Billy G Buffet at Montecasino on your birthday for a special gift. If you are a Montecasino Rewards member, you'll get a free buffet lunch or dinner on the day of your birthday at Billy G Buffet! When you arrive at the restaurant, be sure to have your Rewards card and your ID with you as proof of your birthdate. Click here for more details on this birthday offer.
Gold Reef City Theme Park
Celebrate your birthday at the ever-popular and adventure-filled Gold Reef City Theme Park! Book your tickets for your group online and bring proof that it is your birthday – so ID or drivers license – then spend your special day enjoying over 50 thrilling and exciting rides and attractions. But if your birthday falls on a day that the theme park is closed (Monday to Wednesday currently), then visit the park on the Sunday closest to your birthday to enjoy this free birthday entry offer. This is valid for the closest Sunday ONLY. No prior online booking is required for the birthday person, however, online bookings are essential for family and friends visiting the theme park with you on the day. Click here for more details.
Spur Steak Ranches
This one is a popular birthday treat! Head to a Spur near you for a delicious meal. And for dessert, the birthday person will get a FREE ice cream with a sparkler to make it extra festive, as well as a song and dance from the friendly staff. This birthday tradition has been going for as long as we remember, and certainly puts a smile on your face. Remember to take a long proof of your birthdate if you decide to have a birthday meal at Spur. Also, adults will get R50 free vouchers, while the kiddos get a free kiddies combo meal voucher. Click here for more information.
The Harties Cableway
How about experiencing amazing views from thrilling heights at the Harties Cableway on your birthday? Take your ID along to prove your birthday and you'll get a FREE cable car ride on the day! This is a lovely way to kick your special day off on a high note (excuse the pun). And once you get to the top of the cableway, there's plenty of other adventures and attractions you can view and enjoy to make your visit memorable. Click here for more information.
Starbucks Coffee
Are you a Starbucks® fan? Part of the Starbucks® loyalty programme? A Gold Level member? If you answered yet to all of these questions, then you qualify for a FREE Starbucks® coffee on your birthday! To get to Gold Level status, all you have to do is download the Starbucks® Rewards app, register, and start collecting stars. The more you spend at Starbucks®, the more stars you'll collect. For every R2 you spend, you'll get 1 star. Click here for more information.
Ster-Kinekor Cinema
Did you know that if you join the Ster-Kinekor SK Club, you can enjoy a whole bunch of benefits, one being getting a FREE 2D / 3D movie ticket on your birthday to watch a movie of your choice? This birthday movie ticket is only valid for 7 day, so be sure to catch a movie soon! Also, don't forget to grab yourself some popcorn, a refreshing slushie and maybe even something sweet to enjoy with you watch the blockbuster on the big screen. Click here for more information about the SK Club.
Vida e Caffe
There is no better way to start your day than with a cup of coffee. But, starting your birthday with a FREE cup of coffee is just magical! If this sounds like the perfect treat for your special day, then be sure to join the Vida e Caffe loyalty club. Not only do you get to sip on a hot cuppa on your birthday, but they also have other benefits that'll get you excited, such as earning points every time you purchase a treat at Vida e Caffe, send gift vouchers to loved ones to make their day, beat the queue and order ahead on their loyalty app, and more. Click here for more information about the loyalty programme and the Vida e Caffe app.
Birthday Vouchers & Specials in Joburg
Sorbet
Spoil yourself with an indulgent visit to a Sorbet Salon! And if you are one of their Sorbet Loyalty Programme members, you will get to enjoy special birthday gifts* during your birthday month! Depending on what tier you are in the loyalty programme – the higher you are in the programme, the bigger the discounts. Visit any Sorbet Salon, Sorbet Nailbar, Sorbet Drybar, Sorbet MAN or free-standing Candi & Co to start collecting your points! You may only redeem your birthday discount once within your birthday month and it is only valid for treatments. Click here for more information about the Sorbet Loyalty Programme.
Piza e Vino
Cheesy pizza on your special day sounds like the perfect way to delight your taste buds and spoil yourself? Then visit Piza e Vino for something delicious to celebrate! And if you sign up to be part of the Piza e Vino loyalty programme, you can enjoy a R100 birthday ticket which can be used during the month of your birthday and two bottles of complimentary house wine if you book a reservation for 10 or more people on your birthday. Thereafter, swipe you loyalty card to receive 5% cashback in points. Click here for more information about the Piza e Vino loyalty programme.
The Body Shop
We love The Body Shop! Their products always smell amazing and leave us feeling pampered and beautiful. And, if like us, you're an avid Body Shop shopper and part of the LOVE YOUR BODY™ Club, you'll receive a R50 Body Shop reward voucher if you have given them your birthdate. You'll receive this voucher either via email or SMS if you have shopped at The Body Shop within the last 12 months. This rewards voucher can be spent in-store or online. Your birthday treat will expire after one month from the date of issue if you don't spend it. Click here for more information about The Body Shop's LOVE YOUR BODY™ Club.
Doppio Zero
Did you know Doppio Zero has a loyalty programme? Nor did we! And we have also learnt that if you are part of this delicious programme and have visited their stores twice in two years, you'll get a birthday voucher to celebrate your special day. Use your R100 ticket during the month of your birthdate when you visit the restaurant and dine with them. Also, if you book a table for 10 or more on your birthday to enjoy a Doppio Zero celebration, you'll get two bottles of complimentary house wine. How lovely! Click here for more info about the Doppio Zero Loyalty Programme.
Mike's Kitchen
Join Mike's Kitchen's Loyalty Programme and enjoy awesome club benefits. From 3% cashback to being notified about their great specials and upcoming events, you'll always be in the know and earn points at Mike's Kitchen. Also, when it comes to your birthday, they will automatically load a voucher for a specific amount on your rewards card. This voucher is available for for use and to be spent during the month of your birthday. So, be sure to book your table and have an amazing feast to celebrate your special day at Mike's Kitchen. Find out more here.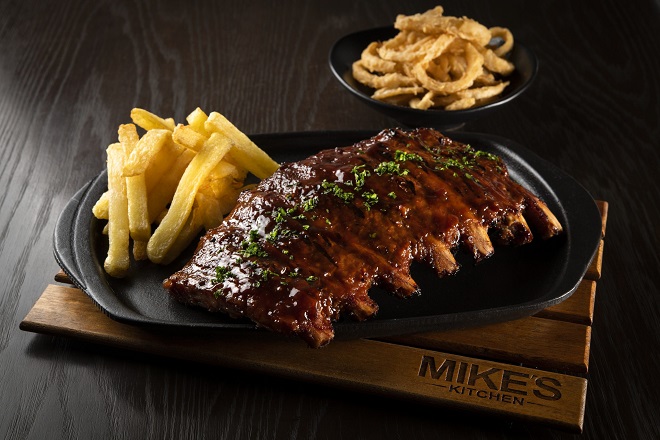 Disclaimer: The information in this article was correct at the time of writing (July 2022) and the Ts&Cs of these birthday offers, freebies and specials are subject to change at any given time. For further information about these freebies and special offers, contact the brands directly. Each brand has their own birthday policy. Birthday freebies and specials may only be valid after a purchase or app download and registration. These offers are only valid for Johannesburg. Ts&Cs apply.