In case you didn't know, this year, the Easter long weekend falls between Friday, 15 April 2022 and Monday, 18 April 2022. So, before you run out of time, here's an Easter guide to the weekend to ensure that you can hop into planning, arranging and shopping for an egg-citing weekend for you and your family. We have got everything you need, from family fun and feasts to long weekend getaways and decadent treats. We hope it'll be a lovely long weekend for you and your loved ones.
What Are You Looking For? 
Easter Family Fun
Easter Feasts
Easter Getaways
Easter Treat Shopping
Easter Family Fun
Dust off your adventure shoes, hit the road and set your table anywhere in Mzansi this Easter break with Sho't Left! From Mpumalanga's luscious gorges and tumbling waterfalls and Limpopo's farmlands and agricultural patchworks, to the North West's ancient mountains and Gauteng's eclectic art and culture scene alongside vibey marketplaces, our country offers plenty to see, exploree and experience. Click here to see what Sho't Left has in store for you.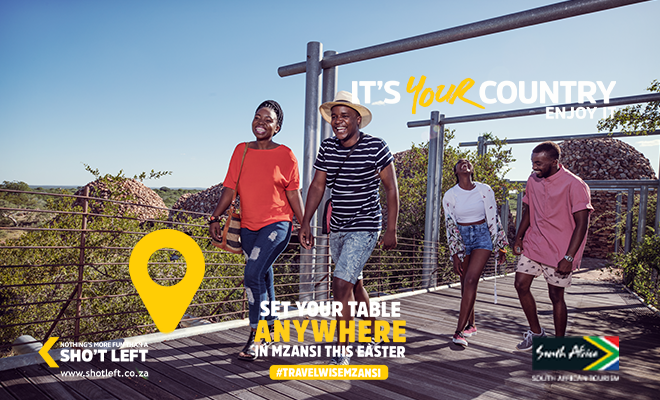 The Chocolate Café at Sandton City
Sandton City is making this year's Easter celebrations even more delectable with their exquisite, immersive and decadent Chocolate Café! Open from 07 – 17 April 2022 in the centre court, the Chocolate Café will get shoppers into the festive spirit, allowing them to browse and buy Easter delicacies from premium brands including Sally Williams, Lindt, Kinder Joy, Ferrero Rocher, Chocoloza, Cadbury, Checkers and Wedgewood. This one-stop Easter destination offers a space where you will find decadent treasures that are fit for the most enticing and exciting Easter egg hunts! Click here for more details.
From exciting family-friendly entertainment and the latest in gaming on their casino floor to luxury accommodation and everything you need to get straight to business, Emerald Resort & Casino is just the place to be during the month of April. Why not book yourself a well-deserved getaway for the long weekend and make the most of it exploring all of the thrills, activities, excitement and delights they have to offer? Click here to find out more about what they have in store for you this month.
The long weekend celebrations are not complete unless the kids have participated in one of the many Easter Egg hunts taking place all over the city! Not only will they get to enjoy the thrilling of finding all of the chocolate eggs that the Easter Bunny left for them, but it'll get them running about and having a blast, so no need to worry about that sugar rush, as they'll just run it right off. Keep reading to see where you can find this year's fun-filled choccie egg hunts in Johannesburg.
Click here

for Easter Egg Hunts Around Joburg.
Easter Magic at Melrose Arch
This Easter long weekend, Melrose Arch is ready to ensure Easter lives up to little ones' expectations and that they have loads of fun and experience the magical that this special occasion brings. Join Alice and her Wonderland friends at Melrose Arch for a free Easter egg hunt on Easter Sunday in the middle-level Galleria. Go down the rabbit hole from the starting point situated right outside Woolworths. Then follow the clues as you make your way through the Galleria, collecting Easter eggs along the way. And then end your adventurous hunt by collecting a special box of assorted eggs, courtesy of Melrose Arch. Click here for more information.
Click here for more information. 
Hopefully, there will be plenty of family-friendly events taking over the city to celebrate this time of year! With all the proper precautions in place, of course. If you're looking to hop about Joburg this auspicious weekend, then be sure to take a look at these family friendly Easter markets and events taking place throughout Johannesburg. You're bound to find just the celebration to suit you and your family.
Click here

for Easter Markets & Events 2022.
Planning on spending your long weekend at home and need to plan a weekend filled with eggciting family fun for the little ones? Not to worry, you can enjoy four days full of at-home entertainment perfect for all ages. For some lovely ideas, click on the link below to see what you can can get up to with your loved ones without leaving the comfort of your own home.
Click here for At-Home Easter Activities For Families.
Enjoy the last of our warm weather by celebrating Easter outdoors at these unique and beautiful venues. Here, you can meet up with family and friends, unpack a lovely picnic complete with decadent treats, and you can even plan your very own chocolate egg hunt for the kids! It's a great way to get away from all the gadgets you have at home and reconnect with nature and enjoy what really matters: the company of your loved ones.
Click here

for Top Spots For Outdoor Easter Celebrations.
Looking for something that'll keep the little ones entertained after all the chocolate egg hunts are over? Then why not crack out the arts and crafts stationery and get creativity with these festive Easter crafting ideas? This is the perfect activity to keep the kids preoccupied when all you want to do is relax after all the thrills, chocolate indulgences and adventures this long weekend brings.
Click here for Eggciting Arts & Crafts Ideas.
After all the feasting, hunting and celebrating with family and friends, all you want to do is wind down and relax with your loved ones. And what better way to do that than by putting on a movie? Believe it or not, but there are a few Easter related movies you can watch at home with your family. Here's just a few to add to your movie binge playlist over the long weekend.
Auspicious Feasts
Want to make your Easter Sunday extra special with a delectable lunch at one of Joburg's best restaurants? Then take a look at our list of restaurants hosting lovely celebrations perfect for your and your loved ones. No matter what your budget or where you're located in the city, you're sure to find the ideal fit in our Easter Lunches in the City guide below. Be sure to book well in advance, as seating and space are limited.
Click here

for Easter Lunches in the City. 
Long Weekend Getaways
Why not make the most of your four day long weekend by planning a fun-filled getaway for you and your family? there are plenty of lovely destinations ready and waiting to spoil and help you relax over this auspicious weekend. Keep reading to see where you and your family can escape to over the Easter long weekend this year.
Click here

for Easter Getaways for 2022.
Easter Treat Shopping
The long weekend is not festive enough without overindulging in plenty of chocolate delights! And if you're looking to get your hands on some of the best choccie treats for you and your family, be sure to take a look at these hot spots throughout the city as well as online stores. There's sure to be something for everyone, whether they prefer centred-filled spoils, classic slabs or even something extra special, shaped like a bunny!
Click here

for Stores To Stock Up On Chocolate.
Why not spend the weekend baking up a storm with the kids and creating your very own DIY Easter Eggs, at home! Don't only will this be a delicious treat for the little ones (and parents) but it'll also offer loads of fun and excitement that'll keep them entertained over the long weekend. Keep reading to fins out how you and your little buns can create your own uniquely crafted treats.
Click here for DIY Easter Eggs.
Easter isn't all about marshmallow eggs and chocolate slabs, there are other tasty delights you can create and enjoy over the long weekend that incorporates a little more creativity and plenty of entertainment for the little ones. So, if you're looking to make Easter extra special with some interesting and unique treat ideas, then take a look at these Easter weekend baking projects you can do with the kids.
Click here for Easter Baking Ideas.