Decembers in Joburg are a heap of fun, and those in the east side of Gauteng will want to make a date to visit Eastgate Shopping Centre's Festival of Fun for some amazing family entertainment. We're talking a carnival, Santa Claus, go-karting, drive-in movies, live music and more.
"The Festival of Fun was a huge hit with families last year, and we are thrilled to be taking this further with more rides, and more added value" says Eastgate Shopping Centre General Manager Kelly Belman. "Our extended trading hours at our wide range of premium retailers, gift wrap service, live entertainment and unique experiences will cater to everyone this festive season."
Carnival
Eastgate's Carnival is always a hit, and this year its featuring seven rides! Additional to the carousel, tea-cup ride, bumper cars, kangaroos and aeroplanes, visitors will get to enjoy a Ferris wheel and bee carousel. 
How do you get a ticket? Ride tickets cannot be bought, but are rather provided as added value, with one ride ticket allocated for every R50 spent at any outlet in the centre. The carnival will also be open on Christmas Day and New Year's Day for those looking for a special family outing on these days.  
The Carnival runs from 16 December right through till 2 January 2022. The carnival will also be open on Christmas Day and New Year's Day for those looking for a special family outing on these days.  
Live Music
To add to the festive entertainment, catch live music on the piazza every weekend from 26 November to 18 December. Here you'll get to see popular artists as you pass by or while having a meal or drink at one of the restaurants. For those who enjoy Christmas Carols, a String Quartet will do a performance of Carols in their unique style on Wednesday 15 December from 6:00pm, also on the centre's piazza. 
Meet Santa!
Santa Claus himself will be visiting Eastgate, and will be available for photographs in the Strelitzia Court from 3 to 24 December during the centre's trading hours. Photography packages enable this special moment to be treasured on an array of festive memorabilia. 
Go-Karting
For thrill seekers, South Africa's biggest indoor go-kart track recently opened at the centre and will be open throughout festive season. The new IndyKart track offers 475m of exhilarating track to zoom around, and no less than thirteen corners of various technical levels in fourteen brand-new Sodi RT8 Karts. The track is open to children from the age of nine years old or those with a minimum height of 1.4m.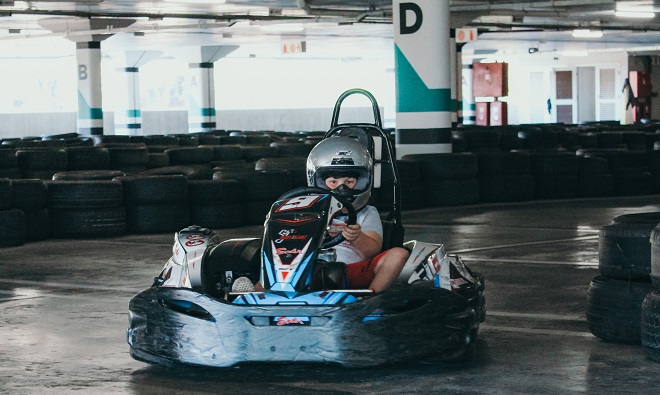 Drive-in
The Eastgate Drive-In will be open on 10, 11, 17 and 18 December, showing a variety of family and festive films. Movie lovers can enjoy refreshments from the catering booth or one of the centre's many food outlets, enhancing the experience even further. Alternately, the Ster-Kinekor cinemas in the centre will also be open throughout the season, showing the latest blockbusters on their big screens.
Extended Trading Hours
We know this is the time to get that Christmas shopping in, so from 26 November, stores in the centre will operate with extended trading hours. Shoppers will be spoilt for choice at over 200 retailers trading from 9:00 – 19:00 from Monday to Thursday, from 9:00 – 21:00 on Fridays and 09:00 – 19:00 on Saturdays, Sundays and public holidays. A gift-wrapping station in the Krispy Kreme court will enable shoppers the ease of beautiful gift packaging with proceeds going to the Bedfordview and Germiston SPCA.
Get In Touch
For more info, be sure to check out Eastgate Shopping Mall on Facebook, Instagram or Twitter, or go to their website.