Holiday Fun At Carnival City
The school holidays are here and if you need a way to keep the kids busy, then don't miss out on all the excitement and fun at Carnival City this March/April. There'll be plenty of super-charged entertainment and magical, family-style fun lined up over the autumn break. Something for all ages.
Whether you have little ones or teens, there is fun and excitement at every turn, from the ringing and flashing of the arcade games at The Magic Company to Lazer Zone, ten-pin bowling, go-kart racing and synthetic ice-skating, which recently reopened at Carnival City. But that's only the entertainment on the inside, there's even more outside! Outside, there are fun rides!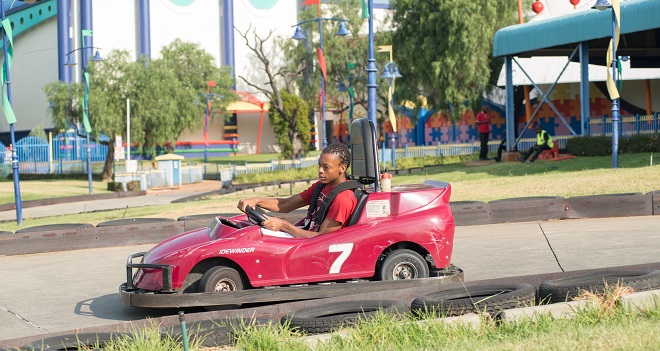 Visit Pocket Park!
Along with all the entertainment Carnival City has to offer, they'll also have holiday fun planned for the kids at the Pocket Park. Step outside to Pocket Park, an outdoor play area with climbing frames and slides, perfect for energic young ones. Entry costs R20 per child.
Those looking for thrills, the carnival rides are open weekends as well as school holidays between 12:00 and 19:00. At R150 per child/person, you can enjoy as many rides as you want – you will have access to unlimited rides, including the Ferris wheel, carousel, train, flying cups, palio and skylabs, and elephant rides.
Pocket Park was revamped in 2015 and is an exciting grassed, outdoor play area with climbing frames and slides, perfect for energetic young ones, while parents take a breather on one of the benches.
And There's More...
Tired after all of that excitement? then why not take the kids to a movie and catch your breath while they enjoy a film on the big screen. Check out the newest animation blockbusters: Turning Red and Fireheart in their Kids Cinema. Visit Ster-Kinekor to book your tickets!
The friendly, professional childminders at the Kidzone Crèche give parents peace of mind and an opportunity to relax while they look after your little darling, aged from six months to 14 years.
Carnival City has a wide range of fast-food outlets and restaurants to whet all appetites, all serving up a feast of delicious flavours, seven days a week.
Go to Carnival City, where the fun never stops, and everyone's inner child can come out to play!
For More Information
For more information about Carnival City and the latest entertainment, special offers and events, visit www.suninternational.com.
Also, don't forget to give them a like on Facebook and Twitter.