Growing up in Swaziland, as little children we would pick litchis, bananas, mango's and mulberries from the fruit trees. Chewing on sugar cane that we had cut from the fields was also something we just loved. Now, years later, I look back with fondness at the delight of picking my own fruit and veg, and while I can get all of this at the local grocery store, the DIY experience makes me nostalgic.


The Camdeboo Peach Farm is, as the name suggests, a peach farm. However, the big difference is that your average peach farm can't be found across the road from the Dome in North Riding — not to mention the fact that they aren't a commercial peach farm but rather a hidden nook in Johannesburg focused on bringing the farm lifestyle to you.


The idea is simple — it's a peach orchid and vegetable greenhouse which is open to the public for picking. You get boxes supplied to you on arrival which you can fill to your heart's (and stomach's) content, all of which go for R20 a kilo. Brilliant, right? Owner Juliana even encourages you to taste as you go along!
There is a café on the property aptly named the Peach Café. It has a constantly evolving menu of delicious bits and pieces (but peach smoothies and wood fire pizza's are staples). The café and pizza oven are an absolute sight for sore eyes with loosely wound bamboo and palm thatching lightly blocking the sun, making you feel like you've stepped into a hidden fantasy world. You'd never say you were in Joburg!


The other mind-blowing thing about the Peach Café is that they use Sun Cookers to get a lot of their meals going. Simply put, this is a solar-powered method for cooking your meals, leaving the smallest of carbon footprints. I love this idea so much that I'm making space on my patio for one.


There's also a tiny farm stall on the property that stocks preserves of all kinds, while other specialities include Egyptian Dukkah, peaches in syrup (and I even saw a peach and chilli curry preserve which I promised myself I would pick up the next time I'm there).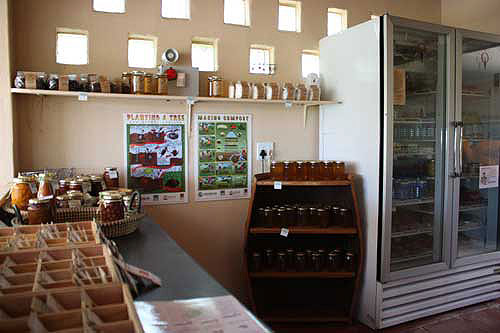 Juliana at the Cafe confirmed that they do NOT have a liquor license, however wine fans are allowed to bring their own bottles to sip while enjoying one of the cheese platters on offer — these are complemented by a fresh pizza bread from the wood oven.
Unfortunately, words cannot describe the delight of this gem and what's better is that it's right here in Johannesburg, so you have no excuse not to go see for yourself.


Address: Travel along Witkoppen road, towards Fourways Mall or Northgate, turn off at Market Street towards Maroeladal. Follow the signs until you get to the farm gate (less than one kilometre) where you will find free and secure parking.
Opening Hours:
Saturday and Sunday from 9am to 5pm
Peach Picking — Last weekend October — Early December
Fresh Vegetables — Last weekend October — Last weekend March
Peach Cafe — Last weekend October — Last weekend March
Farm Closed — Mid December — Mid January.
NB: due to the unpredictable nature of farming, opening times and dates can change.
by Byron Marais