Jintara
Jintara is situated in Bryanston at the Riverside Shopping Centre. They serve contemporary Thai dishes, perfectly crafted by their five-star Thai chefs. This is a sharing restaurant, so bring a whole bunch of friends or the family along with you. The menu is designed to allow you to order a range of dishes to share at your table. We suggest that you start the feast with a sushi platter or selection of tasty dim sum - the shredded pork dumpling filled with spring onion, water chestnuts, chilli, coriander and sesame oil comes highly recommended. For mains, give their Green Curry a try - just be careful not to order your meal too spicy, as Jintara'schefs don't hold back on the chilli. You can order your meal mild, medium, hot or Thai style, which is super spicy. Don't say we didn't warn you!
Details: Riverside Shopping Centre, 319 Bryanston Dr & 4 Cambridge Rd, Bryanston, Johannesburg | 011 706 8000 | [email protected] 
Cafe I'Thai 
Cafe I'Thai is affectionately known as the 'best Thai restaurant in Benoni'. Their menu features all the old favourites including Pad Thai, tempura prawns and coconut-based soups and curries. While the decor of the venue does not necessarily reflect a Thai atmosphere, the friendly service and delicious food make up for it. The next time you have a real hankering for simple and affordable Thai cuisine, take a trip to Cafe I'Thai.
*Please contact the restaurant beforehand to ensure that they are open, especially on Sundays.
Details: Corner 6th Avenue & 1st Street, Northmead Eastrand, Benoni | 011 425 0550

2 Thai 4

 
2 Thai 4 is situated on the ever-bustling Corlett Drive near Melrose Arch. As proof of their culinary excellence, 2 Thai 4 has been voted Best Thai Restaurant in the Best of Johannesburg awards. But, if you are still skeptical, pay them a visit yourself. All their menu items are available for takeaway. So, whether you are in a hurry or have hours to spare, this is the place to get your fix of spicy, sweet and sour Thai yumminess. Our top pick here is the warm and spicy Massaman chicken curry with peanuts, onions and delicious sweet potato bite size chunks.
Details: 59 Corlett Drive, Illovo, Johannesburg | 011 440 3000 | [email protected]
Anong 
Cyrildene is Joburg's official China Town. Located between Bruma and Orange Grove, this humble suburb boasts the best and most authentic Asian cuisine restaurants in the city. Although there are a couple of superb Thai-style eateries situated along Cyrildene's Derrick Avenue, the one that stands out from all the rest is Anong. Their mango with sticky rice is said to be divine. This restaurant is also vegetarian friendly, and they will allow you to bring in your own wine with no charge for corkage. Visit Anong if authenticity is what you are looking for.
Details: Cnr Derrick Avenue and 20 Hettie St, Cyrildene, Johannesburg | 076 505 9941
Simply Asia
Simply Asia offers Thai food lovers convenience, affordability and deliciousness, all in one. Their franchise has rapidly expanded all over Joburg in the last few years. You can order Simply Asia from Uber Eats and Mr Delivery as well. So, you will never have an excuse for lacking in Thai tummy-tickling goodness. We recommend their roasted chilli paste and cashew nut noodles. The yellow noodles are vegan friendly as they do not contain egg. However, if you are a meat lover you can add chicken, beef, duck or pork to your dish. If you have a sweet tooth, try their Roti Rad Nom, which is a warm roti sprinkled with brown sugar and drizzled with condensed milk. Trust us, while this dessert sounds deceptively simple, it is super delicious and the perfect way to end off a spicy meal.
Find your nearest Simply Asia here.
Fusionista
Fusionista delivers exactly what its name promises - Asian-fusion cuisine made from the finest and freshest ingredients. Their expansive menu features dishes inspired by cuisines found across Asia, including Malaysia, Thailand, Japan, Vietnam and the Philippines. Give their Asian Noodle Pot a try - it is served with pok choi and a light curry broth with rice noodles. Similar to Thai jungle curry, it boasts hints of lime leaf, coriander and mushroom. Alternatively, let your foodie inhibitions run wild and order Fusionista's Thai mixed seafood pizza. Featuring red curry paste and red chilies with an assortment of seafood, this pizza packs a kick.
Details: 14 Rabie St, Fontainebleau, Johannesburg | 011 793 4796 | [email protected]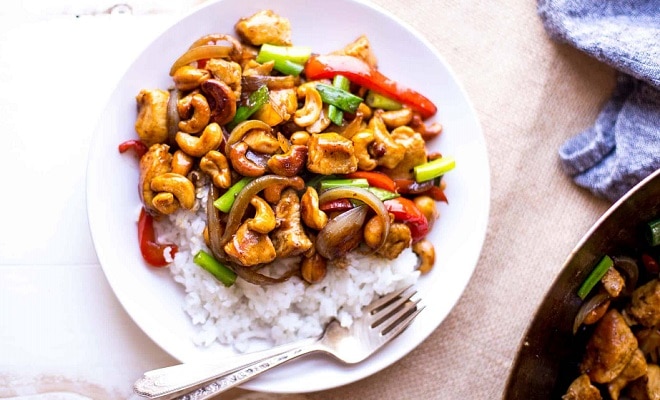 Saengcha Thai Restaurant
Edenvale's Main Street was once home to an array of Asian cuisine restaurants. While many of them have now moved into areas like Cyrildene, one has remained. Saengcha Thai Restaurant offers you the opportunity to experience Thai cuisine without ever leaving the Avenues. They dare you to try the Angry Duck - a bed of stir fried vegetables with succulent braised duck and loads of chili. Or, go for something a little more subtle like the Peanut Butter Curry. Served with vegetables, red curry paste, peanut butter base and coconut cream, this delicious and hearty meal comes with either rice or noodles.
Details: 59 Terrace Road, Edenvale, Johannesburg | 011 452 9336 | [email protected]
Thai Cafe
Last on this list, but certainly not least, is Thai Cafe in Sandton. This Thai eatery has been in operation since 2000, serving up hearty Thai dishes to their happy customers. Thai Cafe's menu is limited, but they have all the classic favourites. If you are on the hunt for a great Satay Chicken, this is the place to get it. Tender, marinated strips of chicken, grilled and served on a bamboo skewers with peanut sauce is about as authentic as you get. Similarly, the Basil Stir Fry made with green beans, onion, red pepper, fresh chili, garlic and fresh basil, pays homage to its country of origin superbly well.
Details: 17 11th Ave, Edenburg, Sandton | 072 866 4677 / 078 355 6430 | [email protected]
Have we missed out any great Thai Restaurants in Joburg? Let us know about them!