Home to hipster hangouts and great food spots, Illovo is high up on the Joburg wining and dining scene's list of neighbourhoods to explore over weekends. From fourth-generation Mediterranean eateries to Asian grab-and-gulps, there is something for everyone. But hidden in between the office parks around the corner from the legendary Norman Goodfellows and the rest of Illovo Junction, is the neighbourhood's best-kept secret – Grate Café.
Grate Café: A Local Brunch Spot
Located within Illovo's cluster of office parks, Grate Café can be found halfway down Fricker Road. During the week, the dining crowd is made up of office jockeys, post-school-run moms and remote workers. The food? Impeccable. Good coffee, fresh croissants, and pastries are the order of the day. They sell vegan cookies, too!
For the early risers out there, Grate Café has exciting offerings (available until 12:00). Patrons can dig into breakfast favourites such as three-egg omelettes packed with various stuffings, eggs Benedict served with in-house made hollandaise sauce, and Grate Café's Instagram-famous French toast. We're not going to list the entire menu here, but know that there are no wrong choices here –  everything is good.
Grate Café On Weekends
Recently open for trade on Saturdays, Grate Café is the perfect spot to meet up with friends and family for something hearty and delicious. With wood-fire pizzas and flame-grilled chicken famously gracing the café's menu, patrons are in for a treat. Again, there are no wrong choices when it comes to the menu – these dudes know what they're doing in the kitchen.
The al fresco setup flanks the street-side and acts as an oasis between commercial buildings. The atmosphere is relaxed and reminiscent of a Parisian dining experience without the pretence. The service is excellent and waitstaff are friendly and helpful – everything a diner could ask for.
The Drinks List
In recent years, the word "mixology" has exploded all over the city with all kinds of big-bearded barmen throwing bottles around and mixing all kinds of random things. This is not the case at Grate Café, and we're thankful for that. As much as we enjoy the over-the-top creations found in rooftop bars and the like, sometimes it's great and even necessary to be greeted by a cocktail menu that sports the classics. Mojitos with fresh lemon juice. Long Island Ice Tea with a kick. No wrong choices. All of these things come together and form an excellent drinks menu. To boot, the wine list is nothing shy of a good time, either with local and international favourites making an appearance.
So, whether you're hitting mimosas with the girlfriends or watching the sun go down over the concrete jungle, there's a drink at Grate Café to fit the occasion.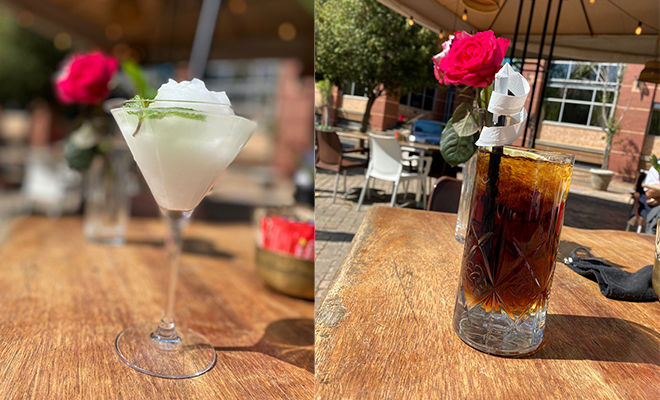 More Information
Address: Boulevard, South Piazza, 9 Fricker Road, Illovo, Sandton, Johannesburg
Facebook: www.facebook.com
Phone: 011 268 5344
Trading Hours: