The Eastgate 'Barraca'
Mozambik's story began 15 years ago when Brett Michielin and Ryan Stewart joined forces to chase their dream of opening a chain of family restaurants. Expanding from their first outlet in Balito to 15 national stores, Mozambik has become a firm Joburg favourite. They bring diners authentic Mozambican flavours and proud national dishes at all their 'barracas' or huts. Boasting a family-friendly atmosphere and tons of fun for the kids, Mozambik is the perfect place to chill out on a Saturday afternoon.
Mozambik at Eastgate Mall opened in late 2017. It has since made a name for itself as the best Afro-Porto fusion restaurant in Joburg East, with another branch situated in Linksfield. The Eastgate branch sits right at the entrance to the impressive food court. It welcomes you in, tempting your taste buds with the scents of roasting garlic, peri-peri and flame grilled seafood. The children's play area can also be seen from the parking, so expect a sudden tug from the kids as they dash off to explore.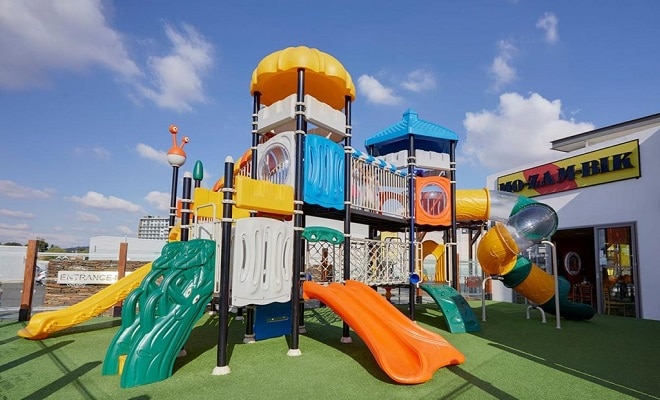 Chef Brett has developed the distinctive Mozambik flavours through tried and tested methods. From saucy bastes to dry rubs and signature cocktails, Mozambik's menu is unlike any other. However, each branch has their own specialties and personalised decor. Eastgate's Mozambik is laid back and breezy. The glass sliding doors allow bright sunshine and fresh air in during the daytime. At night, the outdoor deck is lit up in soft light, while the interior is transformed to look like a Mozambican seaside casa. Let your worries glide over you as you leisurely sip a cocktail and dream of ocean views.
Super Specials
Mozambik offers monthly deals on their most popular dishes, including the Seafood Platter for 1, Chicken and Calamari, Rump Steak and kiddies meals. Bring the little ones along on a Monday for a free meal. If they are under the age of 12 and accompanied by two adults, kids can eat for free all day long. The kiddies menu features Mozambican classics made palatable for sensitive tummies. Chicken Strips, BBQ Riblets, Crumbed Calamari, Prawn Spears and Fish Fingers will have the kids munching away happily.
Tuesdays and Thursdays are date night at Mozambik. Bring your sweetheart along for a magical evening. You can order any two main meals for only *R250. Options include lightly grilled Hake, Chicken Espetada, Port Steak and Chicken or Vegetable Curry. Served with your choice of carb, and one Stella Artois or Brutal Fruit for each of you. What better way could there be to impress your beloved?
Veggie Heaven
While Mozambik's menu is meat-dominant, they have begun introducing a couple of tasty vegetarian dishes. Recognising that vegetarianism is much more than a diet fad, Chef Brett has unleashed his creative side in the kitchen. In honour of World Vegetarian Day on 1 October, Mozambik launched their new Jack Fruit Espetada! Jack Fruit is high in nutrients and is often referred to as the 'vegetarian steak'. Enjoy yours skewered and char-grilled or deep fried. Served with a medley of stir-fried veg, potato chips and Mozambik's famous peri-peri sauce, this is the ultimate vegetarian indulgence.
Not a fan of jack fruit? No worries. Mozambik has two staple vegetarian dishes on the menu - Mozambican Vegetable Curry and Moz Bolo de Batata (sweet potato flatbread). Packed with flavour, these dishes paired together will easily make you forget about meat all together.
Now for the drinks. Mozambik offers an array of wines and shooters, but it is their cocktails and party jugs which really have guests coming back for more. If you try only one, let it be the R&R jug to share. A Mozambican specialty often served at sunset on the beach, this Tipo Tinto and Sparletta Sparberry mix is delightful and refreshing. Even if you have never crossed the border to the land of sunshine and sangria, Mozambik Eastgate will have you longing for that Mozambican vibe in no time.
For More Information
Visit Mozambik's website for more information, or follow their social media pages:
Facebook - facebook.com/mozambikrestaurant
Twitter - twitter.com/TheMozambik
Instagram - instagram.com/mozambikrestaurants
Details: Eastgate Shopping Centre, Shop R14, 43 Bradford Rd, Bedfordview, Johannesburg | Tel: 011 615 0304 |
Email: [email protected]