About Acrobranch
Ready for an exciting zip line experience or treetop adventure? If you answered yes, then be sure to visit Acrobranch! With nine Acrobranch parks throughout the country, they offer both children and adults a unique outdoor adventure, from tree to tree in lush, green forests.
Each of the parks boast their own unique and different obstacle courses, some ideal for young adventure seekers (AKA the kids) and some for reasonably fit adults and teenagers. All of the Acrobranch obstacles consist of awesome treetop high ropes and tricky crossings in the form of ladders, tunnels, walkways and bridges, as well as spectacular zip line thrills to top it off. You and your family will enjoy two hours of fun and adventure here, and let's not forget to mention the fact that you'll be getting active and burning off a few calories while you're at it!
Where Is Your Nearest Branch
Since we are in Johannesburg, we will focus on where you can find different Acrobranch locations within Gauteng. If you want to know where you can find Acrobranch in Cape Town and KwaZulu Natal, click on the respective links.
As for Joburg and surrounds, you can find your nearest Acrobranch at these destinations:
Why You Should Visit Acrobranch 
It'll get you active. Instead of sitting on the couch and being lazy, Acrobranch will get you up off the couch, out and about, and have you moving and using those muscles. In case you didn't know, you need at least 30-minutes of moderate physical activity every day. So, why not count this towards your daily goal?
It's fun for all ages. From kids and teenagers to adults and the young at heart, Acrobranch is loads of fun for everyone. There are obstacles ideal for all ages, and best of all, you don't need to have experience or a high fitness level to enjoy this outdoor activity.
It's affordable. Depending on the obstacle difficulty and age of participants, the cost of this outdoor entertainment activity varies, but you certainly won't bust the bank. From as little as R190*, you'll enjoy two hours out treetop adventure and fun. That's a great deal if you ask us.
It's perfect for team building and parties. From challenging and adventurous aerial team building activities to fun-filled birthday parties and events with a treetop twist, planning an unique excursion at Acrobranch is always exciting. Visit their website to see what they have to offer when it comes to corporate team building sessions and special celebrations.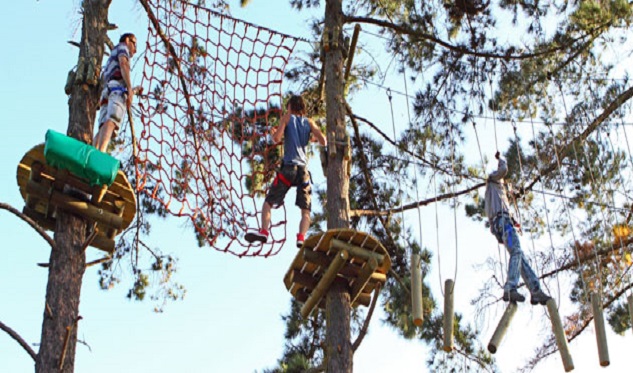 What To Wear When You Visit
Acrobranch has a dress code guide to let you know what you should wear when paying a visit to their exciting outdoor obstacle course.
Wear closed shoes with good tread,
Wear something comfortable and that you're happy with getting dirty. Preferably clothes you can move freely in,
Guests with long hair, have a hair tie handy! Or just arrive with your hair bunches up into a messy/man bun.
No mask = NO ENTRY
Gloves are compulsory (available at the park for R20 per pair).
For More Information
For more information about Acrobranch and their various outdoor obstacle courses, visit acrobranch.co.za.
You can also contact them on [email protected] or 086 999 0369.
Don't forget to follow and like them on Facebook, Instagram and Twitter to keep up to date with the latest news, offers and information.