Dining Out
Olives and Plates
This eatery, located inside the Exclusive Books of Hyde Park Corner, offers exquisite meals with a slight Mediterranean twist. Their menu offers tantalising meze, deconstructed souvlaki and exceptional pasta dishes. Stop by to browse the wide selection of books, while feasting on a delectable meal.
So Yum
This Chinese restaurant serves up a South African take of the Chinese yum cha meal with their dim sum. Traditionally served with tea during the day, this meal is about bringing people together to experience different tastes and textures. Choices include steamed buns, gau, gyoza and money bags.
J.B. Rivers
For flavourful Cajun and Mexican style cuisine, head to J.B. Rivers. Menu items range from banting breakfasts and baked confectionery to chicken or fillet enchiladas and spicy fajitas. A unique item here is the Build Your Brekkie, giving customers the option to personalise their meal.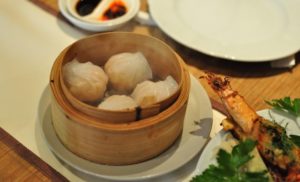 After Dinner
Just Teddy
This boulangerie and patisserie recently opened up shop at Hyde Park Corner after much success at 1 Fox. They offer the most delightful pastries, macaroons, croissants, mille feuille, scones, cakes and eclairs. You can taste all of this and a mouthwatering savoury platter at the high tea, complete with a golden teapot.
Paul's Homemade Ice Cream
One of our favourite ice cream stores is Paul's Homemade Ice Cream. Here, ice cream is made with fresh milk, full cream, eggs and sugar, with no additives or chemicals. Flavours are diverse from the standard Milk Chocolate and Madagascan Vanilla to the extraordinary S'mores and Red Velvet.
Häagen-Dazs
We are all familiar with this ice cream brand that creates luxurious ice cream in decadent flavours. This creamery also offers a range of ice cream based desserts. Some of our favourites are the banana splits, waffles, floats, affogato, crepes, brownies, semi-freddo and the fondue.
Shopping 
Boutiques
Shopping is a dream at Hyde Park Corner. The multitudes of designer labels makes finding your perfect outfit a pleasure. Find the likes of 2A, Alchemy, Wolford, Paul Smith, Nicci, Geri, Bon Ami, Denham, Bianco, Emporio Armani, Luisa Spagnoli and Taibo Bacar, to name a few.
Home Ware
For that Top Billing style of opulence and grandeur, visit this shopping mall. With stores like Apsley House, Carrol Boyes, Generation, Here & Elsewhere, Le Creuset, The Home Shop, The Wish Collection, Vencasa, Vendange and Victorian Bathrooms, you'll soon be living in splendor.
Cosmetics
After a day of indulging and splurging, it's only fitting that you get a pampering too. Hyde Park Corner has everything you need for some spoiling. The experts at Sorbet or Franco International can pamper you pretty. Then stop at Cosmetics Gallery, Jo Malone or L'OCCITANE for some take home beauty products.
Contact details: 011 325 4341 / Corner Jan Smuts Avenue and William Nicol Drive, Hyde Park / [email protected] / https://www.hydeparkcorner.co.za