The Jewel In The Sandton Crown
Extravagance has a new address. Centrally located in the heart of Africa's business hub, Hotel Sky Sandton offers guests a choice of 453 rooms, several conference spaces, as well as a selection of world-class restaurants and bars. Hotel Sky Sandton is a stone's throw away from the Sandton Convention Centre and the iconic Sandton City Shopping Centre, and the head offices of most of South Africa's biggest corporates and businesses. And in line with the Covid-19 protocols and practices, they've taken every precaution to safeguard the health and safety of their guests with stringent hygiene policies.
Take Our Quiz & Win!
Upcoming Events
Here for a limited time only, Total Eclipse: Dinner & Theatre Show is a must! Filled with poetic narrations, exquisite dancing, phenomenal opera sounds and aerial highlights, Total Eclipse is the must-watch show of the year! The show season has been extended until 30 April 2022, so be sure to book your spots ASAP! The performances take place on Fridays and Saturdays only.
There is an a la carte menu and R250 per person cover charge for the show.
To book, visit www.eclipserestaurant.co.za, call 010 880 4449 or email [email protected].
Unique Accommodation
Hotel Sky Sandton offers a wide variety of room types, ranging from Standard Rooms and Executive Rooms to Suites fitted with all the comforts you could wish for. Whether you're travelling for business, on holiday with your family, visiting Johannesburg for leisure or simply want to enjoy a much-needed staycation, you can rest assured that their rooms are the crème de la crème when it comes to comfort and value for money.
Each room has uncapped Wi-Fi and a smart TV to stream your favourite shows on Netflix, Showmax, Prime or any other streaming service.
Book your next stay at Hotel Sky Sandton today!
Hotel Sky Sandton's Facilities
Hotel Sky Sandton has a treasure trove of facilities available to both in-house guests and day visitors alike – all gorgeously decorated to enhance your experience.
Hotel features:
Free, uncapped, high-speed Wi-Fi
200m from Sandton City Shopping Centre and Gautrain Sandton Station
AI-powered robots
App-based booking, check-in, and room access
Mobile key room access and TV control
Self-service check-in kiosks
Conference and meeting rooms
190-seater auditorium
Same-day onsite laundry
Complimentary undercover parking
World-class restaurants
Sundowner bar
Fully equipped gym
Heated swimming pool
On-site water purification system
Two generators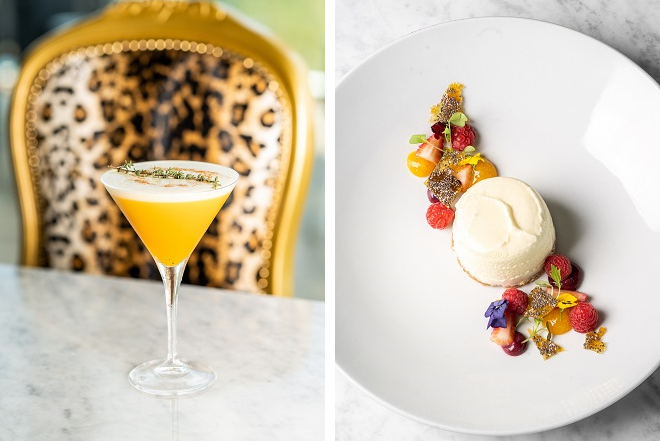 Room features:
Free, uncapped, high-speed Wi-Fi
Air-conditioning
43' live-stream smart TV
Work station
Laptop safe
Hair dryer
App-based booking, check-in and room access
Automatic blackout blinds
Shower
Bath (select rooms)
Tea and coffee station (select rooms)
Conferencing In Style
With a 190-seater auditorium, a 200-seater conference room and board rooms for 4 to 12 people, Hotel Sky Sandton is the ideal venue for your event, conference, wedding or launch.
Each venue is beautifully decorated and includes standard conference requirements, including audiovisual, projection facilities and state-of-the-art technology.
Contact them and book your event today!
Dine At Their Restaurants
The iconic Eclipse Restaurant & Bar is fast becoming the place to see and be seen in Sandton. Located on the fifth floor of Hotel Sky Sandton, Eclipse offers unsurpassed views of Sandton in a luxuriously decadent setting. Join them for after-work sundowners or a delicious meal, and they guarantee an experience that won't soon be forgotten. On select evenings, diners can look forward to live entertainment, too.
Furthermore, Equinox Restaurant on the first floor can seat up to 300 people and is also the setting for a mouthwatering buffet breakfast. Day Conference Packages for lunches are available on request.
Meanwhile, Galileo Piano Lounge, situated in a four-storey volume glass atrium on the second floor, features a mechanised grand piano that plays guests' song requests. The lounge is the ideal venue for a quiet drink with friends, a light snack or to relax with your latest book.
Unique Technology
Hotel Sky firmly believes that every aspect of their offering must be unique. That's why they've sourced the best technology from around the world. The Hotel Sky app enables you to book your stay, check in, access your room, control your room's TV, and view the menus during your visits to their restaurants. Your stay at Hotel Sky Sandton is sure to be highlighted by convenience, efficiency and wonder.
The highlight of any stay at Hotel Sky Sandton, however, will be your interaction with their three AI-powered robotic assistants – Micah, Lexi and Ariel. At your service almost 24/7 (they require some R&R to recharge their batteries occasionally), these three incredible machines will assist with general guest relations, as well as answering all your questions about Hotel Sky.
Hit The Gym
What would a business, leisure or bleisure trip be if you couldn't maintain your gym routine? Hotel Sky Sandton boasts a magnificent gym (accessible to hotel guests only) to cater to all your health and fitness needs. Kitted out with a range of cardio, weightlifting and other fitness equipment, you'll find the gym on the first floor.
The Ideal Location
Situated on the corner of Maude and West Street in the centre of Africa's financial hub, Hotel Sky Sandton is ideally located for both business and leisure travellers.
The front door is less than a block away from the Sandton Convention Centre, Sandton City Shopping Centre and the Gautrain Sandton Station, while Nelson Mandela Square and the Johannesburg Stock Exchange are also only seconds away.
With Sandton being home to many of South Africa's and Africa's corporate head offices, Hotel Sky Sandton is the perfect home base for corporate travellers. Not to mention, many famous restaurants, bars and clubs are also situated within close proximity, ensuring non-stop fun and excitement. A little work, a little play!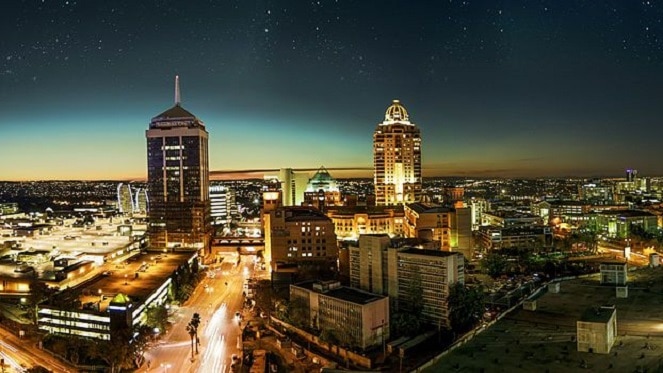 For More Information
For more information about Hotel Sky Sandton, visit their website at www.hotelsky.co.za.
You can also contact them by calling 010 880 4449 or email [email protected].
Don't forget to follow and like their social media platforms – Facebook, Instagram and Twitter – to keep up to date with the latest offers, news, information and more.
Address: 150 West Street (corner of West and Maude Street), Sandton, Johannesburg.