Online Fun
Women's Health Fit Night In
Date: Saturday, 19 September 2020
Time: 09:00
Venue: In the comfort of your own home, you just need an internet connection
It's time to get up off that couch and get active, ladies! Together with adidas and Mitchum, Women's Health will be hosting another FREE epic online sweat session – the Women's Health Fit Night In! The lineup includes Barre with Fiona; Metcon with Mapule; and Step Aerobics with Nomawothi and Angelique. All you'll need is a mat or large towel; a chair, table or counter to use as a barre; light weights (alternatively you can use cans or bottles of water if you don't own weights); a sweat towel and water; and your phone! To join in on the fun, register for FREE on Quicket South Africa.
Comic Con Africa ONline 2020
Date: Thursday, 24 September 2020 to Sunday, 27 September 2020
Time: 10:00 to 18:00 daily
Venue: In the comfort of your own home, you just need an internet connection
In case you missed it, Comic Con Africa 2020 will be going virtual, promising four days of online experiences, live streams, tournaments and more. So, grab that laptop, visit their website and pre-register before 20 September 2020 to ensure that you are ready for this exciting (and different) event! Keep a close eye on Facebook to see who will be featured, what you can expect, and so much more. The Con must go on! See you there.
Fun In Johannesburg
Beach Braai Sundays
Date: Every Sunday
Time: 12:00 to 21:00
Venue: The Beach Rivonia, 19 Wessel Road, Sandton, Johannesburg.
Trying to find a great way to send you Sundays? then why not head to The Beach Rivonia for their Beach Braai Sundays! Here, you'll get to enjoy some traditional wood fire pizzas, or even some Shisa Nyama and chicken flatties on the braai. And to top it all off, they've got beer on tap and delicious cocktails to keep you refreshed and live music to keep you entertained. So, why not spends your Sunday at The Beach?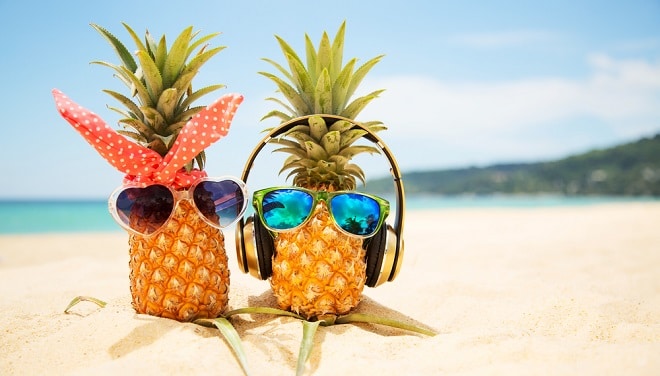 Yoga In The Park
Date: Every Sunday
Time: 09:00 to 10:30
Venue: The Johannesburg Botanical Garden, Emmarentia, Johannesburg.
Enjoy a little fresh air while spending your morning unwinding with a little bit of yoga. Join Yoga Works' Steven, as he takes you through a gentle warm-up, a series of standing poses incorporating strength and balancing work, and some slow and deep stretches to wind down. The session ends with a brief meditation and relaxation to get you ready for the new week ahead. There are limited spots available, so be sure to book and pay online in advance. Cost is R150 per person. Click here for more information about this event.
Local is Lekker Party at Chicagos's Piano Bar
Date: Wednesday, 23 September 2020
Time: From 14:00 to 22:00
Venue: Chicago's Piano Bar, corner Beyers Naude and Duiker Street, Randpark Ridge, Johannesburg.
Ho will you be celebrating Heritage Day, other than braaing up a storm at home? Why not stop by the Chicago Piano Bar and join in the festivities at their Local Is Lekker Party! Sponsored by Richelieu, why not pay them a visit and support local musicians who will be performing 70s, 80s, 90s and South African favourite hits. There will also be drink specials available on the day and a duel DJ battle.
Benoni Market
Date: Saturday, 26 September 2020.
Time: 09:00 to 15:00
Venue: 28 Benoni Road, Benoni, Johannesburg.
The Benoni Market is back, bringing guests, families and shoppers a lovely spot to do a little bit of shopping or to take a leisurely stroll on a Sarurday. This is the perfect opportunity to support local. Here, you'll find everything from food stalls, baked goods and live entertainment to interesting stalls full if unique goodies and much more. Also, your four-legged companions are allowed to join in on the fun. Free entrance to the public. Secure parking inside.
The Bryanston Organic & Natural Market
Date: Every Thursday and Saturday.
Time: 09:00 – 15:00
Venue: The Bryanston Organic & Natural Market, 40 Culross Road, Bryanston, Johannesburg.
Feel like taking a stroll through a market while enjoy various delicious goodies from food stalls and viewing all things arts and crafts? Then be sure to visit the Bryanston Organic & Natural Market. This market specialises in organically grown fresh produce and delicious deli foods. Shop through their wide selection of stalls offering crafts, gifts, jewellery and clothing, all made from mainly natural materials. Why not help independent entrepreneurs by shopping local, here.
Rosebank Sunday Market 
Date: Last Sunday of the month
Venue: The Rosebank Mall rooftop, 50 Bath Avenue, Rosebank, Johannesburg.
For your safety during these uncertain times, the Rosebank Sunday Market will be up and running every last Sunday of the month alongside its Car Boot Sale. Here, you'll be able to find everything and anything from handcrafted treasures, deli treats and vintage goods to amazing food stalls, arts and crafts, and plenty of African inspired memorabilia. This is a lovely place to round off your weekend on a high note. Visit their Facebook page to keep up to date with the upcoming markets.
Fun In Pretoria
Waffle & Milkshake Buffet
Date: Friday, 18 September 2020
Time: 17:00 to 21:30
Venue: Liquid- Coffee & Juice Bar, 573 Rossouw Street, Die Wilgers, Pretoria
Have a sweet tooth? Then be sure not to miss out on Liquid Coffee & Juice Bar's Waffle & Milkshake Buffet! For R120 per person, guests can enjoy waffles with toppings of their choice as well as the Milkshake Buffet. Additional waffles and milkshakes will be available at extra charge. Do keep in mind that there's limited space available, thus booking is essential. WhatsApp Annerita on 082 575 3470 for bookings and more information.
LeSi Drive-In Date Night
Date: Saturday, 19 September 2020
Time: 17:30 to 20:00
Venue: LeSi Restaurant, 05 Darlington Drive, Lynnwood Manor, Pretoria
Looking to plan a special date night for you and your sweetheart? Then be sure to book your spot at the LeSi Drive-In Date Night. Here, couples will get to enjoy a romantic drive-in style three-course a la carte dinner, all while keeping all of the social distancing protocals and precautions in place. Booking is essential, so be sure to contact LeSi Restaurant to book your spot. Cost is R250 per person.
The Loftus Park Drive-In
Date: Thursday, 24 September 2020
Time: 19:00 to 21:00
Venue: Loftus Park, 416 Kirkness Street, Arcadia, Pretoria
Take a trip down Memory Lane and enjoy an amazing movie experience at Loftus Park. They'll be hosting drive-in movies where you can catch films on the big screen from the safety of your own car. The next drive-in movie will be a screening of Joker. Click here to get your tickets now.
Pretoria Products Spring Market
Date: Sunday, 27 September 2020
Time: 09:00 to 14:00
Venue: Mooikrans Venue & Garden, 15A Midas Avenue, Olympus, Pretoria
Support local makers and creators at the second Pretoria Products Market, spring edition! Visitors will enjoy indulging in good food and shopping quality products. Why not enjoy the arrival for spring by having a picnic in the garden with family and friends while sipping a glass of bubbly. And for your safety during these uncertain times, all the necessary safety protocols and precautions will be adhered to. Entrance to the market is R10 per person and free for kids.