Authentic Greek at Eastgate
As far as mall food courts go, Eastgate's is a cut above the rest. Offering everything from family-friendly Afro-Porto fusion, to Thai-inspired noodle bowls and all your favourite takeaways. However, Plaka Eastgate stands out among the restaurants here as something truly unique. Opening out onto the piazza, Plaka's authentic ocean blue and white decor welcomes you in. With an upstairs balcony and an air of upmarket dining, this restaurant is a must-visit. Check it out if you have a love of Greek food and great service. 
The name 'Plaka' pays homage to the old historical neighbourhood of Athens. The heartbeat of Greece's modern capital, Athens is a well-recognised foodie destination. It is this food-centred tradition combined with modern cuisine accents which Plaka has brought to their Joburg customers for 26 years.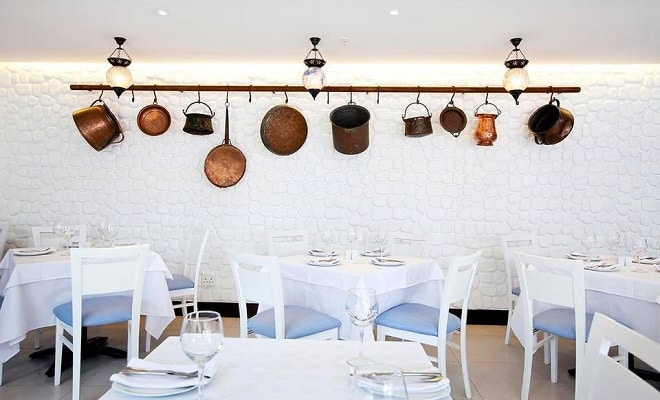 "Plaka has always prided itself on producing the finest, unpretentious Greek dishes to delight our patrons. Our meticulous attention to creating an authentic Greek experience, together with the highest quality of service, and value for money, is [a] testament to the fact that we have been operating since 1993," says Mun Manal, Head of Operations at Plaka.
Meze For Me, Meze For You!
This October, Plaka Eastgate introduced a fantastic new special to their menu. The Meze Platter for Two offers an array of the most popular meze dishes made famous by Plaka over the years. Featuring perfect pita bread, roast feta dip, grilled calamari, crispy falafel balls, mozzarella coated fried zucchini, hand-cut chips, grilled halloumi, tomato and onion salad, succulent chicken souvlaki and flavour-punching shish kebab. The best part - you get all of these amazing meze dishes to share for only *R249! Trust us when we say that this assortment of savoury sharing plates exceeds its value for money. 
Our meal was served in intervals, beginning with freshly baked pita bread, feta dip, fried zucchini and salad. Next came the super crispy falafel balls served with spicy hummus, grilled calamari and hand-cut chips. And finally, juicy chicken souvlaki and hearty shish kebab served with grilled tomatoes, onions and a garnish of coriander. Eating our meal in this manner only added to the authenticity of the Plaka experience, inspired by the Mediterranean tradition meze (which means "small dishes of heaven"). This meal hearkened back to old Greek rituals centred around family and sharing. Allowing for ample conversation and conscious eating, we think that meze dining is the way to go. 
We must compliment Plaka on their execution of these meze dishes. Not only were they generous in portion and flavour, but each dish sang with its own unique notes of salty, umami and bitter from dashings of oregano and dried parsley. There is definitely enough variety here to appeal to you and a partner, plus a good portion of the dishes are vegetarian-friendly, so almost anybody can enjoy the feast. Visit Plaka Eastgate as soon as you can for this authentic, exciting and tantalizing experience! 
New Things To Come
As our visit took place on a scorching hot day, Plaka treated us to watermelon slices dusted in cinnamon as a palate cleanser before dessert. However, as we were completely satisfied from our meze feast, we chose to save those sticky, sweet Greek puddings for another day. We will definitely be back soon as Eastgate plans to renovate their open air piazza and food court in the run up to the holiday season. Plaka Eastgate is sure to be the place to be when this new open-air dining experience is revealed. Make yourself a booking for two - it's ideal for date night, birthdays, a family get together or just a great meal out with that special someone. 
For More Information
Visit Plaka Eastgate's website for more information. Or, you can follow their social media pages for updates on specials:
Facebook - facebook.com/plakasa
Twitter - twitter.com/plakasa
Instagram - instagram.com/plakasa
Details: Shop 15, Rooftop Piazza, Eastgate Shopping Mall, 43 Bradford Rd, Bedfordview, Johannesburg | 011 615 5751 | [email protected]