Golf Carts Now Available at Joburg Zoo
JCPZ has appointment a service provider to run and manage the golf cart services at the Joburg Zoo. This will be exciting news for zoo visitors as the zoo has been without golf carts for years. Navigating and exploring the 54-hectare facility has been a challenge for a number of customers. This service will provide an added value to the facility and offer visitors with a good and comfortable experience. The golf carts will officially operate from 09 December 2021.
Cost: Prices start from R150 per hour*.
Festival of Light – 26 November 2021 to 02 January 2022
Joburg Theatre in association with the City of Johannesburg entities; Joburg City Parks and Zoo and City Power are excited to present the annual Joburg Festival of Lights, featuring an enchanting collection of illuminated life-sized animal characters and classical, harmonious entertainment, food and craft night market for visitors to the Joburg Zoo. Click here for more details.
Time: From 19:00 – 22:00 daily, except Mondays. Closed on Mondays.
Cost: Tickets cost R150 per adult, R75 per child aged from age 3 – 12 years, and R90 for pensioners.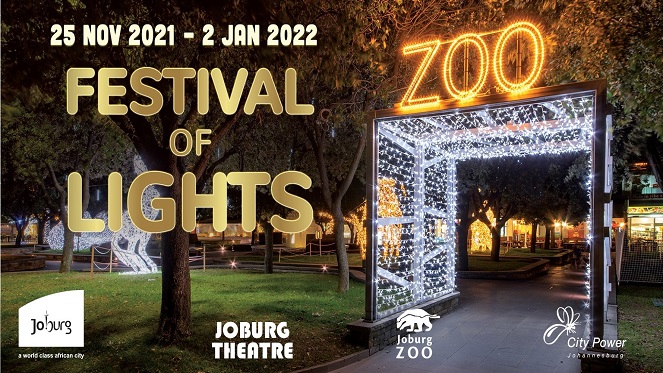 Looking For Gift Ideas For Animal Lovers?
Share your love of animals by adopting your favourite animal at the Joburg Zoo either for yourself, another animal lover, a friend or relative. It's both rewarding and fun! When you adopt, your gift provides for the care and feeding of the animals and supports the Joburg Zoo's ongoing commitment to global wildlife conservation. Your generous donation helps to make the Johannesburg Zoo the best possible place for the animals to live, and for you to visit.
There are different kinds of adoption of packages and what they contain depends on the adoption fee. Adoption packs include tickets to the Zoo, an adoption certificate and information about your animal. To participate, pick the animal you would like to adopt, fill out the adoption application form and send the completed form with payment to [email protected]. Packages start from R300.
For More Information
For more information about The Joburg Zoo, visit www.jhbcityparksandzoo.com.
The Joburg Zoo is open over the festive season.
You can also contact them on 011 646 2000 for more details.
Don't forget to follow The Joburg Zoo on their social media platforms — Facebook, Instagram and Twitter — to keep up to date with the latest news, information, events and more.
Address: Corner of Jan Smuts Avenue and Upper Park Drive, Parkview, Johannesburg.
Images courtesy of Joburg Zoo