Avianto
Head out to the Muldersdrift country side for a romantic day out at Avianto? They will be hosting a romantic picnic for two on the their stunning grounds at just R700 per box for two people. Just don't forget to take along your own blanket for added comfort while enjoying the picnic box delights and taking in the beautiful view Aviano has to offer. This picnic box is also available for takeaway if you have planned something special at home. This offer is available on Saturday 13 February 2021 and Sunday 14 February 2021 only. T&Cs apply.
PS. Click here for more Valentine's Weekend offers from Avianto. 
Date: Saturday 13 February 2021 and Sunday 14 February 2021.
Details: www.avianto.co.za | [email protected] | 011 668 3000 | Plot 69, R114 Driefontein Road, Muldersdrift.
Kleinkaap Boutique Hotel
For a romantic moonlit Valentine's Day picnic experience, visit the Kleinkaap Boutique Hotel in Pretoria. They will be hosting a lovely and oh-so romantic outdoor movie and picnic buffet celebration, perfect if you're looking to impress your sweetheart or cement your love with someone special. Bring a few blankets and pillows and get comfy underneath the stars in the gardens of the hotel. There will be a fantastic lineup of romantic movies to keep you and your love entertained, as well as a delightful selection of buffet-style meats, salads, starches and desserts. COVID-19 regulations apply. No mask, no entry. Movie is taking place outdoors. People will be seated 1.5m apart.
Date: Sunday, 14 February 2021 from 17:00.
Tickets cost R350 per person for the movie night experience, or R1 950 per couple for an overnight stay. Book your tickets online.
Sylvia's Market
The ever-popular Sylvia's Market in Fairmount invites you to celebrate your love at their Valentine's Teddy Bear's Picnic. Entrance is FREE and you can spend your Valentine's Day indulging in tasty food, sipping on a wide variety of refreshing beverages, and shopping for the perfect gift for your Valentine. And if you have little Valentines too, they'll have a blast playing in the designated play area complete with a jungle gym. There will also be live entertainment on the day.
Date: Sunday, 14 February 2021 at 10:00 - 16:00.
Black Eagle Hotel & Spa's Romantic Picnic For Two
Celebrate your love at Black Eagle Hotel & Spa in Poortview over Valentine's Weekend. They have a lovely collection of Valentine's Day offers waiting for you and your sweetheart. On Sunday 14 February 2021, they will be hosting a lovely Valentine's Day picnic in their gardens, perfect for couples who are looking to enjoy each other's company, out in the fresh air, embracing our lovely African summer weather. Tuck into a fab picnic basket in the garden at R650* per couple – just be sure to take along your own blanket.
Date: Sunday, 14 February 2021.
Valentine's Picnic at Bistro Dolce Vita
Looking to enjoy a chilled and relaxed Valentine's Day with your loved one? Then be sure to visit Bistro Dolce Vita in Sandton for this Valentine's Picnic. You and your sweetheart will enjoy and romantic yet relaxed day around the pool, complete with picnic blankets, baskets filled with delicious edibles, a bottle of non-alcoholic bubbly, and awesome background music to set the mood. Entrance is free, however edibles and the non-alcoholic bubbly will be charged.
Date: Sunday, 14 February 2021 from 13:00 to 17:00.
Valentine's Picnic at Shokran Wedding & Events Venue
If you'll be in Pretoria over the Valentine's Day weekend, then why not plan something special for the apple of your eye at Shokran Wedding & Events Venue? They'll be hosting a romantic picnic setting on Valentine's Day, offering a beautiful graze box with cheese, charcuterie, preserves and fruit, all artfully nestled in a box served with artisan bread and butter. Be sure to place your order before the event! On the day, you'll receive your box upon arrival and enjoy the experience in a safe outdoor setting. Take your pick from one of the following sessions:
Session 1: 09:00 to 12:00
Session 2: 13:00 to 16:00
Session 3: 17:00 to 20:00
If you'd feel more comfortable experiencing this picnic at home, you may pre-order the box as a take away.
Date: Sunday, 14 February 2021 from 09:00 to 20:00.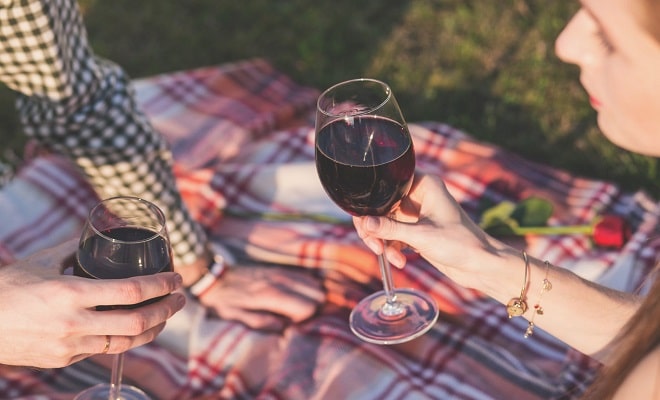 Romantic Picnic and Movie at Bankenveld House Guest House
Book your spot and enjoy Bankenveld House Guest House's popular romantic Valentine's Eve celebration with that special person in you life! you'll both spend the evening watching a romantic movie under the stars (bring your own blanket and camping chairs) while tucking into a delicious picnic basket for two jam-packed with yummy goodies as well as something to drink (this is part of the package). Do note that bookings are essential as space is limited. Cost is R400 per couple. Also, there will be exciting giveaway prizes up for grabs! All COVID-19 regulations will be complied. For any further information and bookings, contact Elsa at 082 378 8024.
Date: Saturday, 13 February 2021.
A Countryside Valentine's at Toadbury Hall
How does Valentine's Day out in the countryside sound? Romantic? Then why not take a look at Toadbury Hall's selection of Valentine's Day spoils. One of their delights on the most romantic day of the year is a lovely picnic on their picture-perfect grounds. The day picnic will cost R800 per couple which includes a welcome drink and picnic basket for two. Or, you can opt for the picnic package at R2 000 per couple, which will include a welcome drink, picnic basket for two, and well as B&B accommodation. Call 010 593 7523 or email [email protected] for more information and bookings. Terms & conditions apply. Bookings essential.
Date: Sunday, 14 February 2021.
Dial A Picnic
Sometimes the most romantic gesture you can make for Valentine's Day is to ensure that you and your partner have quality time alone. Why not set up a sweet backyard picnic this year with the help of Dial a Picnic? They offer a range of picnic packages suited to almost any budget. From a simple romantic picnic, which comes with six red roses and a bright red cooler bag to keep, to a marriage proposal picnic, complete with on-hand photographers, Dial a Picnic can help you create the perfect intimate set up wherever you are. These guys know how to do Valentine's Day right, so give them a call!
Visit their website for further details, or follow their social media pages:
Need more romantic picnic inspiration this Valentine's Day? Check out our top picnic spots in the city article!