Cookies & Cream Class – 12 February 2022
Calling all kiddies! Join Old Town Italy for an exclusive Valentine's Cookies & Cream class on 12 February 2021. This class is an interactive and fun activity for kiddies (ages 4 –12 years) to take part in. They get to decorate their own heart-shaped cookies, while enjoying a creamy milkshake.
Classes cost R120 per child. Book your child/ren in at 10:00 for this fun and exclusive class! Be sure to reserve an additional table and enjoy a delicious breakfast while your little ones partake in the class!
Book now:
Pizza Making Class – 14 February 2022
Make this Valentine's Day one to remember with Old Town Italy's romantic Pizza Making Class.
Book your table on 14 February at 18:00 to learn the art of Italian pizza-making with your significant other, all while enjoying a delicious antipasto board, Old Town Italy wine and the smooth romantic ambiance created by the live entertainment booked for your listening pleasure.
Cost is R575 per couple. Bookings are essential. Each store is limited to 20 couples.
Book now:
Complimentary Drink on Arrival
Enjoy a complimentary Martini Prosecco or Martini Fiero Spritz when you book for a Valentine's Dinner or for Pizza Making Class at Old Town Italy restaurants.
Bookings can be made online or by contacting the store directly: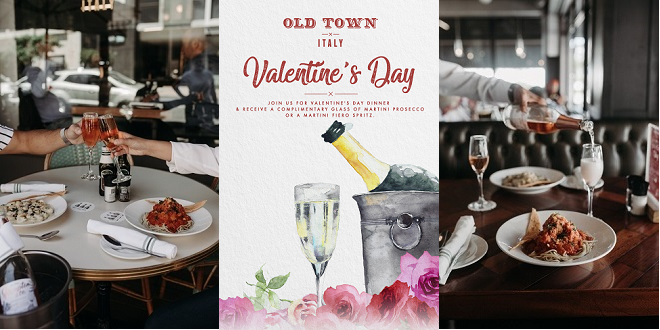 For More Information
For more information about Old Town Italy and their Valentine's Day excitment, visit www.oldtown.co.za.
Also, visit their social media platforms – Facebook and Instagram – for the latest news, information, offerings, events and more.