What Is Sleep Deprivation?
"Simply put," says Dr Rae, "sleep deprivation occurs when you don't get the right type of sleep your body needs, every night. You may be sleeping your usual number of hours, say 6-8 hours, but if your sleep is shallow or interrupted, you may become sleep deprived. Alternatively, while you might imagine that you are operating just fine on short sleep (perhaps 4-5 hours), behavioural symptoms (forgetfulness, short fuse, moodiness) might begin to suggest otherwise."
What Causes Lack Of Sleep?
Dr Rae notes stress, anxiety and perhaps unhealthy routines as the more obvious reasons. Poor diet and lack of exercise can also play a role. "Sleep is not a passive activity. It is one of the single most important things that we should plan our lives around. As they say, a good day starts the night before."
Take Your Rest Seriously
Sleep is an activity. It requires attention and application. Your mind and body will naturally want to calm down to a state of rest when it gets dark. Whether you choose to sleep earlier or later in the evening, it helps to prepare yourself for sleep.
 Here are a few things to consider with simple tips.
Slow down your thoughts. If you're under work pressure, perhaps write out a to-do list for the morning, so you're telling yourself you are in control and can afford to "let go" for a while in order to sleep properly.
Manage your sleeping environment. The more you associate your bedroom as a calm, retiring place, the easier you will naturally respond and relax when getting ready for bed.
Do a simple, menial chore or relaxing activity. Get the kids' lunch ready for the morning. Water the pot plants. Read. Meditate.
When last did you change your mattress? Often it is the most obvious thing we think of last. Everyone's body changes as they get older. Check at least every 8 years that your mattress is still right for your comfort and support preference. The feel of a brand new mattress is a great motivator to get more quality bedtime.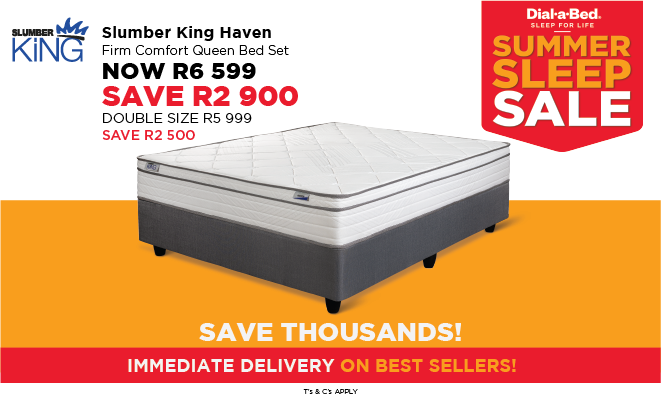 Switch On Summer With Healthy Sleep – Success Starts at Dial-a-Bed
Afford yourself the very best comfort and support from South Africa's largest branded bedding store.
Pop into your nearest Dial-a-Bed and take the Sleep Station test. They'll guide you to exactly the kind of sleep you've always wanted and deserve.
Best brands, best prices. SAVE THOUSANDS when you get up to 30% OFF!
IMMEDIATE DELIVERY on their best sellers.
Hurry, while stocks last!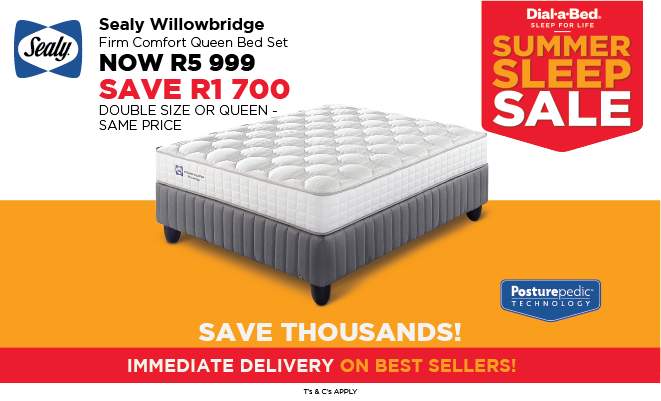 For More Information
For more information about Dial-a-Bed and their amazing summer deals, visit their website at www.dialabed.co.za.
You can also contact them on 086 100 7542 or [email protected].
Don't forget to follow and like them on Facebook, Instagram, Twitter and YouTube to keep up to date with the latest news, offers, sales and promo.
Dial-a-Bed has over 66 stores nationwide. Click here to find you're nearest store.