Mexican Taco
A crunchy taco is all we need to travel to Mexico, to taste the culture and to find the perfect escape - no passport needed. Traditional Mexican beef tacos are made with marinated sliced or minced beef on soft corn tortillas, nothing beats that combo. Here is a recipe for you to try!
Ingredients
500 g beef mince
1 tablespoon chilli powder
1 teaspoon ground cumin
3/4 teaspoon salt
1/2 teaspoon dried oregano
1/2 teaspoon garlic powder
1/4 teaspoon ground black pepper
1/2 cup tomato sauce
1/4 cup water
12 taco shells - either hard shells or small soft flour tortillas
Optional toppings: grated cheese, shredded lettuce, chopped tomatoes, diced red onion, taco sauce, sour cream and guacamole.
Method:
Add the beef to a large skillet over medium-high heat. Break the meat apart with a wooden spoon. Add the chilli powder, cumin, salt, oregano, garlic powder and pepper to the meat. Stir well. Cook until the meat is cooked through, about 6-8 minutes, stirring occasionally.

Reduce the heat to medium. Add the tomato sauce and water. Stir to combine. Cook, stirring occasionally, for 7-8 minutes, until some of the liquid evaporates but the meat mixture is still a little saucy. Remove from the heat.

Warm the taco shells according to their package directions.

Fill the taco shells with 2 heaping tablespoons of taco meat. Top with desired taco toppings.
Source: www.thewholesomedish.com
Pasta
With just four ingredients, you can make your own pasta. It's easy to make by hand, in a stand mixer or in a food processor. This recipe includes handy tips to help you become an expert pasta maker. Pair your pasta with a hearty sauce or just drizzle with olive oil for a delicious treat.
Ingredients:
4

 large eggs (room temperature)

2 1/2 cup

s flour

1 tablespoon

 olive oil

1 teaspoon

 fine sea salt
Method:
Add all ingredients to the bowl of a food processor, fitted with the normal blade attachment.  Pulse for about 10 seconds, or until the mixture reaches a crumbly texture.
Remove the dough and form it into a ball with your hands, then place the dough on a lightly-floured cutting board. Knead the dough for 1-2 minutes until it is smooth and elastic. (If the dough seems wet or sticky, just add in some extra flour.  You want it to be pretty dry.)
Form the dough into a ball with your hands and wrap it tightly in plastic wrap. Let the dough rest at room temperature for 30 minutes. Use immediately or refrigerate for up to 1 day.
Roll out the pasta dough into your desired shape, either by hand or using a pasta maker.  Cook the pasta in a large pot of generously salted boiling water until it is al dente, usually between 1-5 minutes depending on the thickness of your pasta.  Drain and use immediately.
Source: www.gimmesomeoven.com
Potjiekos 
While we are stuck in quarantine, we're craving some comfort. And there is nothing more comforting than rich potjiekos. This is the perfect dish for those chilly days when you're missing your family. Click here to get the recipe!
Ingredients:
Oil to cover the base of your potjie
1kg lamb (on the bone)
2 onions, chopped
Chunks of potatoes, carrots, baby marrows and green beans
2 teaspoons ginger and garlic paste
Salt and black pepper to taste
1 can of diced tomatoes
A few bay leaves
Method:
Heat the oil and add the onions and fry until soft and translucent.
Add the lamb, ginger and garlic paste and brown on all sides. If the pot is too warm and the meat is burning, add a few tots of wine or water.
Add salt and pepper.
When the meat is brown, add the diced tomatoes, bay leaves and some water.
Put the lid on and gently simmer for approximately 1 hour.
Add the carrots first and cook for about 30-40 minutes before adding the baby marrows, potatoes and green beans.
Taste and add a bit more salt and black pepper if needed.
Don't stir, but gently shake to ensure that there is enough liquid at the bottom and that it's not burning. If you're unsure, add a bit of wine or water.
Replace the lid and simmer for another 20-30 minutes.
Remove the pot from the fire and serve with rice.
Source: www.tastyrecipes.sapeople.com
Chicken Tikka Masala
Make this for your family and everyone will forget they're under lockdown. Made with yoghurt and spices and cooked in a creamy tomato sauce, this dish pairs perfectly with garlic naan. Click here for the recipe!
Ingredients:
For the chicken:
1

 

cup

 

plain yoghurt

2

 

tablespoons

 

ginger and garlic paste

1

 

tablespoon

 

garam masala

1/2

 

teaspoon

 

cayenne pepper

1/2

 

teaspoon

 

freshly ground black pepper

1

 

teaspoon

salt

500g

boneless

 

skinless chicken breasts or thighs, cut into large chunks.
For the masala sauce
2

 

tablespoons

 

butter

2

 

teaspoons

 

olive oil

1/2

 

cup

onion, minced

1

 

jalapeno pepper,

 

minced

3

 

cloves

 

garlic,

 

minced

1

 

tablespoon

 

ginger,

 

minced

1

 

cup

 

diced tomatoes

2 tablespoons tomato paste
1 tablespoon garam masala
1 teaspoon paprika, optional
1 teaspoon salt
1 cup water
1/2 cup heavy cream
Fresh cilantro, for garnish
For the garlic naan:
Ready-made bread dough
4 cloves garlic, minced
2 tablespoon butter, melted
Method:
Marinate chicken: Combine yoghurt, ginger and garlic, garam masala, cayenne, black pepper and salt. Add chicken cubes and toss to coat. Cover and marinate in the refrigerator for 30 minutes or up to 24 hours. Remove chicken from fridge and thread onto skewers. Grill chicken in a 230C preheated oven under the grill for 15-20 minutes.

To make the sauce: While the chicken is cooking, prepare the sauce. Heat a large heavy-duty pan to medium-high heat. Add oil, butter and onion. Cook until onion begins to brown. Add the jalapeno, garlic, ginger and cook for 2 minutes or until garlic begins to brown. Add the tomatoes, tomato paste and spices. Cook for 5 minutes. Pour in 1 cup of water and allow the mixture to simmer on a low/medium heat for 15 minutes. Add cream and cook for just 2-3 minutes. Mix in the cooked chicken and stir to coat.

To make naan bread: Combine the butter and garlic in a small bowl. Set aside. Divide bread dough into 8 equal portions. Roll the dough into a small circle using a rolling pin. Heat up a skillet over a high heat and lightly grease the surface with some oil. Place the dough on the skillet. When it puffs up and bubbles and burnt spots appear, flip it over and spread with the garlic butter mixture. Cook until done. Repeat until all the dough is done.
Source: www.gimmedelicious.com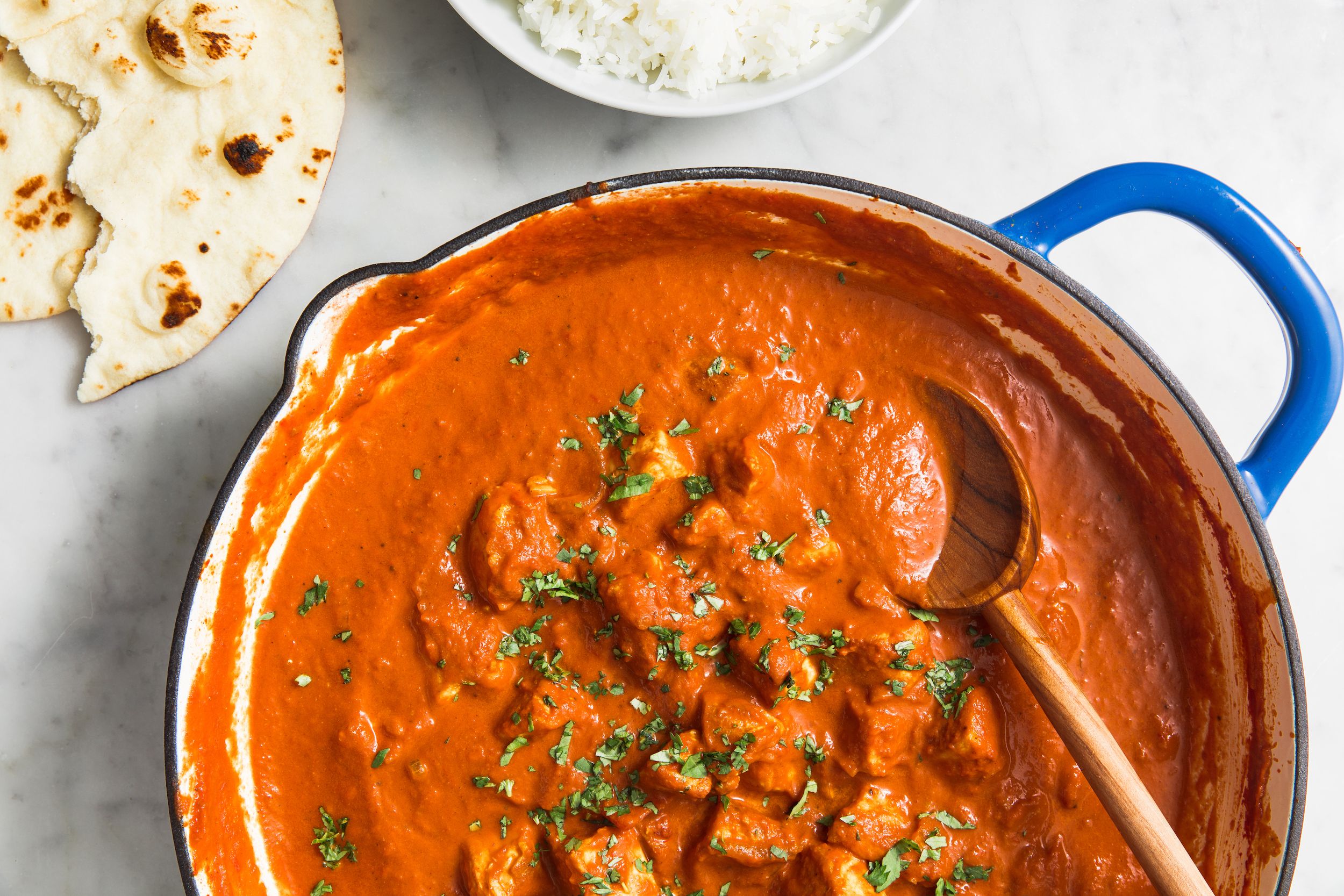 Traditional Cod From Portugal
Using simple and traditional seasonings like olive oil, onion and garlic, you can craft this Portuguese specialty. Get the recipe here and enjoy your very own homemade traditional Portuguese cod.
Ingredients:
2 cod steaks (about 500g)
50 ml olive oil
4 cloves garlic, crushed
Pepper (to taste)
1 medium onion, sliced
1/2 red pepper, sliced
1 teaspoon paprika
600g small potatoes
Coriander (to taste)
Olives (to taste)
Salt (to taste)
Method:
Wash the potatoes, place them in a saucepan with seasoned water and boil over medium-high heat. When they start boiling, reduce to medium-low heat and cook the potatoes for about 20 minutes. Turn off the heat and drain the potatoes. With a knife, pierce each potato and set aside.
Cut the cod steaks into pieces.
Put the olive oil, onion slices, red pepper and the crushed garlic in a frying pan and saute over low heat until the onions start to turn slightly golden. Add the cod, season with pepper and paprika and cook the cod on both sides, for about 10 minutes. Add the potatoes, shake the frying pan and cook for 3-4 minutes.
Turn off the heat and sprinkle with chopped coriander. Garnish with olives and serve.
Source: www.foodfromportugal.com
Chicago-Style Deep Dish Pizza
Our stomachs are grumbling just looking at this dish. If you, like us, can't resist this recipe, click here for a step-by-step guide. Made in a deep dish, this pizza is unlike anything else you've ever had before.
Ingredients:
For the Crust:
4 cups cake flour
3 tablespoons yellow cornmeal
1 3/4 teaspoons salt
2 3/4 teaspoons instant yeast
2 tablespoons olive oil
4 tablespoons butter, melted
2 tablespoons vegetable oil
1 cup + 2 tablespoons lukewarm water
For the Filling
340g mozzarella, sliced
450g sausage, cooked and sliced; or about 3 cups of sautéed vegetables of your choice
2 cans tomatoes, chopped
2 to 4 garlic cloves, peeled and minced
1 tablespoon sugar, optional
1 to 2 teaspoons dried Italian herbs
113g Parmesan, grated
2 tablespoons olive oil
Method:
Mix the dough ingredients, and knead — by hand, mixer, or bread machine — to make a smooth crust. This will take about 7 minutes at medium-low speed in a stand mixer.
Place the dough in a lightly oiled bowl, cover and allow to rise for about 60 minutes.
While the dough is rising, ready your pizza pan. Grease it with non-stick vegetable oil spray, then pour in 3 to 4 tablespoons olive oil, tilting it to cover the bottom of the pan and partway up the sides.
Stretch the dough to make as large a circle as you can. You can do this on a lightly oiled baking mat or simply stretch the dough in your hands.
Lay the dough in the pan and stretch it towards the edges until it starts to shrink back. Cover, and allow to rest for 15 minutes. Start preheating the oven to 220C while the dough rests.
Stretch the dough to cover the bottom of the pan, then gently push it up the sides of the pan. Let the crust rest for 15 minutes or so, as your oven heats.
Bake the crust for 10 minutes, until it's set and barely beginning to brown. While it's baking, prepare the filling.
Drain the tomatoes thoroughly. Combine them with the Italian herbs, garlic and sugar. Add salt to taste.
Cover the bottom of the crust with the sliced mozzarella, fanning it into the crust. Add the sausage (or sautéed vegetables), then the tomato mixture.
Sprinkle with the grated Parmesan, and drizzle with the olive oil.
Bake the pizza for about 25 minutes, or until the filling is bubbly and golden brown. Remove it from the oven, and carefully lift it out of the pan onto a rack. A giant spatula is a help here. Allow the pizza to cool for about 15 minutes before cutting and serving.
Source: www.kingarthurflour.com
Greek-Style Roast Fish
Here is an easy recipe for you to try out, made with staples that you already have in your pantry. This oven-baked white fish fillet with potatoes, tomatoes and herbs is a must-try.
Ingredients:
5 small potatoes (about 400g), scrubbed and cut into wedges
1 onion, halved and sliced
2 garlic cloves, roughly chopped
½ teaspoon dried oregano
2 tablespoons olive oil
½ lemon, cut into wedges
2 large tomatoes, cut into wedges
2 fresh skinless pollock fillets (about 200g)
Small handful parsley, roughly chopped
Method:
Heat oven to 200C. Tip the potatoes, onion, garlic, oregano and olive oil into a roasting tin, season, then mix together with your hands to coat everything in the oil. Roast for 15 minutes, turn everything over and bake for 15 minutes more.
Add the lemon and tomatoes, and roast for 10 mins, then top with the fish fillets and cook for 10 minutes more. Serve with parsley scattered over.
Source: www.bbcgoodfood.com