If you had to name countries that genuinely know how to live the good life, we'd wager that Spain would at least feature in your top three. The Spanish know how to live life to the fullest, squeezing maximum enjoyment out of every moment.
Whether it's tucking into tapas and sangria during a pre-siesta lunch, or marvelling at La Sagrada Família's beautifully intricate architecture, 2020's travel spotlight is shining firmly on Spain. Here are the six most sizzling Spanish experiences to bookmark for next year:
Sample The Sparkling Bubbly
Spain's delicious local bubbly, Cava, manages to capture the effervescent energy of Spanish culture.
Make the journey to Freixenet Wineries in Catalonia, just one of Spain's famous wine-producing regions, where you can experience sparkling wine production first-hand and most importantly, sample some of the final product.
Get Beneath The Skin Of Gaudí
While no one could tire of admiring the fairytale Art Nouveau architecture found on many of Barcelona's streets, really get beneath the skin of this sultry city and follow in the footsteps of the city's most famous and beloved architect, during an unforgettable Gaudí tour.
"Barcelona offers the traveller much more than just La Sagrada Família, swirling skirts and castanets, although these experiences are must-dos, of course," says Teresa Richardson, Managing Director of The Travel Corporation in South Africa.
"To truly understand the city and its famous artist, join a local specialist on Trafalgar's Barcelona Explorer trip," says Teresa. "This is a new itinerary we've just launched for 2020, after we listened to our guests asking for more in-depth, immersive trips that dive deep into the heart and soul of a particular region and city."
Glimpse the creative genius of Gaudí and marvel beyond the intricately carved doors of La Sagrada Família on a walking tour with a local specialist. Discover why it has taken generations to complete his life's work, as you immerse yourself in the wonder of Park Güell and Casa Milà and follow his artistic footprint all over the city.
Marvel At The Montserrat Mountain
This spiky multi-peaked mountain is worth visiting just for its unusual shape. But it also hides Santa Maria de Montserrat, Catalonia's most iconic Benedictine Monastery. The Monastery houses the mystical Black Madonna, patron saint of Catalonia. The views of the countryside are breathtaking. It's a beautiful spot to breathe in the fresh air, meditate or enjoy a short hike and picnic.
Be A Guest Of A Seville Family
Famous for flamenco dancing, the Alcázar Palace and its intricately detailed, honey-hued buildings, Seville is the jewel in the crown of southern Spain's Andalusia region. It's a beautiful city to lose a few hours while wandering the streets.
But don't leave without making a meaningful connection with the locals. Quality time for Sevillians is spent around the dinner table, eating, drinking and laughing together. And your experience shouldn't be any different.
If you're on one of Trafalgar's guided holidays in the region, you'll get the unique chance to do just this. Their 'Be My Guest' experience takes guests into the home of the Morillo family, who live on an olive oil farm. Enjoy a glass or two of sangria in the courtyard before embarking on a private tour of the mill, learning how the award-winning olive oil is produced from the over 6000 olive trees on the estate.
After working up an appetite, you'll sit down with the family to enjoy a traditional Andalusian lunch of chilled vegetable soup and potato omelette to start, garlic chicken or fillet of fish, followed by the perfect sweet treat, a seasonal fruit salad with orange-infused olive oil.
"Time and time again, guests rate this bespoke culinary and culturally immersive experience as the highlight of their entire holiday," says Teresa.
Discover Toledo's Ancient Sword Culture
We wager that embarking on a sword-making quest may not feature on your Spanish itinerary, but it should. In Toledo, the former capital of Spain, a proud and robust sword-making culture has been vital to the city's survival since medieval times.
Visit a Toledo inlaid steel factory to see how local artisans and swordsmiths forge almost invincible, high-quality steel into beautifully crafted swords.
Head Off The Beaten Path
Cadiz province in southern Spain has just been named as one of Lonely Planet's Top Ten regions to visit in 2020. A three-hour drive from Granada, it's the perfect destination for those wanting to explore the local culture, castles and caves of Spain's southwestern corner.
Visit the port city of Cadiz, one of Spain's oldest cities having been founded in 1100BC. The area is gaining quite the gastronomic reputation and is the perfect 'off the beaten path' destination for those wanting to experience great regional food and wine after exploring Spain's more iconic regions.
Make the journey to find the good life in Spain, and you'll soon be seduced by its many charms – both in its energetic cities and off the beaten path. Olé!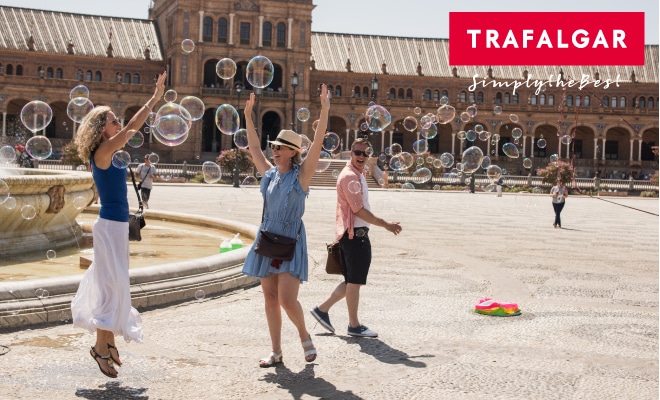 Keen To Explore Spain? 
Now that you're ready to explore stunning Spain, visit www.trafalgar.com and get started on planning your trip abroad. They have a number of offers and packages available. So, what are you waiting for? Book your trip now!
For More Information
For more information about Trafalgar Travel and their amazing offers, visit www.trafalgar.com.
You can also contact them on 011 280 8440.
Don't forget to follow them on Facebook, Twitter and Instagram to keep up to date with the latest news, offers and more.