Zando
First and foremost, check out what Zando has to offer you this spring. We did, and we were so tempted to add everything to our cart. They have sandals for everyone, if you like being out there with your colours, or simply live by the motto "less is more", you are in for a treat. All your sandal needs will be met! The time has come for you to flaunt your pedis and rock these amazing shoes.
Mr Price
We all know that Mr Price is the go-to for anything and everything and they are still upholding that reputation. Giving you everyday shoes this spring, whether you're going to work, a cocktail party or are simply just looking for those comfortable weather appropriate shoes. Mr Price is here to give you anything from open toe-shoes to sandals for spring. We saw these Gladiator sandals that are to die for, plus they never go out of style, just pair it up with an amazing spring maxi or short dress and you are ready to turn heads!
Foschini
Ahh Foschini, the mother of amazing sandals in interesting and beautiful colours, these will definitely make you stand out. Rock these, and the compliments will come flying in your direction. They are offering you anything from flip-flops, slides, heals and wedges for spring. Wedges are a timeless classic, as long as you know how to put an outfit together that will compliment your spring wedges, you'll be ready to go. Check these amazing and breathtaking ankle tie wedges that are specially made for the gods!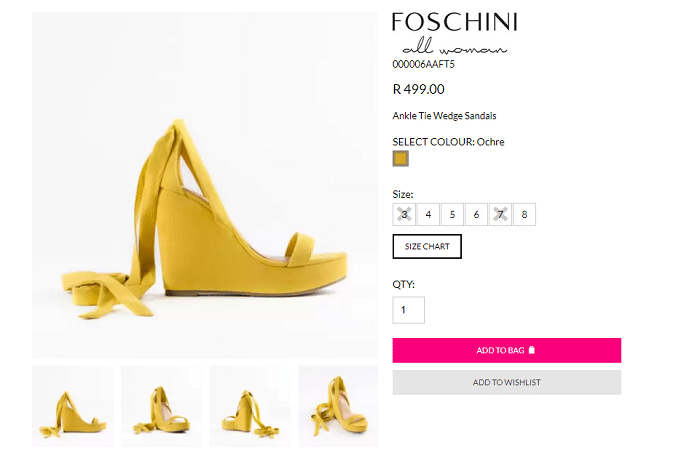 Aldoshoes
If you are like us and love setting trends or following the latest in fashion, you'll definitely love the news we have for you when it comes to the shoes at Aldo. Brace yourselves ladies, we've all been saving some moolah for spring, we knew the time would come where we rejoice because our favourite season has arrived. And you do not have to ask Aldo twice to come through with that spring collection. They are bringing you amazing prints, colours and that cool kid style. Look how comfortable and fashion forward these are! Buy two pairs please, one for you and one for us. We did plug you in with where to find these.
Superbalist
Now this is the cool kid's playground, and there is nothing wrong with being the coolest in the block sometimes. Spoil yourself, why don't you? You've survived winter and now you need to reward yourself with these amazing shoes. Okay, we are shamelessly going to admit that sometimes it's okay to do something out of the ordinary. So, here is something a bit of out of the ordinary for spring, we instantly fell in love with some of these sneakers. We know we said we are done with sneakers and boots. But can you imagine how gorgeous these would be with a summer dress and a denim jacket? Yup, we knew you would love the idea!
Woolworths
It's straps, straps and even more straps at Woolworths. Get yourself strapped with these amazing strappy sandals this spring, available in every colour and style, we are pretty sure you'll find something you like somewhere in there. There is a pair of metallic trim t-bar block heel sandals we saw on their website earlier, and we think they would go well with that black dress you have in your closet. Suited for any ladies night out.
Nicci Boutique
Bedazzled sandals galore, is what Nicci Boutique is. If you are looking for something a bit risque or spicy, be sure to check Nicci Boutique. People normally say it is the shoes that make the outfit, and we think whoever said that is a genius because 'tis true! Giving you cluster jewel slide sandals, multi jewel strap sandals, diamante ankle strap sandals, and to top it off and give you that extra pop of colour, check out their rainbow flat sandals.
Truworths 
Truworths is another gem when it comes to spring shoes - comfortable, beautiful and, of course, affordable. Ladies, say it with me "block heels, block heels and more block heels this spring". We all want to look fly, but comfort is key, so why don't you pop by Truworths and check out their spring collection of shoes, from sandals to heels. You will be walking the streets with so much confidence and flair!
Rage
This is truly a shoe haven. Shoes for an everyday person, for every outfit and for every occasion. With all prints, textures, designs and colours, you are going to get the exact shoe that fits your mood. Never fear when Rage is near. They are affordable and we are pretty sure you could walk out with sandals that would fit your every outfit, it's like being a different girl everyday. Sounds like something we'd be up for. So if you want to switch things up everyday, check out Rage and their amazing sandals.
Edgars
And lastly but by no means least, trust Edgars to give you just what you need. They are the definition of trend-setters in all fashion and their shoes are the best of the best. Don't believe us? Check it out yourself! You can spoil yourself and everyone in the family because they have sandals, flip flops, and slides for mom, dad and the kids. See, everyone wins! Check it out!