With open spaces and beautiful architecture, this private and intimate venue close to the hustle and bustle of trendy Linden offers a homely and modern setting with a special vibe.
Aside from hosting regular quiz nights and murder mystery parties (where you can hobnob with the cool kids), The Bakery is also available as a private venue for birthdays, wine tastings, launch parties, birthday parties, kid's cooking lessons, kitchen teas and more. The open plan kitchen and airy loft space add a special touch, and can accommodate anything from art exhibitions to yoga workshops.
Picture raw brick walls, vintage carpets, neon wall art, ample greenery and a cool patio complete with pergola draped in grapevines – which guarantee an atmosphere to inspire.
And if this urban chic look and feel is not enough to get the creative juices going, The Bakery is also known for the natural health products, edibles, and plant medicine on offer.
The venue offers secure and private parking behind locked gates. There is ample garden space for kids to run around, or play on the jungle gym, in a secure walled environment. The garden also boasts a fire pit with plenty of seating. At night, the patio and garden, decorated with fairly lights, become truly magical.
To guarantee a cosy time indoors when the weather turns, the wood-burning fireplace and lounge make it an ideal place to hide away from cooler evenings or wet thunderstorms.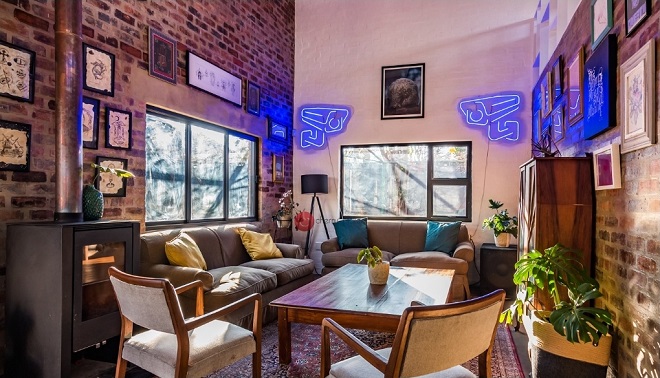 The kitchen is fully equipped with stove, air frier oven and coffee machine. Catering can be arranged for events of up to 50 people and owner Anja will go out of her way to accommodate you with various flexible and affordable venue-hire packages.
Keep an eye on The Bakery's Instagram page for the latest events on offer, such as its legendary quiz nights, sound-bath meditations, or murder mystery parties.
For More Information
Details: Facebook  | 061 738 8383 | 61A First Avenue, Linden, Johannesburg | [email protected]
Written by Taryn Arnott