The 4th Annual Magalies Rocks the Cradle Festival
Three days, 50 venues and over 100 events - the 4th annual Magalies Rocks the Cradle Festival promises to be one for the books. What makes this festival unique is that it takes place all over Magaliesburg rather than at just one venue. Only the very best of the Magalies join in to showcase their hand-crafted products, artisan food goodies and craft brews.
It would be physically impossible to visit all 100 events, so it's best to choose from the categories that interest you most! But, before you overwhelm yourself, we have scoured through the three day Magalies Rocks the Cradle event calendar just for you. Picking the top events in each event category, we have compiled a superb must-visit recommendation list. You can thank us later.
What's On
Art
1. The Harry Erasmus Art Exhibition
Harry Erasmus is one of South Africa's most unique artists. With no formal training, he is a self-taught painter. He has worked as a full-time artist for the past 16 years, both in SA and abroad. Harry will be exhibiting his latest body of work at Melon Rouge Eatery on Saturday, 24 August and Sunday, 25 August 2019. Be sure to stop by to see this artist's whimsical talents.
Details: Melon Rouge Eatery, Bekker School Road, Zeekoeihoek Magaliesburg.
2. Land Art Expo at Crooked Tree Campsite
Jozi Land Art have been making site-specific land art at the Johannesburg Botanical Gardens in Emmerentia since 2014. Using only materials gathered from nature, they create stunning sculptural pieces which highlight the beauty of the landscape. Jozi Land Art will exhibit their creations at Crooked Tree Campsite on the banks of the Magalies river throughout the festival. The park is dog-friendly, so bring your four-legged best buddy along. Just make sure they stay far away from the art!
Details: Plot 64 Rustenburg Rd, Magaliesburg.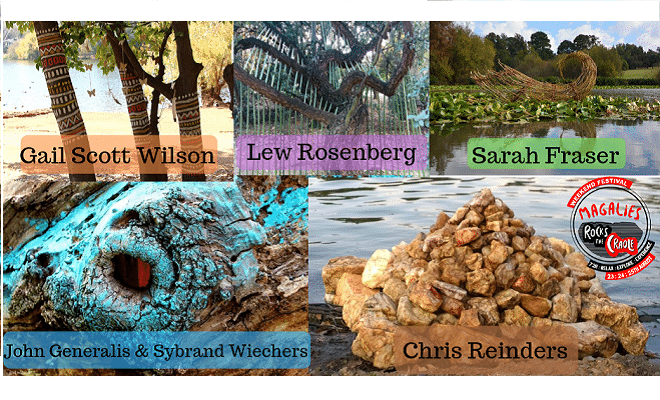 Food and Drink
1. Wine, Artisan Bread, Charcuterie and Cheese pairing
African Pride Mount Grace Country House & Spa, Autograph Collection invite you to a fine dining experience. Kick off the first day of the Magalies Rocks the Cradle Festival with a wine, bread, charcuterie and cheese pairing at their world class hotel.
Get your tickets by emailing [email protected].
Details: Old Rustenburg Road, Magaliesburg. 
2. Festival of Beer
White Dog Taproom is serving up selected handcrafted Roeks Beers at their annual Festival of Beer event. There will also be live entertainment and a kite flying competition to keep you and the kids entertained. Ernest Visser will perform, while you kick back and enjoy a few cold ones.
Details: White Dog Taproom, R24 and R98, Magaliesburg.
3. La Veneziana Ice Cream Tasting
La Veneziana Ice Cream will be hosting their annual ice cream tasting on Saturday, 24 August 2019. Come and spend 40 minutes indulging in the finest Italian gelato, sorbet and frozen desserts. Afterwards, pick you favourite flavours and order a 2l or 5l tub from their factory store at discounted prices. We'll see you there!
Details: R23a Doornkloof farm, Rustenburg Rd, Magaliesburg.
Markets
1. MRTC Wine and Craft Festival
Black Horse Brewery are this year's hosts of the Magalies Rocks the Cradle Wine and Craft Festival. There will be over 30 wine stands and 40 craft market stalls, five food stalls and cheese stalls to indulge in. Craft gin and beer will also be available for the non-wine drinkers. The market is free to enter, however you must book tickets to enjoy the tastings.
Click here to book tickets.
Details: 32 Bekker Schools Road / R98, Seekoeihoek Valley, Magaliesburg.
2. Vegan Hippie Connection Market at White Dog Taproom
The much-loved Vegan Hippie Connection Market is packing up and heading to Magaliesburg this August. They will be hosting their second pop-up market event at White Dog Taproom as part of the Magalies Rocks the Cradle Festival on Saturday, 24 August 2019. Expect over 70 stalls featuring only the freshest vegan produce, arts and crafts and food trucks galore. Plus, entrance is free so you really have no excuse not to pay them a visit.
Details: White Dog Taproom, R24 and R98, Magaliesburg.
Park & Ride
The festival will once again be providing a hop-on-hop-off taxi service for visitors. The bus terminal is situated at White Dog Taproom, where you will be able to park your car. Hop aboard and explore the awesome Magaliesburg, travelling to a number of the participating festival venues.
There are two bus packages to choose from:
The Red Bus travels from White Dog Taproom to Black Horse Brewery, Melon Rouge, Youth for Christ and finally Noble Village. The Blue Bus takes you on a slightly longer journey which includes Vintage Amber, Hartleys and Arts and Crafts Candle Dipping.
View the bus routes here.
For more information
Visit the Magalies Rocks the Cradle Festival website for more information, or follow them on social media for event updates and the latest news:
Facebook - facebook.com/Magaliesrocksthecradle
Twitter - twitter.com/MRtC2018
Instagram - instagram.com/magaliesrocksthecradle
Contact them on 073 673 8283 or via email at [email protected].