Four Ways To Survive The Lockdown
Creatures Of Habit
While working from home sounds like a dream come true, having a consistent routine can be very helpful – especially when the lockdown has been lifted and your daily commute ensues.
The best way to avoid completely messing up your routine is to continue following it. Set your alarm and wake up as you normally would, get dressed, have your breakfast and coffee or tea and follow your usual weekday routine. Granted, Rome wasn't built in a day and with chilly autumn around the corner, being productive can be as simple as changing out of your pajamas, brushing your teeth and running a comb through your hair.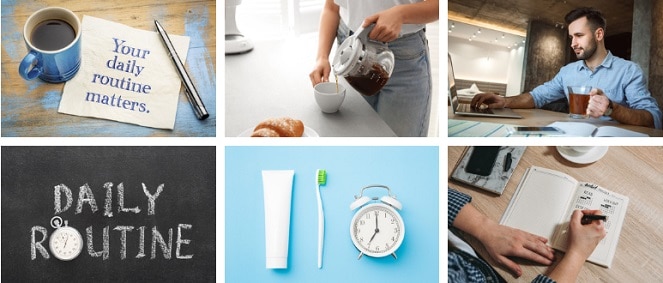 Double Up On Your Screen Time
Those who would advise you to limit the time spent on your mobile phone clearly haven't heard about the LG G8X ThinQ. What makes it so useful is its two-screen functionality, making multitasking so much easier.
The dual screens do everything you love without toggling back and forth between apps. In fact, some might argue that it actually increases your productivity levels: text a friend while watching a video, video call with your friends while researching dinner recipes or snap pictures while catching up on your favourite celeb's tweets – it really is a multitasking dream. This is the perfect tool to help working parents or make your Netflix experience more enjoyable.
A Quiet Place to Gather Your Thoughts
While some might consider it a luxury to be working from home – enjoying the peace and quiet, away from the busy office environment – others are now faced with an influx of distractions, over-friendly pets and little busy bodies fighting for attention. However, it's business as usual for many South Africans and when there's only one person who can get the job done, you need to find a quiet place to jump on urgent matters and join conference calls as needed.
Ideally, your home office should be quiet, well-lit and have good air circulation to ensure your brain continues to tick as it should. Besides, you never know who is planning a sneaky Skype call and being caught in pajamas while snacking on the couch really isn't cute.
Stay Connected
Social distancing isn't very beneficial to an active social life. Going out on the weekend with the guys or girls, date night during the week and Sunday lunches with your family is really taking a back seat and you may find yourself feeling a little disconnected from the ones you hold so dear.
Luckily, we live in the 21st century where technology reigns supreme - Wi-Fi is more abundant than ever before and we have apps to make connecting with friends and colleagues a lot easier.
What's important is to keep busy, stay positive and opt for home-bound chatter with those most dear to you. Stay connected, stay safe and save South Africa.