Mythos The Authentic Greek Returns To Bedford Square!
The Mythos Myth
Mythos have been in the business of serving up authentic Greek cuisine since 2006. Never taking the term 'authentic' lightly, Mythos' Head Chef brings a wealth of family recipes to the table. She also insists on importing all her key ingredients directly from Greece. It is this dedication to excellence which has won Mythos Restaurants the Best of Joburg's Best Greek Restaurant award for five consecutive years.
Mythos has been a long-standing favourite at Bedford Centre. This eclectic, European-style restaurant piazza is the heart of the Bedford Centre Shopping Mall. Mythos' simple ethos of authenticity and tradition helps it stand out among the many vibrant eateries at Bedford Centre. Catering both to Bedfordview's large Greek community and to those of us who just love Greek food, Mythos is a home away from home. So, it was with sadness that we looked upon the bolted doors of our favourite Greek restaurant in the east a couple of months ago.
However, it was all for the greater good. Mythos has now officially re-opened at Bedford Centre! With a stunningly upgraded dining section, new menu features and a gourmet gelato bar, this family restaurant has never looked better.
Tapas, Tradition and Tzatziki 
Mythos Bedford Square invited us to their official re-opening on Thursday, 19 September 2019. We opted to sit in their al fresco dining area for a bit of fresh air. Luckily, we could also see all the action going on from our table, live music, belly dancing and a buffet table which had everyone clamoring for more.
Mythos served up an array of their traditional Greek tapas, as well as a few main menu tasters. Needless to say, we filled our blue and white plates to the brim with deep fried squid heads, dolmades, falafel, keftethes, spanakopita, cheese croquettes, santorini halloumi, pita bread and Greek salad! Topped with the best tzatziki we have ever tasted and super smooth hummus, these tasty nibbles were a divine treat.
By the time we came back for mains, we were already well satisfied. Nevertheless, we had to sample the roast potatoes and lamb. We are utterly convinced that Greek chefs make the best roast potatoes of all the culinary masters in the world. Mythos did not prove us wrong. Hearty and crispy, with just enough seasoning, Mythos' roasties are a must-try. Of course, the lamb was cooked to perfection. Tender and sweet, it was the perfect way to round off our main meal.
Opa!
Between mains and dessert, Mythos unveiled a brand new feature that is sure to have old and new customers dancing with joy. Opa! Big Fat Greek Evenings are set to take over Mythos at Bedford Square on Saturday nights. With traditional Greek music and dance, plate breaking and belly dancing, these events promise to be an all out festivity of Greek culture. We were treated to a taste of these upcoming events, as skillful belly dancers enchanted diners with their sultry moves. Overall, the atmosphere of the entire evening was one of celebration and joy and we will certainly be returning for more.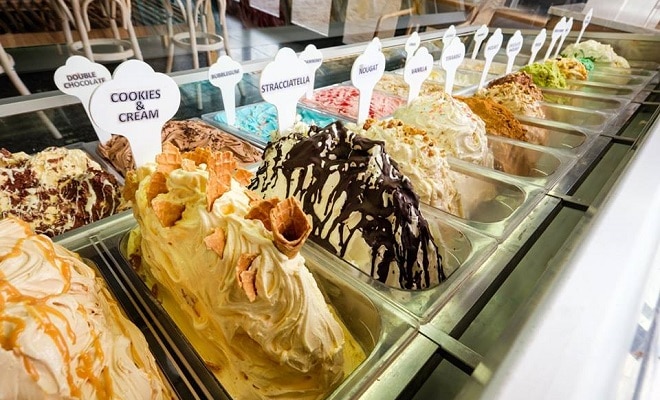 Dreamy Gelato
Finally, dessert was served, grandma's famous loukoumades, coated in syrupy honey, pecans and a dust of cinnamon. Mythos also opened their brand new Gelato Bar for service, offering a variety of rich and creamy ice cream. Unfortunately, we didn't have the stomach for these extra sweet desserts, but other guests seemed delighted by their sticky portions. In future we will definitely learn not to gorge on the feta cheese to keep space for pudding!
For more information
Visit their website for more information about the new Mythos look and menu features. You can also follow them on social media for event updates and specials:
Facebook - facebook.com/MythosGreekRestaurants
Instagram - instagram.com/mythos_greek_restaurants
Details: 011 615 2271 | Bedford Square, Bedford Centre, Cnr Van der Linde and Smith Street, Bedfordview, Johannesburg.