The NYE Strip
Date: Thursday, 31 December 2020
New year's eve events are more than just a celebration, they are a global tradition. Millions nationwide and billions throughout the world are united in bidding a collective farewell to the departing year! H2O Party is famous for producing the biggest and best NYE Parties every year, sadly due to the pandemic that is not possible for this year. In honour of 2021, the organisers will create an unforgettable New Years' Eve experience and Jozi's BEST NYE celebration, featuring over 35 of SA's top artists! A collaboration of 4 iconic venues perfectly situated on one party strip, with open-air, under the stars outdoor venue space. Each indoor venue will cater for a maximum of 250 people, strict entry and exit will be managed, never allowing more than the maximum limit of people into each indoor space at a time.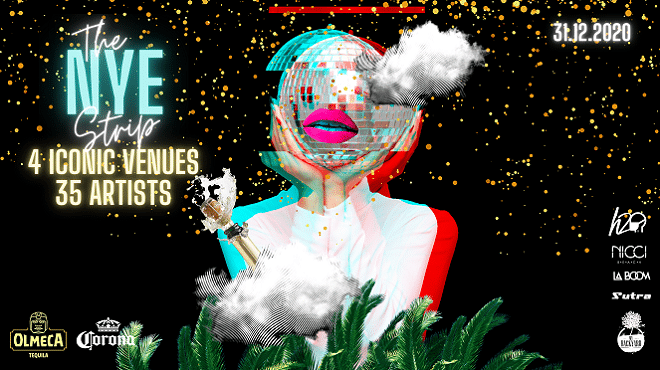 Chicago's Piano Bar New Year's Eve Masquerade Ball 
Date: Thursday, 31 December 2020
Join Chicago's Piano Bar for an exciting New Year celebration, their NYE Masquerade Ball. Celebrate 2020 and welcome 2021 with plenty of Disco Night Fever and everything that glitters and rocks. You can expect an evening of live music from DJs and local bands, plenty of festivities, and a delicious meal before the dance party begins. Do keep in mind that tables and tickets are extremely limited, so be sure to book your spot and pay before 25 November 2020 to ensure you have a reservation.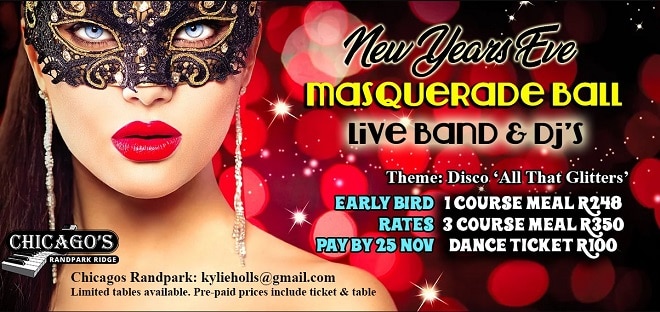 New Year's Eve Jozi Night Rooftop Tour
Date: Thursday, 31 December 2020 from 17:00 to 00:00.
Venue: Parktonian Protea Hotel, 120 De Korte Street, Johannesburg
Cost: R850 per person (includes transfers, one FREE drink/cocktail, platters and cover charges and excludes additional food and drinks other than the platters and FREE drink). Email

[email protected]

to book your space. Space is limited.
Join Micro-Adventure Tours for a New Year's Eve countdown in lockdown on their Jozi rooftop tour. This amazing tour will start with awesome sunset views and end with stunning Jozi's night skies! How it works is you'll UBER to the meeting point at The Parktonian Hotel, which offers 360 degrees views of the city while you will enjoy platters and sundowners. From there, you'llbe taken to at least three other rooftop destinations within the Joburg CBD to enjoy the sights. Be sure to book your spots ASAP as space is limited.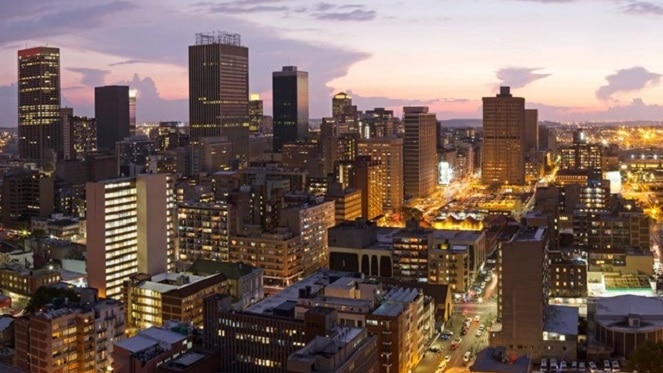 Glenburn Lodge & Spa
Date: Thursday, 31 December 2020 from 18:00 to 01:00.
It's time to say goodbye to 2020, and hello to 2021! So why not celebrate new beginnings and the end of another year in true cowboy style at Glenburn Lodge & Spa with their Dinner Dance package? From R1 210 per person sharing, guests will enjoy a comfortable one night's stay, a fun dinner and dance to ring in the New Year, as well as a champagne breakfast the next morning. Space is limited, so contact Glenburn Lodge & Spa on 011 668 1600 or [email protected] to book ASAP! This offer is only valid for 31 December 2020.