How did you get into bartending?
It started off as a part-time job while studying that looked like good fun to earn extra cash. Eight years down the line I'm still here with my own company (Molecular Bars).
What, in your opinion, makes a great cocktail?
It would have to be balanced, and I'm sure anyone in the industry would agree. Not too sweet, sour, strong, etc. And it has to look good, too.
If you had to choose, what would be more important – presentation or taste?
I couldn't say. They're both equally important and important at different times. A cocktail that is well presented entices you and makes up your mind, then and there, that you want it. Once you've committed, it's up to the taste of the cocktail to seal the deal – one cannot work without the other. You have to want it all, the full package is always a winner – with everything in life!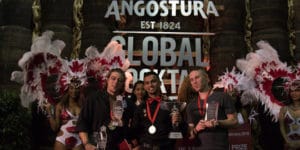 Where are your favourite cocktail spots in Joburg?
Joburg doesn't seem as privileged when it comes to great cocktail spots as a place like Cape Town is, though one of my favourites would be The Landmark in Bryanston. I have a couple of good mates behind the bar that are really putting out some great work and dedication to the craft. To you it may be just a drink, to them, it's their life – now wouldn't you want to drink there?
Where is your favourite cocktail spot in the world?
I went to The Dead Rabbit in New York City – and that blew my mind. A bar that's won several global awards definitely has the strength to back up their reputation. You seem to get a little less thirsty when you're buying their $16 cocktails with your limp South African currency but every dime spent is an experience to write home about.
Do you think South Africans really appreciate the work that goes into creating a craft cocktail?
It's definitely on its way there – although a lot more work is required in showing people the possibilities that could come from a great bar and a better bartender. Food went through a change where it became less about what you ate and more about what you experienced with the unsung heroes over the stoves now stepping forward into the limelight – and guests became more appreciative. Bartending and cocktails are slowly climbing their way up to this point – we'll give them something they'll have to appreciate.
What advice would you give to an aspiring mixologist?
Take your craft seriously. But have just as much fun. There's every opportunity.
Lastly, can you share a cocktail recipe with us? You know, for those times when we have guests over and need to whip up something that's impressive but not too hard to make!
The best way to go is to probably make a punch – whether it's just you and a mate or a bunch of friends you're sure to power through it. Another great thing is you can grab whatever it is you have at home.
Ingredients
1 Part sour (any sort of citrus - lime, lemon, grapefruit)
2 Parts sweet (any sort of syrup or you could easily make at home - from just a plain sugar syrup to something more exciting like a granadilla and vanilla syrup)
3 Parts strong (this would be more your booze - rums work great in punches)
4 Parts weak (a simple juice or even a tea would work great – rooibos or chai)
Method
Make sure all your flavours complement each other. Throw it all together in a mixing bowl or champagne cooler and don't forget the ice for dilution. Garnish, bearing in mind the ingredients you used – lime wheels, sprigs of herbs, etc. Enjoy!
And click on Molecular Bars.