What Is It?
Maison Bisquit will offer its guests the opportunity to enjoy cognac in a variety of different ways including long drinks, neats and bespoke cocktails that have been developed exclusively for this limited time period. These cocktails are a twist on classic flavours and include the Chocolate and Orange Sidecar, the Blueberry Sour, the Unique Cést Chic, the Marshmallow Alex and The Maison – all of which are sure to tantalise your taste buds!
In addition, exclusive cocktails inspired by the three #BisquitCreator partnerships will be released each week:
1. Cassandra Twala is a creator with intention. From her work as producer of the Sanlam Handmade Contemporary Fair and Winter Sculpture Fair, Cassandra is known for her considered approach to aesthetics and a dedication to excellence in her craft.
2. Qhama Xhali, better known to his friends and followers as Clixwell, is a content creator extraordinaire. When he's not presenting SABC3's #TheManCave, Clix and his friends are exploring everything South Africa has to offer.
3. Menzi Mcunu is an Afrocentric Gentleman known for his carefully curated lifestyle and consistently dapper outfits. This tastemaker has done everything from creating made-to-measure suits, to style consulting, brand partnerships and event curation.
An exciting tapas-style menu has been developed by well-known cook and current MKR SA contestant Luyanda Mafanya. From salmon, pate and carpaccio to frangipane tarts and macarons, these meals are a delightful accompaniment to any cocktail or long drink you choose to enjoy at Maison Bisquit.
Many people believe that Cognac should be enjoyed neat with a few ice cubes and consider mixing it with other beverages a sin! However, this view could not be further from the truth. The use of Cognac in cocktails goes back as far as the early 1800's when the cocktail was invented - it was known as a "barman's best friend". These new cocktail recipes will demonstrate the versatility and taste profile of Bisquit Cognac in a delicious, exciting manner. Because everything is #BetterWithBisquit.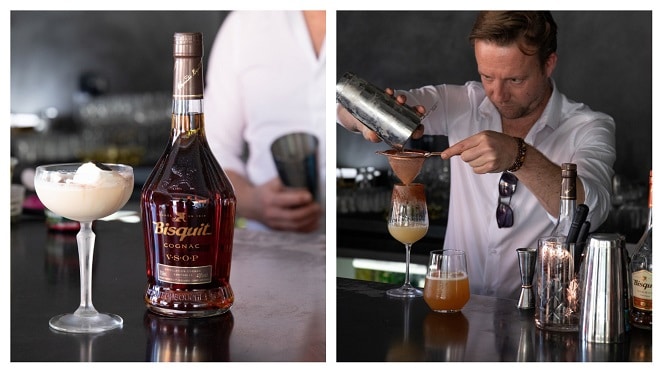 Where Is It?
Corner 4th and 12th Street, Parkhurst, Johannesburg
When is It?
Thursday 23 August to Sunday 9 September 2018 from 12:00 to 23:00 daily (unless closed for private events)
More Information
Join the conversation on Instagram and Twitter @BisquitAfrica. Keep an eye on the Facebook page for information about the dates and times that Maison Bisquit will be open as well as when the exclusive #BisquitCreator cocktails will be available:
http://bit.ly/MaisonBisquitAfrica.
Follow the #BisquitCreator team:
Cassandra Twala: https://www.instagram.com/cassmiat/
Clixwell: https://www.instagram.com/clixwell/
Menzi Mcunu: https://www.instagram.com/menzi_xonx/
Luyanda Mafanya: https://www.instagram.com/cookingwithluyanda/