First up, this is an amazing concept that takes place at various bars and restaurants around the world. Simply put, a local artistic fundi will take you step by step through a beautiful canvas painting while you relax, paint, get in touch with your inner creative spirit, and drink lots of wine!
I have to admit being quite intimidated by my blank canvas and a slightly daunting painting that I was expected to emulate. However, Andrea Shine (our instructor) soon put an end to that by encouraging us to leave our inner perfectionist at the door and just have fun! Before long, we were trying our best to follow each step, without getting too hung up with the outcome, while also singing along to the music and chatting up a storm. I was BEYOND smug when I saw what I had created (and my daughter's resulting astonishment when she saw it.) I can't wait to do it again!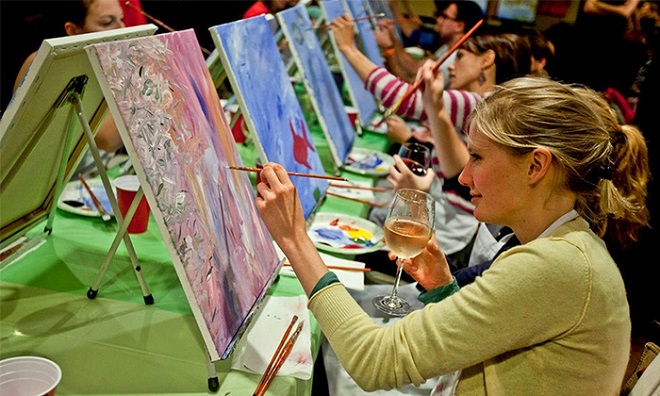 It was also fascinating to see the variety of people that arrived at this sold-out event – Book Clubs, couples, groups of friends, mothers and daughters – there was such a wide variety of people with one common goal: to have fun and make a memory!
If you're keen to give it a try (this is where you nod and say "yes!"), then click here to check out all upcoming events. Personally, I would choose the painting you'd like to do, as opposed to the location and BOOK SOON as they do sell out fast. This is also a spectacular gift idea – I'm going to request it again next year!
TIP: Follow them on Facebook and check out their Facebook page BEFORE booking as they often have massive discount codes available. Trust me, it's worth doing!
By Shelli NT