Cottage Pie 
Ingredients:
3 tbsp olive oil
1¼kg beef mince
2 onions, finely chopped
3 carrots, chopped
3 celery sticks, chopped
2 garlic cloves, finely chopped
3 tbsp plain flour
1 tbsp tomato purée
850ml beef stock
4 tbsp Worcestershire sauce
few thyme sprigs
2 bay leaves
1.8kg potatoes, chopped and peeled
225ml milk
25g butter
200g strong cheddar, grated
freshly grated nutmeg
Method:
Heat 1 tbsp olive oil in a large saucepan and fry 1¼ kg beef mince until browned – you may need to do this in batches. Set aside as it browns.
Put the other 2 tbsp olive oil into the pan, add 2 finely chopped onions, 3 chopped carrots and 3 chopped celery sticks and cook on a gentle heat until soft, about 20 minutes.
Add 2 finely chopped garlic cloves, 3 tbsp plain flour and 1 tbsp tomato purée, increase the heat and cook for a few minutes, then return the beef to the pan.
Pour over a large glass of red wine, if using, and boil to reduce it slightly before adding the 850ml beef stock, 4 tbsp Worcestershire sauce, a few thyme sprigs and 2 bay leaves.
Bring to a simmer and cook, uncovered, for 45 minutes. By this time the gravy should be thick and coating the meat. Check after about 30 minutes – if a lot of liquid remains, increase the heat slightly to reduce the gravy a little. Season well, then discard the bay leaves and thyme stalks.
Meanwhile, make the mash. In a large saucepan, cover the 1.8kg potatoes, which you've peeled and chopped, in salted cold water, bring to the boil and simmer until tender.
Drain well, then allow to steam-dry for a few minutes. Mash well with the 225ml milk, 25g butter and three-quarters of the 200g strong cheddar cheese, then season with freshly grated nutmeg and some salt and pepper.
Spoon the meat into 2 ovenproof dishes. Pipe or spoon on the mash to cover. Sprinkle on the remaining cheese.
If eating straight away, heat oven to 220°C and cook for 25-30 minutes, or until the topping is golden.
If you want to use a slow cooker, brown your mince in batches then tip into your slow cooker and stir in the vegetables, flour, purée, wine, stock, Worcestershire sauce and herbs with some seasoning. Cover and cook on high for 4-5 hours. Make the mash following the previous steps, and then oven cook in the same way to finish.
Place the leftovers into a freezable container and put in the freezer.
Source: www.bbcgoodfood.com
Freezer Classic 

Lasagne
Ingredients: 
2 tbsp olive oil, plus a little for the dish
750g lean beef mince
90g pack prosciutto
800g ready-made tomato pasta sauce
200ml hot beef stock
a little grated nutmeg
300g pack fresh lasagne sheets
520g ready-made white sauce
125g ball mozzarella, torn into thin strips
Method: 
To make the meat sauce, heat 2 tbsp olive oil in a frying pan and cook 750g lean beef mince in two batches for about 10 mins until browned all over.
Finely chop 4 slices of prosciutto from a 90g pack, then stir through the meat mixture.
Pour over 800g of the tomato sauce and 200ml hot beef stock. Add a little grated nutmeg, then season.
Bring up to the boil, then simmer for 30 mins until the sauce looks rich.
Heat oven to 180°C and lightly oil an ovenproof dish (about 30 x 20cm).
Spoon one third of the meat sauce into the dish, then cover with some fresh lasagne sheets from a 300g pack. Drizzle over roughly 130g ready-made or homemade white sauce.
Repeat until you have 3 layers of pasta. Cover with the remaining 390g white sauce, making sure you can't see any pasta poking through.
Scatter 125g torn mozzarella over the top.
Arrange the rest of the prosciutto on top. Bake for 45 minutes until the top is bubbling and lightly browned.
Place the leftovers into a freezable container and put in the freezer.
Source: www.bbcgoodfood.com
Bake-From-The-Freezer Pizzas
Ingredients: 
500g pack bread mix or pizza base mix
little plain flour, for rolling
6 tbsp tomato pasta sauce or passata
small bunch basil leaves, shredded
18 cherry tomatoes, halved
250g ball mozzarella torn (dry well with kitchen paper, to keep the base crispy)
25g Parmesan (or vegetarian alternative), grated
Method: 
Make the bread dough following pack instructions, and transfer to an oiled bowl to rise for about 1 hour.
Knock back in the bowl by squashing all the air out of the dough with your fist. Divide the dough into 6 pieces and roll each one into a circle of about 18cm in diameter on a lightly floured surface. Put dough you're not using under a damp tea towel to stop it drying out.
Put the pizza bases on large oiled baking sheets – you may need 2 or 3. Spread 1 tbsp sauce or passata on each base, then scatter on the basil, tomatoes, mozzarella and Parmesan (or whatever you fancy). You can freeze the pizzas now, if you like, on the baking sheet, wrapped in cling film. Or if eating straight away, heat oven to 240°C. Cook for 8-12 minutes, until crisp and golden.
To cook from frozen, remove the cling film and heat oven to 220°C. Bake for 10-14 minutes until crisp and golden.
Place the leftovers into a freezable container and put in the freezer.
Source: www.bbcgoodfood.com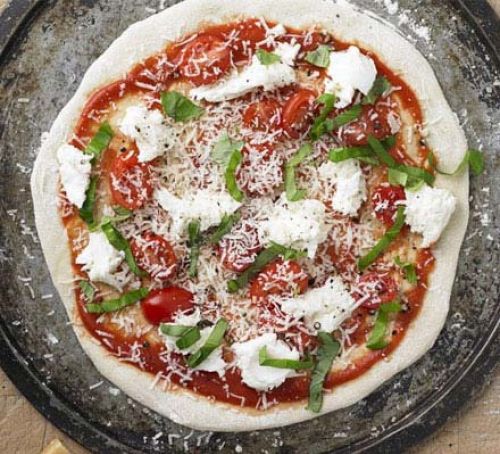 Red Lentil, Chickpea & Chilli Soup
Ingredients: 
2 tsp cumin seeds
large pinch chilli flakes
1 tbsp olive oil
1 red onion, chopped
140g red split lentils
850ml vegetable stock or water
400g can tomatoes, whole or chopped
200g can chickpeas or ½ a can, drained and rinsed (freeze leftovers)
small bunch coriander, roughly chopped (save a few leaves, to serve)
4 tbsp Greek yogurt, to serve
Method: 
Heat a large saucepan and dry-fry 2 tsp cumin seeds and a large pinch of chilli flakes for 1 minute, or until they start to jump around the pan and release their aromas.
Add 1 tbsp olive oil and 1 chopped red onion, and cook for 5 minutes.
Stir in 140g red split lentils, 850ml vegetable stock or water and a 400g can tomatoes, then bring to the boil. Simmer for 15 mins until the lentils have softened.
Whizz the soup with a stick blender or in a food processor until it is a rough purée, pour back into the pan and add 200g drained and rinsed chickpeas.
Heat gently, season well and stir in a small bunch of chopped coriander, reserving a few leaves to serve. Finish with 4 tbsp of Greek yogurt and extra coriander leaves.
Place the leftovers into a freezable container and put in the freezer.
Source: www.bbcgoodfood.com
Smoky Sausage Casserole
Ingredients: 
1 tbsp olive oil
1 onion, finely chopped
1 garlic clove, crushed
1 large celery stick, finely chopped
2 peppers (any colour), cut into chunks
6 pork sausage (about 400g)
1 tsp paprika
½ tsp ground cumin
½ tsp chilli flakes
2 x 400g cans chopped tomatoes
400g can cannellini beans, drained
250g spinach
2 tbsp fresh breadcrumbs
Method: 
Put the oil in a large, heatproof casserole dish over a medium heat and add the onion, cooking for 5 minutes until they start to soften. Tip in the garlic, celery and peppers, and give everything a good stir. Cook for 5 minutes more.
Turn the heat to high and add the sausages. Cook for a few minutes until browned all over, then reduce the heat to medium, sprinkle in the spices and season well. Pour over the tomatoes and bring to a simmer. Cover and continue simmering gently for 40 minutes, stirring every now and then.
Heat the grill to high and uncover the casserole. Add the beans and spinach, and stir to warm through. Scatter over the breadcrumbs and grill for 2-3 minutes until golden and crisp.
Place the leftovers into a freezable container and put in the freezer.
Source: www.bbcgoodfood.com