Celebrate 100 Years With KLM
2019 is a big year for KLM Royal Dutch Airlines. This year, the airline celebrates a century as one of the leading brands in the international aviation industry. Founded on 07 October 1919, KLM is the world's oldest operating airline still flying under its original name.
KLM's journey into South Africa started 81 years ago, when KLM first took off from Amsterdam, Schiphol Airport for Johannesburg in 1938. The journey took a staggering three days to complete.
Today, KLM remains one of the most efficient ways to fly from South Africa to Northern Europe and beyond. KLM now has a daily flight from Amsterdam to Johannesburg and Cape Town operated with a Boeing 777 aircraft.
KLM is immensely proud of the accomplishments they have achieved in the past and are now setting their sights on the next 100 years.
In celebration of this incredible milestone, KLM have some amazing deals to Europe, with departures from Johannesburg and Cape Town. Fares start from R7 765*, all inclusive and return. Selling until 18 October 2019, for travel until 19 June 2020. Conditions apply.
Here's to creating even more memorable moments with KLM.
Tulips From Amsterdam
Why not take a once-in-a-lifetime trip to Amsterdam! From R8 976* per person - economy class, all inclusive, return - you'll get the opportunity to explore the artistic heritage, history, beauty and elaborate canal system that the Netherlands' capital has to offer. Don't forget to visit all of the points of interest in the city, including the Museum District which houses the Van Gogh Museum, the Rijksmuseum and the Stedelijk, if you're looking to admire some art; the Anne Frank House for a little bit of history; and the Royal Palace Amsterdam for stunning architecture. Cycling is a big part of the city's character, and there are many bike paths for you to explore and enjoy.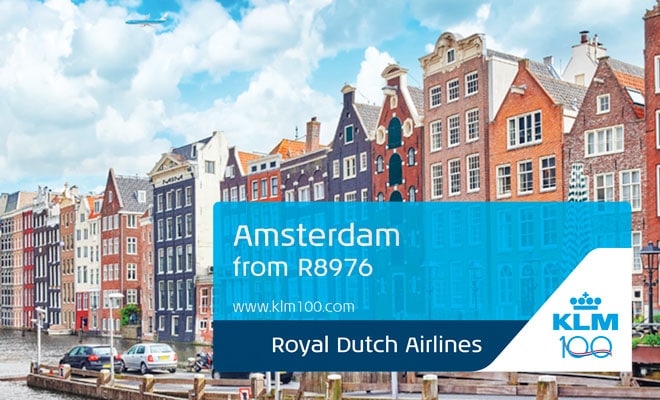 London Calling
From R8 198* per person - economy class, all inclusive, return - fly to London and experience the ways of the British. Get the best views of the city from the Coca-Cola London Eye; admire the architectural beauty of Big Ben (keep in mind, it's closed for renovation until 2021); suss out the interesting British Museum; and watch the Changing of the Guard at Buckingham Palace. Also, don't forget to visit Madame Tussauds Wax Museum, Borough Market and Hyde Park. There's plenty to see and do in this lively city.
Dublin Sky
From R7 772* per person - economy class, all inclusive, return - you can party like the Irish in Dublin. Drink beer, be merry and go on an adventure like no other. Take a Walk over Ha'penny Bridge; travel back in time and admire the architecture at Dublin Castle; snap a selfie with The Spire of Dublin; and make sure you visit the Guinness Storehouse Factory! And since we did mention to party like the Irish, head to The Temple Bar and mingle with the locals.
Fare Conditions
Selling until 18 October 2019.
Valid for low season travel from 06 September - 09 December 2019 and 25 December 2019 - 19 June 2020.
Subject to G/X-class seat availability, depending on the destination.
Fares quoted are based on the light fare option, which does not allow for baggage in the hold. Minimum stay of 5 days or a Sunday for Paris and 3 days for all other destinations.
Maximum stay of 3 months.
USD180 change of reservation fee. NB – If changed before departure for your outbound date of travel, the fare will be recalculated according to the fare applicable at time of rebooking of your ticket. You could therefore potentially be paying a higher fare.
Non-refundable.
Stopover permitted in Paris at USD85 per stopover.
For More Information
For more information about KLM and their flights or to book, visit www.klm.co.za or call 0860 247 747.
Also, follow them on Facebook to stay informed on the latest KLM news, offers, updates and more.