Just Teddy
Just Teddy is a restaurant, eatery, bakery and patisserie that recently opened shop at Hyde Park Corner in Sandton. Offering a selection of exquisite confectionery and luxurious meals, this eatery serves decadence on a plate. Inspired by Parisian techniques and Middle Eastern flavours, the food at this establishment will delight any palate. Their focus is on attention to detail, a philosophy often lost in modern times. The dishes on offer pay tribute to Teddy's cultural heritage, as highlighted in the sublime flavours of the lavish delicacies on offer.
Luxurious Meals
Just Teddy's menu offers a fine selection of sumptuous meals. Ranging from baked pastries to indulgent lunches, there is something to satisfy any craving. The options are scattered with French nuances and Lebanese flavours. Perhaps the most popular pick, the Hamburger Sûpreme is reminiscent of the Just Teddy ethos. 100% grass fed beef, mature cheddar, butter lettuce, pickles, heirloom tomato, wholegrain mustard mayonnaise and ketchup are all layered onto a 24k gold-plated black brioche bun. Burgers don't get much more opulent than this. This burger speaks volumes of the care, attention to detail and quality that goes into every item prepared at this eatery.
The Hamburger Sûpreme is just the tip of the grandiose iceberg. Other worthy menu items include the Plateau À Fromage, Fillet on Ciabatta, Fatoosh Salad and the various viennoiserie confections, freshly prepared daily. Tea lovers will weep at the dedicated tea menu, with more than 17 leaves on offer. Other drinks available include fine coffees, delicate wines and champagnes, gin and a great selection of gourmet milkshakes.
High Tea
Popularised during the 1700s, High Tea has become a favoured trend in recent years. With the delicate selection of sweet and savoury delights, we can see why. Just Teddy serves up their own version of this classic treat, which comes in three tiers. The top tier offers a selection of scones, rich chantilly cream and sweet jam. The middle tier pays homage to Teddy's Middle Eastern roots, with Labanese spinach pies, grilled halloumi, hummus, baba ganoush, falafel, tabbouleh and man'oushe bread with za'atar herbs. The bottom tier holds a selection of the tarts, cheesecakes, éclairs, cake, macarons, petit fours and cupcakes of the day.
Boulangerie and Pâtisserie
At its core, Just Teddy is a fine boulangerie and pâtisserie. To clarify, a boulangerie is a French bakery that specialises in bread, whereas a pâtisserie specialises in French pastries. This is an important distinction, as most bakeries in the city do not cater to both bread and pastry cravings. The fact that Teddy does supply both accentuates the baking talent that can be found at this eatery. Baked delights include the Berry Charlotte, Strawberry Swirl, Namoura, Madeleines, Frangipanis, Cheesecake, Mille Feuille, Gateaux and Isphan, to name a few. With all the decadence on offer, this is definitely not the place to be when you're watching your calorie intake!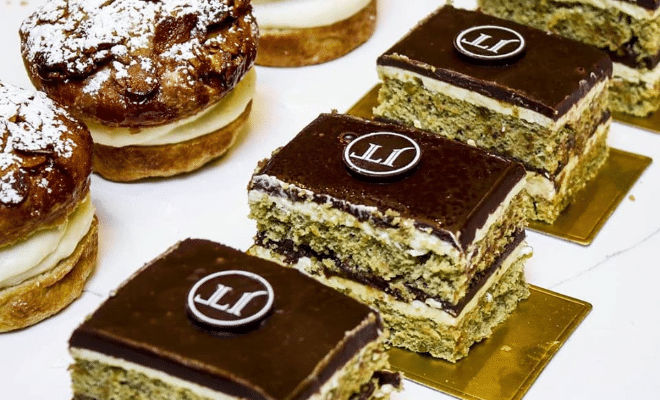 For More Information
Just Teddy is open daily from 7:00 to 19:00.
Address: Shop LM4, Hyde Park Corner Shopping Centre, Corner William Nicole Drive and Jan Smuts Avenue, Hyde Park, Sandton.
Contact them on 010 203 9038 or via email at [email protected].
Visit their website to find more information. Alternatively, follow them on Facebook, Twitter and Instagram to stay up to date with the latest news and events.
*Images sourced from Just Teddy's Facebook page.
Have you been to Just Teddy? Let us know about it in the comments section below!