What is Inktober?
Artist, Jake Parker pioneered the global Inktober initiative in 2009. Ten years on, it has become a worldwide phenomenon, with thousands of artists participating each October. Thirty days of drawing prompts are posted at the start of the month, encouraging artists to enhance their skills and confidence by drawing something based on each day's prompt. You can take it day by day, a week at a time or only do as many as you have time for. The ultimate goal of Inktober is to encourage positive drawing habits. So, stop making those excuses and get drawing! After all, practice makes perfect.
The Rules
While Inktober is a creative challenge, there are a couple of guidelines you must follow:
Draw in ink (you can do pencil sketches first).
Post your drawings on social media with the hashtags #inktober and #inktober2019.
Have as much fun as possible!
Here is the official list of prompts for Inktober 2019, to get you on your way to doodle mastery:
Now, remember that these prompts need not be taken literally. You may interpret them however you wish. All drawing styles are encouraged too, so whether you have an MFA in illustration or are an amateur doodler, anything goes. It's all about unleashing your creativity.
Inner City Inspiration
Where better to find artistic inspiration than Johannesburg? The city is filled with interesting characters, eclectic architecture and the beauty of nature interwoven with man-made elements. If the Inktober 2019 prompt list isn't enough to get your creative juices flowing, check out these awesome events happening in the city.
Using Art To Share Stories: Drop-In Drawing with Bronwen Findlay
How can we use art to share our stories? While an artist might use a pencil or paintbrush, a photographer shares what they see through a camera. WITS Art Museum hosts monthly Drop-In Drawing events themed around the current exhibitions on show at the gallery. This month's Drop-In Drawing event explores techniques used by Daylin Paul to share the stories in the Broken Land exhibition, which will be exhibited until the end of October. In this Drop-In Drawing session, you will use Daylon's techniques to tell your stories and create your own artwork.
When Is It?
Tuesday, 08 October 2019 - Sunday, 27 October 2019.
Where Is It?
WITS Arts Museum, Cnr Jorissen & Bertha Streets, Braamfontein, Johannesburg.
How Much Is It?
Free.
Click here for more information.
YayMakers Paint Nite
YayMakers are the official hosts of Paint Nite Johannesburg. These events take place throughout the city at restaurants, bars and art schools. Piza ē Vino is a regular host of Paint Nite events at their various outlets across Joburg. This October, their Melrose Arch branch brings you the Hot, Cold, Wet and Falling challenge - all Paint Nite participants must paint their own tree with representations of the four seasons. Your host and instructor, Annalize Carstens, will guide you through various techniques and tricks to create your very own masterpiece!
When Is It?
Tuesday, 15 October 2019 at 19:00.
Where Is It?
Piza ē Vino Melrose Arch, The Piazza, Birnam, Johannesburg.
How Much Is It?
Tickets cost R610 per person. Get yours here.
Click here for more information.
Mid-Week Evening Figure Study
Have you ever wanted to learn the art of figure drawing? Join the mid-week evening figure study group in Sandton to practice your skills at drawing from real life. Basic materials are supplied, so you need not lug your easel all the way to class. This is an open space, with sharing and encouragement abound. Hosted by artist and photographer, André Clements, these classes involve Self Directed Teaching, with guidance offered from André and your fellow artists.
When Is It?
The next class takes place on Wednesday, 16 October 2019 at 18:30.
Where Is It?
Westway Street, Sandton, Johannesburg.
**Contact André on 082 812 0549 or [email protected] to receive the full address.
How Much Is It?
Classes cost R275 per person. Please RSVP as soon as possible.
Click here for more information.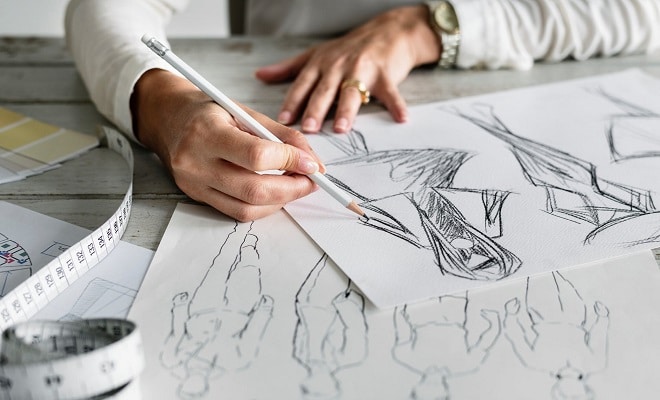 Night of 1000 Drawings
The 2020 Night of 1000 Drawings exhibition is only six months away! So you better get started on those doodles. Night of 1000 Drawings is the largest inner city A-5 art exhibition. Taking place in March 2020, this weekend event promises to be even bigger and better than previous years.
You can host your own doodle event or participate as an individual. All you need to do is gather up a bunch of friends, grab a few sheets of A5 paper and get doodling! Submit your artworks to any participating coffee shop, college, gallery or tattoo shop where you'll find a 1000 Drawings drop-off box. 
Why not dedicate this Inktober to starting your doodle collection? If you manage all 30 days of prompts, you'll have more than enough to submit by next March!
When Is It?
Friday, 27 March 2020 - Sunday, 29 March 2020.
Where Is It?
Victoria Yards, 16 Viljoen St, Lorentzville, Johannesburg.
How Much Is It?
Tickets cost R100 per person. And you may purchase art pieces for R150 each. Proceeds go towards worthy non-profit organisations.
Click here for more information.
Happy drawing!