A Bit About Crispy Waffles & Slice Pizza
Located within The Local Kitchen Co, on the green at The Golf Place in Fourways, you'll find a scrumptious gem. The Crispy Waffles & Slice Pizza in collaborate with The Local Kitchen Co, brings Joburg some of the best waffles we have ever tasted, both savoury and sweet. We'll get to the delightful and oh-so moreish waffles in a minute, but we just wanted to share a little bit about this spot before we get into the tasty details.
Whether you're craving something delicious for breakfast, lunch, dinner, or simply just want to relax and enjoy a short visit, this is just the spot. Take a seat either on the deck and watch the golfers practicing their swing on the driving range, inside where it's cosy on those colder days, or get some fresh air out on the terrace at the back of the restaurant.
There's a jungle gym just outside the restaurant to keep the kids entertained while parents relax, dine and indulge. And, if you would like to treat your furry four-legged companion to a lovely day out, be sure to take them along as this place is also dog-friendly! There's ample parking, and if you're looking to get your car washed while you eat, there is a car wash service at the very end of the parking.
And as for the food – all we can say is be sure to arrive hungry!
Let's Talk About The Waffles!
Now, for the deets that you're after: the waffles! Being a bit of a waffle fiend and a lover of both sweet and savoury, we really had a difficult time choosing between the selection of waffle offerings on the menu. There's a handful of options to choose from, but believe us, you will not be disappointed with whatever you order!
Lets start with the sweet stuff. We tucked into the Beach Bum Waffle – fluffy and crispy waffle topped with sliced banana, a sweet caramel sauce and flaked almonds, served with your choice of either cream or ice cream (R75). This is just the treat if you're craving something sweet, but not overpoweringly so. And the waffle – cooked to perfection, light and airy on the inside, crispy on the outside – just perfect! Not a fan of bananas on your waffles? Well, there are other sweet options you can order – the Plain Jane (waffle topped with Golden Syrup); Smooth Operator (topped with Golden Syrup and cream or ice cream); Nutty Cream (flaked almonds, chocolate sauce, served with cream or ice cream); Mellow Choc (marshmallows, Oreos, chocolate sauce, cream or ice cream); and the Death By Chocolate (Nutella, Flake, Whispers, flaked almonds and chocolate sauce).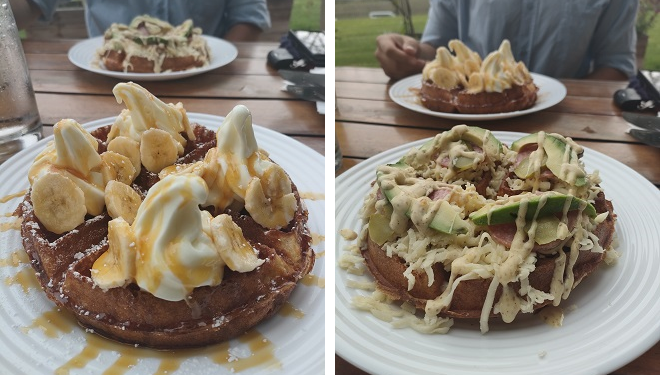 And now onto the savoury! Yes, savoury waffles are a thing and they're just as delicious as the sweet options. We just had to tuck into the New Yorker Waffle – one of Crispy Waffles' tasty waffles topped with mozzarella, salami, avocado, gherkin slices, dijonnaise, and chives (R89).We believe this one is an absolute must when you visit. You won't regret it! Other savoury options on the menu includes the Californian (a crispy waffle topped with creamy chicken mayo, avocado, bacon and chives); the Sunrise (scrambled eggs, bacon, cheddar, pure Maple Syrup and chives); and the Norwegian (salmon, cream cheese, avocado and capers).
Whatever you're craving, they're sure to have the waffle to delight your taste buds.
Don't Forget Their Tasty Pizzas
As if the waffles weren't enough, we decided to also tuck into one of their delicious wood fired pizzas, as we had also heard through the grapevine (our Joburg.co.za readers on Facebook) that their pizzas are also some of the best in Joburg. We decided to grab the Slice of Happiness (salami, feta, jalapeno slices and mozzarella cheese). This pizza will definitely have us coming back for more! Gluten-free and Banting bases are available, too.
Other pizzas on the menu include the Regina; Pepperoni; Hawaiian; Nacho Grande; Hot Chick; Meaty Italian; and Cheese Focaccia. Would rather enjoy it from home? Order it for delivery! There's a R15 delivery fee within 5km radius for both pizzas and waffles.
For More Information
For more information about Crispy Waffles & Slice Pizza, visit their website at crispywaffles.co.za.
You can also contact them on [email protected].
Don't forget to follow them on their social media platforms – Facebook and Instagram – to keep up to date with their latest news, information, tasty delights and more.
Trading Hours: Saturday, Sunday and Public Holidays: 08:00 – 21:00 | Monday to Friday: 10:30 – 21:00
Find them at:
The Local Kitchen Co, The Golf Place, 33 Troupant Avenue, Magaliessig, Fourways, Johannesburg | 011 463 3847
Pedal and Sprocket, Conyln Close off Malibongwe, Lanseria | Wednesday to Sunday between 07:00 – 16:00