Driving down Saxon Road in Sandton, you will be met by several security guards along the way. They are ready to lend a helping hand should anyone of the prestigious hotel's guests need any assistance. Like trying to figure out which one of the massive entrances you should use. Once we found the correct entrance, there were several more suited guards leading the way. This was down a path surrounded by tidy lawns and magnificent trees. When we parked and had gotten out of the car, there was a waiting chauffeur to take us to the hotel's entrance.
We entered the piano room which is wrapped in all shades of brown, from cream to chocolate. This immediately sets the tone of comfort - elegant comfort, that is. The floor is littered with mismatched seating like poofy three seaters decorated with soft cushions and delicate high chairs. We already felt as important as a queen at her afternoon tea. The chairs are organised around a coffee table adorned simply with a pot of fresh flowers and the high tea menu.
The server approached and kindly explained how the high tea works, what food we would be getting and the available tea and coffee options. She then gave us a chance to taste their specially selected champagne. We accepted their choice and she delicately poured everyone a glass. She was like a well-trained French concierge, which brought back memories of Ralph Fiennes in The Grand Budapest Hotel.
We sipped on our champagne while eagerly awaiting our coffee and tea. The coffee is available in all forms like Americano, cappuccino and caffe latte, my choice. There are also several flavours available such as vanilla, caramel and cinnamon. We also decided to get a pot of tea, as this is a high tea, after all. The tea we decided on, Oolong, had a delicate flavour that did not need any enhancing of milk and sugar. The tea pot was placed over a candle to keep it warm for as long as necessary.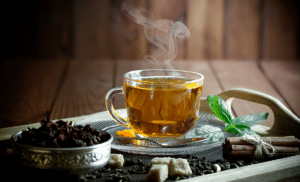 Soon after our tea, the platters of food arrived, as if they had timed it perfectly. The savoury selection consisted of finger sandwiches, curry and roti and a mini quiche. I had the vegetarian option. My curry was a spicy mix of cauliflower and chick peas topped with a mini potato stuffed roti, all served with creamy raita. The mushroom quiche had a crust that was extremely buttery and flaky with a filling that delightful. There were three sandwiches in the form of a classic sandwich, an open-faced sandwich and a wrap. The classic sandwich was seeded bread stuffed with delectably roasted vegetables. The wrap was filled with stir fried vegetables, which were definitely the best veggies I have ever eaten. The opened-faced sandwich was a slice of health bread topped with generous portions of fresh mozzarella, baby tomatoes and basil pesto. The meaty version consisted of butter chicken topped with the potato stuffed roti and raita as well as goat cheese and mushroom quiche. There was a salmon and cream cheese opened-faced sandwich on health bread, an egg salad sandwich on seed bread and a couscous and beef wrap topped with a dollop of yogurt.
We chose to wait a while between courses. We ordered another pot of tea, Earl Grey this time. This tea had a much more intense flavour with tones of citrus. We learned that the Saxon does offer tea tastings for those unfamiliar with tea. Or even those who struggle to decide on which of their various flavours you want to drink. As delicious as the tea is, we all know that a high tea is all about the food. I don't recommend filling up too much on the tea, because you'll want to save space for the dessert.
The sweet selection of the high tea came on a traditional cake stand. It featured numerous individual puddings that all looked fantastic. We started from the top with a scone. We did not know that it was possible for a scone to be so crumbly and buttery and oh-so tasty. The scones come with very generous portions of jam, whipped cream and luscious lemon curd. Next to be devoured was the melt-in-the-mouth Oreo flavoured macaron. We then moved on to a puff of choux pastry filled to the brim with lemon curd and topped with a white chocolate disk, whipped cream and a lemon chocolate shard. Next to be devoured was a chocolate hazelnut tart. We were in for a surprise of a crispy pastry case filled with a hazelnut sponge, hazelnut cream and rich dark chocolate. Then we had a luscious vanilla pudding layered with tart raspberry coulis, whipped cream and while chocolate balls. This very extravagant dessert was finished off with a luscious vanilla cheesecake, decorated with swirls of whipped cream, fresh raspberries and tiny meringues.
We spent the next hour sinking into the comfortable couch feeling absolutely stuffed. Then we finished off our tea while enjoying the melody coming from the beautifully played piano. In fact, the pianist was so talented he somehow managed to keep his tune while shaking hands with people. As we were about to leave, we were wondering whether or not it is appropriate to leave a tip to our wonderful server. This question was conveniently answered for us when we were presented with a card - as if they had read our minds. Which speaks for the level of quality service at the Saxon Hotel. When we were ready to leave, we had another chauffeur who took us back to our car and saw us safely out. This was certainly a day well spent in luxury that was worth every scent spent and calories consumed.
Find out more about The Saxon Hotel here.