Roasted Chickpeas
Not a fan of chickpeas? Neither are we - unless they're roasted, of course. This recipe transforms the dull and starchy chickpea into a nutty, crunchy and flavourful snack perfect to keep away those isolation blues.
Ingredients:
1 can chickpeas
olive oil
1/8 tsp salt
1/4 tsp chilli powder
1/4 tsp ground cumin
1/4 tsp paprika
1/4 tsp ground coriander
1/4 tsp curry powder
1/4 tsp garlic powder
Method:
Preheat the oven to 190°C. Drain the chickpeas and pat dry with a paper towel. Allow the chickpeas to sit for an hour so that they dry completely.
Arrange the chickpeas on a baking tray in a single layer. Roast for 30 - 45 minutes, shaking the pan every 10 minutes. Roast the chickpeas until they are golden brown and crunchy.
Toss the chickpeas with some olive oil and the spices. Allow to cool and serve at room temperature.
Recipe and image sourced from Skinny Taste.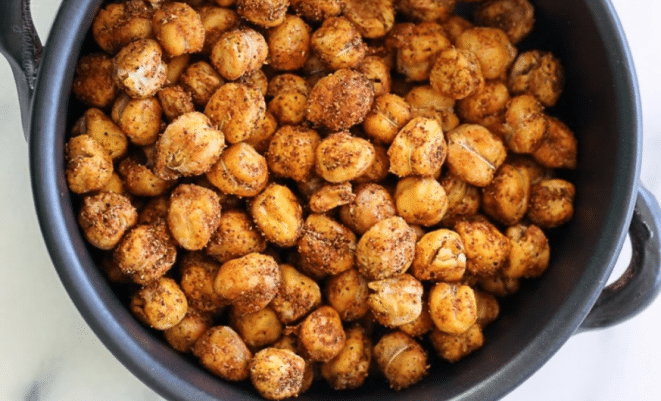 Green Goddess Hummus
Stuffed with leafy greens and the humble chickpea, this recipe is packed with nutrients. If you're out of chickpeas after roasting them all, feel free to replace them with butter beans.
Ingredients: 
1/4 C tahini
1/4 C lemon juice
2 Tb olive oil
1/2 C parsley
1/4 C basil
2 - 3 Tb chives, chopped
1 clove garlic
1/2 tsp salt
1 can chickpeas
1 - 2 Tb water
Method: 
Combine the tahini and lemon juice in your food processor. Add the oil, parsley, basil, chives, garlic and salt and process for a minute, pausing to scrap down the bowl.
Add half the chickpeas and process for a minute. Scrap down the bowl and add the remaining chickpeas. Process until the mixture is smooth and thick.
If the mixture is too thick, run the processor while drizzling in the water until you reach your desired consistency.
Scrap the hummus into a serving bowl and top with a drizzle of olive oil.
Serve this dip with veggie sticks, root vegetable chips or boiled eggs.
Recipe and image sourced from Cookie and Kate.
Root Vegetable Chips
Craving a bag of your favourite salted potato crisps? Then this recipe is just for you. Made with beetroot, carrots and sweet potato, these are not only healthy and delicious, but affordable too.
Ingredients:
1 medium beetroot
1 large carrot
1 small sweet potato
1 small turnip
1 pack baby marrows
1/2 tsp sea salt
1/2 tsp black pepper
olive oil
Method:
Preheat the oven to 200°C.
Carefully slice all the veggies into thin slices using a knife or mandoline. Toss the veggies with salt, pepper and a drizzle of olive oil.
Spread out on a baking sheet in an even layer.
Bake for 10 minutes, flip and bake for another 10 minutes being careful not to let them burn.
Remove from the oven and allow to cool before indulging.
Recipe and image sourced from The Big Man's World.
Nice Cream
This yummy recipe is the perfect substitute for ice cream. Add your choice of add-on ingredients to this basic recipe to craft your perfect flavour. Add berries and vanilla for an extra sweet indulgence; dark chocolate and peanut butter for a nutty affair or how about a dash of rum and a sprinkle of raisins?
Ingredients: 
4 C frozen banana slices
2 - 4 Tb milk
Method: 
Place the bananas and milk into a blender or food processor.
Blend on high for 1 - 2 minutes. If your blender is struggling, add another tablespoon of milk.
Add any extra ingredients you might like and blend until smooth.
Transfer to a bowl and freeze for 1 - 2 hours.
Recipe and image sourced from Fit Foodie Finds.
Chocolate Cake
While chocolate cake is never going to be good for you, this recipe at least makes it healthier. The weird and wacky ingredients may put you off, but give it a go and you'll be in for a divine surprise.
Ingredients: 
For the cake
1 sweet potato
1 C self-raising flour
1/2 C cocoa powder
1/4 tsp salt
1/4 tsp bicarbonate of soda
3 eggs, lightly whisked
1 tsp vanilla essence
1/2 C oil
1/2 C maple syrup
For the icing
2 avocados
1/2 C cocoa powder
1/2 C maple syrup
Method:
Line a cake pan with baking paper and spray with non-stick baking spray.
Preheat the oven to 180°C.
Pierce a sweet potato with a fork and place on a plate in the microwave. Microwave for 6 - 8 minutes until the potato is soft. Scoop out the flesh, mash well and allow to cool. For this recipe, you'll need one cup of mashed sweet potato.
Combine the flour, cocoa powder, salt and bicarbonate of soda.
Add the eggs, oil, vanilla and maple syrup to the sweet potato and add to the dry ingredients.
Pour the batter into the cake pan and bake for 18 minutes or until the top is cooked and the centre is a bit gooey.
Remove from oven and allow to cool for 10 minutes.
Turn onto a wire rack and allow to cool completely.
For the icing, pulse the avocado, maple syrup and cocoa powder in a food processor until silky and smooth. Spread thickly over the top and sides of the cake and enjoy.
Recipe and image sourced from Scrummy Lane.