November 2021
Love yourself a glass of bubbles? Then you'll be happy to hear that the prestigious Absa Champagne Festival will be returning this year, but with two new features: 1.) a new name – the Champagne in Africa Festival; and 2.) they've gone virtual! You may join in on the event for FREE online. But if you're looking to indulge a little, you can purchase a champagne hamper for R795*, complete with a bottle of pre-selected champagne and two flutes.
Click here for more information.
October 2021
Looking for more value for your buck? Then you'll be happy to hear about this brand-new retail offering at Eastgate Shopping Centre! Eastgate has just recently welcomed the brand, Value Co, to its premises. The popular new retailer's store is a whopping 3 000 square metres in size, opening a world of possibilities to those who visit this exciting new retail destination. Expect to find an incredible selection of merchandise and items from no less than 14 departments, with three of the biggest and most popular being Houseware, Office & School Stationery, and Health & Beauty.
Click here for more information. 
Located inside the Johannesburg Marriot Hotel Melrose Arch at Melrose Arch, Archer Bar & Eatery is a chic bar and coffee hot spot offering the ideal place to unwind and relax with friends over the weekend, grab some after-work drinks, grab a specialty coffee in between meetings, and indulge in some delicious dishes that showcases local and international flavour!
Click here for more information.
Having opened last month, the stunning Goddess Café is an absolute must-visit this October! Not only is the venue and décor exquisite, but also their delicious offerings off of their menu. Delight your taste buds with their selection of luxury Spanish lattes, insane milkshakes, moreish cakes and scrumptious dishes. Also, don't forget to take your pooch along on their leash, as this spot in dog-friendly! There's even a pooch menu offering tasty dishes for your furbabies to enjoy.
Click here for more information.
What better way to enjoy your weekend than with a delicious brunch and bottomless mimosas at Arbour Café & Courtyard in Birdhaven? This is just the spot if you're looking to sit down and enjoy brunch with family and friends, while sipping on L'Ormarins Cap Classique mimosas. Cost is R295 per person and is available on Saturdays and Sundays.
Click here for more information.
September 2021
Africa's highest urban bar – Alto234 – has officially opened their doors in Sandton at the incredible Leonardo, boasting 360-degrees of breathtaking views of the City of Gold. Alto234 – height in Latin and 234 for how tall it stands in metres – is an amazing space, serving only the world's finest when it comes to drinks, bar tapas and service. Pay them a visit, take plenty of Instagram worthy pictures and enjoy the experience.
Click here for more information. 
Still haven't had the opportunity to enjoy the nostalgic drive-in experience on Sandton City's rooftop? Not a problem! Get your tickets now, as the run of their August season has been extended until 19 September 2021! This will give you ample time to head to the drive-in and catch one of the many exciting, action-packed, family-friendly or simply classic movies that we have all come to know and love.
Click here for more information. 
If you're looking for an amazing dining experience that you'll never forget, then you'll love to hear that DinnerTimeStories SA has returned with a fresh installment of Le Petit Chef! This time, this dining must experience will be held at the fresh Blueberry Hill Hotel in Honeydew. Be sure to book your seats at this delectable extravaganza before it's too late! This will be a limited season, running until the end of October 2021.
Click here for more information.
August 2021
If you missed it the first time round, you're in luck! the Sandton City Drive-In, powered by Ster-Kinekor, is back for the month of August 2021! This is a movie viewing experience you most definitely do not want to miss! Not only will you get to watch epic movies on the big screen, but you'll also enjoy a trip down Memory Lane and nostalgia. Take a look at their lineup of movies showing during the month of August and catch them from the comfort and safety of your own car. You can grab a few snacks and treats from the concession stand prior to the film.
Click here for more information about the Sandton City Drive-In.
This premium water-front dining and lifestyle entertainment venue, Altitude Beach in Fourways, is stepping it up a notch just in time for Spring! The venue offers recently renovated features, including a brand-new state-of-the-art roof application; a delectable and sustainable new menu; as well as a long list of exclusive live entertainment. Click here to find out more about this venue and all of its brand-new and improved offerings this spring.
Click here for more information about Altitude Beach. 
To round of Winter 2021 on a high note, be sure not to miss The Maslow Sandton's Winter Afternoon Tea this August. This delightful treat has returned for the month of August only, on select weekends, offering everything from a selection of lovely teas, moreish sweet and savoury treats, as well as the perfect spot to unwind, relax and enjoy the remainder of the winter sunshine before spring kicks in.
Click here for more information about The Maslow's Winter Afternoon Tea.
After two decades of amazing shows, events, expos and concerts, Joburg's beloved Ticketpro Dome is set to close its doors this September. The Covid-19 pandemic has left its mark in the entertainment industry, thus forcing entertainment venues such as the Ticketpro Dome to close its doors. Keep reading to find out more about this closure, while also reliving the memories and events that this legendary setting hosted over the years.
Click here for more information about the Ticketpro Dome closure. 
June 2021
2021 Winter Menus, Ahoy!
Along with a brand-new season comes a selection of hearty and comforting winter menus to warm you up from the inside out! And to get your started, we have gone in search of some restaurant offering winter menus during the chillier months of 2021. Click the link below to take a look at where you should dine this season.
Click here for 2021 Winter Menus in Johannesburg.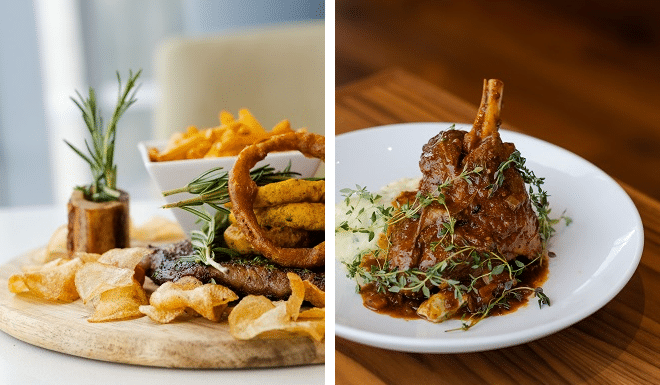 May 2021
Looking for a delightful afternoon tea to enjoy with the ladies in the heart of Sandton? Look no further! The Urban High Tea at the DAVINCI Hotel & Suites has returned! Every Saturday and Sunday, this makes for the perfect space to celebrate special occasions, or even just to indulge in a contemporary twist on the classic High Tea. Booking is essential.
Click here to find out more about the Urban High Tea at DAVINCI Hotel & Suites.
tashas fan, you'll be happy to hear that their beloved Classic Menu has had a makeover, offering six brand-new, fresh dishes that have been added to the menu, as well as a new hot drink, a delicious homemade Honeybush Chai, and four delightful smoothies to tickle your palate.
Click here to find out more about tashas revamped Classic Menu.
Have you visited Nelson Mandela Square in Sandton lately? If yes, did you happen to notice something new, right behind the bronze Nelson Mandela statue? Here, visitors and shoppers can view and admire the Square's latest architectural wonder: one of the largest tower clocks in the Southern Hemisphere.
Click here to find out more about this brand-new feature housed at Nelson Mandela Square.